While a good number of infertility/impotence cases can be linked to diseases or some other health related problems, studies have shown that there are many simple and seemingly harmless everyday habits of men that could induce it. Note that it usually manifests in form of erectile dysfunction, weak erection, premature ejaculation and the likes.
1. Smoking:
Smoking adverts usually come with a warning that 'tobacco smoking is dangerous to health', many people overlook this warning and still indulge in the habit; what most people don't know is that in addition to the risk of cancer, smoking also affects your chances of producing healthy sperm and could cause problems in your bedroom performance over time – problems like premature ejaculation and even weak erections. These can however be fixed by quitting the habit and using appropriate treatments; click here to learn about natural remedies to fix weak erection.
2. Alcohol consumption:
Excessive alcohol consumption is also a habit that can really mess up a man's sexual and reproductive health. While it may seem like a harmless everyday habit to many, it's effect on fertility and sexual performance can be saddening. Don't be deceived by the temporary highness it comes with, excessive alcohol can be cause of your low bedroom performance.
3. Wearing tight underwear and trousers:
This is one point that too many men take for granted; there is absolutely no good reason to keep your manhood choked up with very tight underwear, shorts or trousers – wear them in your size!The right size to wear is the one that lets your organ breathe without bending it in uncomfortable positions that end up ruining your performance and fertility. If you are guilty of this and have been having problems in the bedroom, change this terrible habit and get the right treatments NOW!
4. Stress:
Stress has a way of affecting your overall health. Physical and mental stress causes an unhealthy mind and subsequently, an unhealthy body.Stress is also one of the biggest problems that can affect a man's performance and fertility over time. Take time to let go of the stress, do not think too much, work hard but find time to rest both body and mind – this point cannot be overemphasized!
5. Drug abuse:
The abuse of drugs like marijuana and other recreational drugs can seriously mess up a man's sexual health; most people indulge in drug use without realizing the grave impact it has on their health, if you are one of those people, you should know you are better off picking up a different form of relaxation.
Dont embarrass yourself, See what "LOL",LMAO, LWKMD and other internet abbreviations means in chat
Dont embarrass yourself, See what "LOL",LMAO, LWKMD and other internet abbreviations means in chat.
During my early days on using the internet, I always have this problem of feeling embarrassed when I am chatting with a fellow on Facebook or Whatsapp and they sent me messages which include abbreviations.
In as much as I don't entertain the use of abbreviations in my writings, even right from my secondary school days I always make sure I write in full even when the teacher is dictating. I always feel weird when I see such abbreviations and I can't comprehend its meaning. Hence, I had to research them to find out what they actually mean.
I know many of us here are on this table, but not to worry, this post will help you understand some of these internet slangs/abbreviations and how to use them effectively
Lol- Laugh out loud
Lwkmd- Laugh wan kill me die
Lmao- Laugh my ass off
Omg – Oh my God
Brb -Be right back
Gr8 -Great
Ily – I love you
ROFL – Rolling on the floor
Stfu- Shut the f**k up
Lmk – Let me know
Yolo – You only live once
Smh- Shaking my head
Admin- Administrator
Aka – Also known as
B-day – Birthday
BF- Boyfriend
GF- Girlfriend
HMU- Hit me up
ASAP- As soon as possible
TGIF Thank God it's Friday
IDK- I don't know
TBH – To be honest
FYI – For your information
NVM – Nevermind
IDC – I don't care
For more internet slangs and abbreviations, refer to the image below.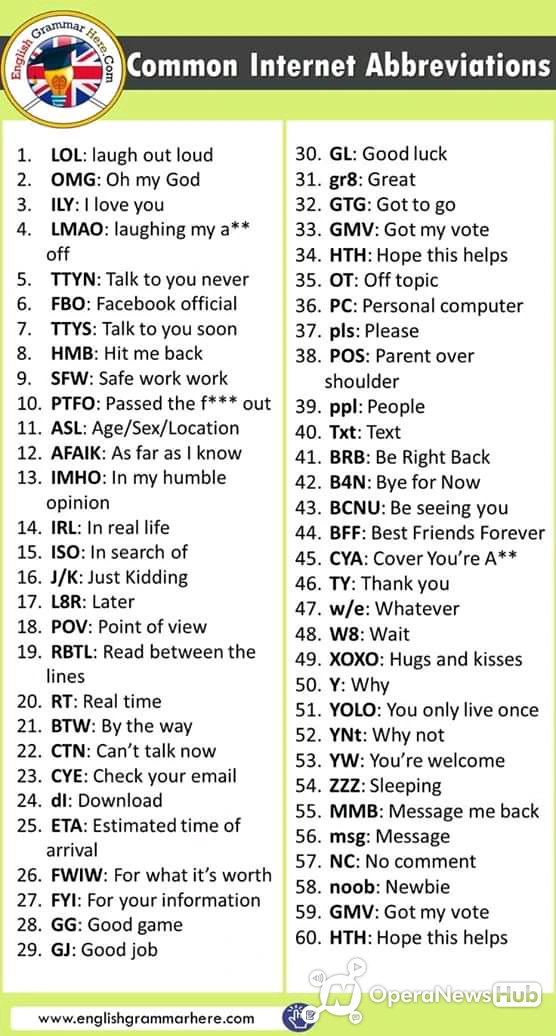 If u have any that you feel that is not present on the list , you can drop it on the comment box.
Seven ways to educate, entertain your kids during COVID-19 lockdown
With the closedown of schools due to the coronavirus pandemic, it is important for parents and guardians to continually educate and entertain their children.
From crafts to online learning resources, parents will need a variety of tricks to ensure that kids are engaged.
The list below would help to keep them entertained and learning:
Make a schedule
The first thing to do is to draw out a plan for the kids. Stick to the usual school hours of 8am to 3 pm. Insist on a daily outdoor recess routine that mirrors school.
Homeschooling
The importance of homeschooling cannot be overemphasised. Parents should go through their children's book and Give them worksheet or assignments to do.
Minimise the screen time
Parents will be strongly tempted to stick their kids in front of screens for multiple hours a day, just to get busy with their personal things.
This is not healthy or is it fair to kids. It will be reasonable to allow them have an hour a day but only after everything else has been completed such as chores, schoolwork, reading assignments, music practices, exercises etc.
Encourage story telling
Children enjoy listening to stories. They are so natural at this. You can create elaborate fantasies figures to tell a story or read stories out loud for them.
Also, encourage them to use their toy collection or animal figure toys to create their own stories.
Game Game Game
For a child to learn effectively, the process has to be entertaining. You can introduce games such as creation of Pebble arts, paintings, decoration, handprints, cardboard designs, Game of alphabets, shadow drawing etc.
DIYs
Make them create things out of handy items. Give them old CDs, match sticks, unwanted woollen threads, coloured papers, glues, balloons, ice-cream sticks, etc and encourage them to make some creative things out of it.
Online learning
Online learning and tools can be an effective measure. You can check out tools such as Show me wonders (This helps to learn about different cultures and traditions), Translate me (Helps to learn about languages), Play games (Provides varieties of games for children), Ask me anything (just like children like to ask questions, this tool is available to answer most of their questions), Read it to me (Serves as a personalized reading tutor for kids).