1. UNTIDINESS
unlike before they tidy their rooms whenever you are
coming by once they get a girlfriend, just really let
themselves go. They stop shaving or shave
less often. They don't exercise anymore.
They stop keeping their apartment clean.
Those kinds of things can really make galz
feel like he thinks I'm one of the bros. I'm
not. We are having sex. Shave your face if
you're not growing a beard. Hit the gym
twice a week. Clean the sink and toilet. Make
me feel like you want to keep impressing
me.
2. GROSSY… he becomes so open minded that you get
to experience all his odd doings like lieing being
rude, garrulous, all of a sudden hes no more the cool
dude u used to know… cos he stopped pretending
3. ANTI-SOCIAL… they no more send you those
enomorous texts anymore unless its your birthday or
its Newyear, some guys even stop paging their
Girlfriends unlike before his message was what you
usually wake up to, but when you fall for him he
starts adoring other girls socially..
4..THEY CARE LESS… HE IGNORES
YOU
I'm not talking about ignoring
serious things – it's the little #things
that can be so annoying! If you're
talking about your friends and he has
drifted off into a #world of football
and computer games, it can quickly
get frustrating. This is one of the
most annoying habits you wish your
#boyfriend didn't have ,he stopped returning calls,
those questions like "have you eaten?' how was ur
day' stopped coming across cos you've start being a
burden plus this time arround he would be the one
to carry the expenses..lol guilty of this though
5. FEELING BOSSY: he would want to start treating you
lyka wifie, like wanting you to always do his laundry,
cook his meals, sweep his apartment even having
sex..
6. FLIRTING… he starts noticing other girls like hes done
with you and the most annoying part is he's not
hidding it from you….some might even keep their
status as.
7. LESS NOTICING : Now that they have a girlfriend they
spend much time with gadgets, ps3 and their
smartphones, They stopped noticing your New hair
do, your new dress, your beautifull skin. which
annoys ladies so badly, cos you did it to impress him
and he dint even notice Girls be like Bleep this poo
am i dating a bat lolzzz
8. THEY START LOSING THEIR TEMPER
unlike when he's still chasing you there is notting you
can do to annoy him,,,,,, gone would be those days
9. STARTS GETTING CLOSE TO FRIENDS THUS
BELIEVING IN RIDICULOUS SHITS LIKE 'TREAT A GIRL
BAD AND SHE WOULD START LOVING YOU MORE,
they stop giving you the real them, instead they start
looking for tips and hints on how to keep their girl
10. The last but not the least they start being JEALOUS
before you become his girl he has less reason to be,
but after you becomes his' he starts monitoring your
movements, calls,messages etc.
BE WARNED! HERE ARE 5 SURE SIGNS THAT YOU MIGHT LOOSE YOUR PARTNER TO THEIR EX
All relationships do not end at the altar. There might even be more relationships that failed to reach that landmark than relationships that do.
Point is, relationships end all the time, and when they do, it is not the end of the world. One would have to dust it off and move on to the next.
However, some people never really dust off the memories of their exes or get over the feeling of being with that person before trying to go be with someone else.
When you get with someone who has yet to move on from an ex; this is how you will know. The partner who compares you to an ex might not have moved on from that ex
1. The won't shut up about them
This is likely the most blatant pointer to the presence of residual feelings for an ex. When someone you are in a relationship with keep speaking about their ex and the things they had with them, it gets awkward and it's often likely that they are still pining for him or her.
That is not to say they can't even mention them here and there. Incidental mentions shouldn't be any trouble. It is the incessant, recurrent name dropping that's often problematic.
2. Comparisons
Imagine a partner talking about how better their ex was, right to your face. Crazy, right? It is both disrespectful for a partner to do this and it's just as bad for them to insinuate that you are a level below that other person.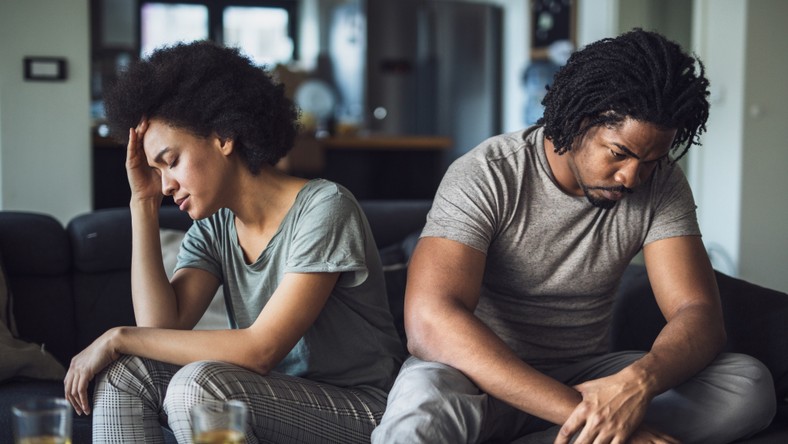 Even if it's true, it still isn't something to be said. If your partner doesn't even care about you and feels OK with making you feel less than their ex, it could be another way to know that they rate them higher than you and may low-key still be wishing they were with that person rather than you.
Building new memories with your partner are different from recreating memories you used to have with an ex.
3. They still talk. A lot.
This is also another uncomfortable thing to deal with in a relationship, no matter how you view it. Although some people manage to remain friends with their exes and that may be acceptable by their partners depending on the nuances of the breakup and the present relationship.
Regardless of this, having a partner talking to an ex so much when they are with you should bother you.
4. Always defensive of the ex
On this, Weena Cullins, a licensed clinical marriage and family therapist and relationship expert, tells INSIDER that "if someone constantly feels the need to defend their ex, specifically at times when their ex isn't the centre of conversation it could mean that they aren't quite over them."
If they won't create and enforce boundaries when it comes to the ex, too, it is something to be bothered about. No ex should have access to your partner as if they are still together.
A partner talking to an ex so much when they are with you should bother you.
5. Make your relationship an extension of the previous one
Tara Vossenkemper, a therapist and the founder and clinical director of The Counseling Hub, Columbia, South Carolina says "if your partner keeps trying to get you to do very specific things and then saying things like, 'that's what me and [ex] used to do,' then you need to take pause."
She tells Bustle further that "building new memories with your partner is different from recreating memories you used to have with an ex.
"One is meaningful and organic. The other is sad and full of baggage."
Pulse News
Leave your comments below…
football &lovers arround epl
things a good guy won't do to the woman he loves
3 things a good guy won't do to the woman he loves
When a guy loves you, there are some things he cannot do to you, especially if they'll hurt your feelings.
Register with Helabet and get double your first deposit – up to KES 10,000!Here is a list of things that good guysdon't do to the women they love.
1. Puts destructive habits before you
A person who is addicted to something can never put their partner first.
This is because they will always choose their addictive habits over their partners.
However, when it comes to good guys, they know that such behaviour is self-destructive, and will focus their energy on making the relationship work.
2. He pressures you to do things for him that you don't feel comfortable doing
There are guys who will always pressure their women to do things for them even without consulting them and finding out if they are comfortable doing them or not.
However, good men will never pressure their women into doing something they aren't comfortable doing. This is because they respect their women as well as their choices and opinions.
3. Ignoring or neglecting you
Some men have a tendency of ignoring and not caring about their women.
However, a good man will never ignore you and will always strive to give you the care and attention that you deserve. A good guy will always invest in the relationship and will work towards making you happy.