If there's one game every couple should play, it's definitely the questions game. Not only is this a really great way to start a conversation if you can't think of an idea, but you will also learn SO MUCH about who they are as a person. This can help you know for sure if they're the one for you or not.
If you're unfamiliar with how to play this game, it's the easiest thing in the world. All you do is ask them a certain question and they answer it! You get 21 questions and then they get 21 questions. You could go ahead and ask them the same, lame 21 questions everyone asks, OR you could ask some of these questions that will reveal the most about them as a person.
1. If you had the chance, would you rather go back in time or take a trip into the future?
This is a really fun question to ask your crush that can help you see just what they think of their past life. You'll discover if they have any regrets in the past they would like to change.
2. What game did you like the play the most as a child?
The things we like as children have the ability to shape us into the people we are today. Finding out their favorite game can tell you a lot about what they enjoy.
3. Would you rather have a second house on the ocean or in the mountains somewhere?
There really are two different types of people in the world and determining if your crush likes the ocean or mountains will help you discover more about their personality.
4. If you could visit anywhere in the world, where would you want to go?
The world is a vast and exciting place. Find out just where your crush finds most interesting. Do they like where they are or are they the adventurous type?
5. What's the one food you could eat anytime, anywhere?
Everyone has this one food they LOVE no matter what. Finding out theirs can help you win their heart.
6. If you were able to buy and own 3 cars, which would they be?
I think a lot of people have three dream cars they'd love to own. But perhaps your crush isn't very materialistic. This question is a great way to find out.
7. What would your dream house look like?
This question will really reveal just what your crush wants most in their adult home.
8. What's something that makes you the angriest?
This question is an obvious one. It'll help you understand their deepest dislikes.
9. What's something that makes you the happiest?
Another obvious way of finding out the true joys in their life. They'll also really like talking about this topic!
10. Would you rather be really rich but nobody knows who you are, or be famous, but not as rich?
Some people think being famous means being rich. However, this question will reveal just how much your crush likes to be in the limelight.
11. What do you think is more important: truth or happiness?
Some people say knowing the truth will lead to happiness. Find out how your crush feels about this important topic.
12. Which song describes your life the most?
If you really want an inside look at their life, asking this question and then listening to the song will tell you everything you need to know.
13. What would your idea soul mate be like?
Find out if you have all the qualities they're looking for by asking this question. It'll tell you just what they value most in a partner.
14. If you could have one superpower, what would it be?
Do they want to be invisible so they can escape from the public? Or do they want to have super strength and save the world?
15. Do you think you'd be the superhero or the villain?
Obviously, if this person is a villain, they're not a very good person. However, you can find out just what they'd do with their powers with this question.
16. If you had the ability to change one thing about yourself, what would it be?
This can tell you everything you need to know about their insecurities and whether or not they're happy with who they are – something everyone wishes to know about the people they could possibly date.
17. Would you rather be really smart but unattractive or really attractive but really dumb?
Sometimes people put value in the wrong things in life. Find out where your crush puts theirs.
18. What would you do if your parents hated the love of your life?
Find out just how much your crush's parents' opinions mean to them. This can also help you see if they're really close to their parents or not so much.
19. If you could transform into an animal, which would it be?
This is a fun question that will also help you understand the true nature of your crush. You'll also be able to figure out what their favorite animal is by this, as well.
20. If you could choose one profession that you were guaranteed to succeed in, what would it be?
This would be their absolute dream job no matter how good or bad they are at something. Personally, I think most of us would do something crazy and amazing if we knew we couldn't fail.
21. If there were ducklings stuck in the drainage on the side of the road and you were running late to work (and your boss said you can't be late 1 more time or you're fired), would you still stop to save the ducklings?
This will tell you just how great (or bad) of a person they are. Even though ducklings are seemingly insignificant in comparison to a job, those who would save them are the better people.
BE WARNED! HERE ARE 5 SURE SIGNS THAT YOU MIGHT LOOSE YOUR PARTNER TO THEIR EX
All relationships do not end at the altar. There might even be more relationships that failed to reach that landmark than relationships that do.
Point is, relationships end all the time, and when they do, it is not the end of the world. One would have to dust it off and move on to the next.
However, some people never really dust off the memories of their exes or get over the feeling of being with that person before trying to go be with someone else.
When you get with someone who has yet to move on from an ex; this is how you will know. The partner who compares you to an ex might not have moved on from that ex
1. The won't shut up about them
This is likely the most blatant pointer to the presence of residual feelings for an ex. When someone you are in a relationship with keep speaking about their ex and the things they had with them, it gets awkward and it's often likely that they are still pining for him or her.
That is not to say they can't even mention them here and there. Incidental mentions shouldn't be any trouble. It is the incessant, recurrent name dropping that's often problematic.
2. Comparisons
Imagine a partner talking about how better their ex was, right to your face. Crazy, right? It is both disrespectful for a partner to do this and it's just as bad for them to insinuate that you are a level below that other person.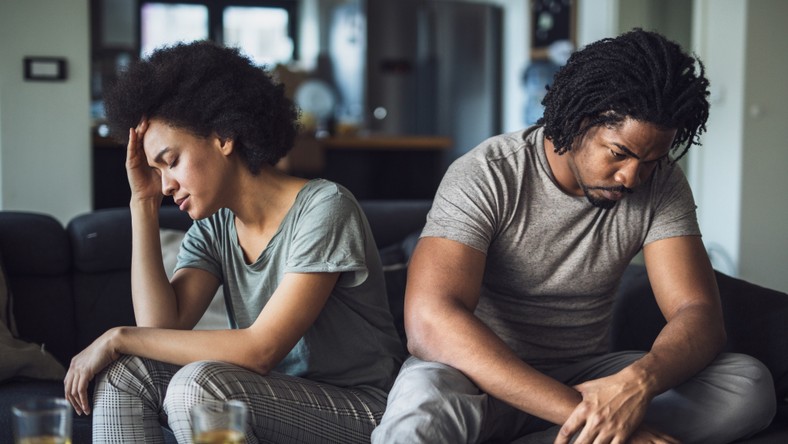 Even if it's true, it still isn't something to be said. If your partner doesn't even care about you and feels OK with making you feel less than their ex, it could be another way to know that they rate them higher than you and may low-key still be wishing they were with that person rather than you.
Building new memories with your partner are different from recreating memories you used to have with an ex.
3. They still talk. A lot.
This is also another uncomfortable thing to deal with in a relationship, no matter how you view it. Although some people manage to remain friends with their exes and that may be acceptable by their partners depending on the nuances of the breakup and the present relationship.
Regardless of this, having a partner talking to an ex so much when they are with you should bother you.
4. Always defensive of the ex
On this, Weena Cullins, a licensed clinical marriage and family therapist and relationship expert, tells INSIDER that "if someone constantly feels the need to defend their ex, specifically at times when their ex isn't the centre of conversation it could mean that they aren't quite over them."
If they won't create and enforce boundaries when it comes to the ex, too, it is something to be bothered about. No ex should have access to your partner as if they are still together.
A partner talking to an ex so much when they are with you should bother you.
5. Make your relationship an extension of the previous one
Tara Vossenkemper, a therapist and the founder and clinical director of The Counseling Hub, Columbia, South Carolina says "if your partner keeps trying to get you to do very specific things and then saying things like, 'that's what me and [ex] used to do,' then you need to take pause."
She tells Bustle further that "building new memories with your partner is different from recreating memories you used to have with an ex.
"One is meaningful and organic. The other is sad and full of baggage."
Pulse News
Leave your comments below…
things a good guy won't do to the woman he loves
3 things a good guy won't do to the woman he loves
When a guy loves you, there are some things he cannot do to you, especially if they'll hurt your feelings.
Register with Helabet and get double your first deposit – up to KES 10,000!Here is a list of things that good guysdon't do to the women they love.
1. Puts destructive habits before you
A person who is addicted to something can never put their partner first.
This is because they will always choose their addictive habits over their partners.
However, when it comes to good guys, they know that such behaviour is self-destructive, and will focus their energy on making the relationship work.
2. He pressures you to do things for him that you don't feel comfortable doing
There are guys who will always pressure their women to do things for them even without consulting them and finding out if they are comfortable doing them or not.
However, good men will never pressure their women into doing something they aren't comfortable doing. This is because they respect their women as well as their choices and opinions.
3. Ignoring or neglecting you
Some men have a tendency of ignoring and not caring about their women.
However, a good man will never ignore you and will always strive to give you the care and attention that you deserve. A good guy will always invest in the relationship and will work towards making you happy.