The AIDS Healthcare Foundation, a non-governmental organisation, has claimed that Nigeria suffers from a deficit of 564 million condoms annually.
To check the trend, AHF says it will distribute over 600,000 condoms across the country as part of activities to commemorate this year's International Condom Day.
The Advocacy and Marketing Manager of the Foundation, Mr. Steve Aborisade, in a statement on Wednesday in Abuja said the day was set aside to promote the prevention of Sexually Transmitted Infections, HIV and unwanted pregnancies.
"The commemoration is usually observed on February 13 in preceding Valentine's Day; however, the day was moved to February 7 due to the 2019 general elections.
"The condoms will be distributed in Abuja and five other states of Benue, Kogi, Nasarawa, Anambra and Cross River,'' he said.
The Country Programme Director, Dr. Echey Ijezie, AHF-Nigeria, said that the Nigerian National Condom Strategy emphasised a deficit of 564 million condoms annually in the country.
He said the National AIDS and Reproductive Health Survey 2012 indicated that despite the increased awareness about condom in Nigeria, there is still low acceptance.
"Abstinence from sex, for those who can, remains very effective in preventing STIs and unplanned pregnancies.
"AHF is confident that when we keep reminding people about using condoms with access to free condoms, we would have helped to reduce new HIV and STIs, prevent unwanted pregnancies, while promoting healthy lifestyle choices,'' Ijezie said.
According to Chief Global Policy and Advocacy AHF, Mr. Terri Ford, condoms are still the cheapest and best option for preventing HIV, STDs, and unwanted pregnancies.
"Our International Condom Day events are a fun way to bring people together and get them information about how to keep themselves and their loved ones safe and healthy.
"International Condom Day also helps remind people that there is still an HIV crisis across the globe,'' he added.
AHF President, Mr Michael Weinstein, also said that promoting safe sex practices was also important in a time when funding for global health has remained flat for the last several years.
He said that lack of funds also includes money for condoms, adding that it is critical to stay healthy and be disease-free, particularly in countries that experience higher prevalence rates for HIV.
AIDS Healthcare Foundation, the largest global AIDS organisation, currently provides medical care and services to more than one million clients in 43 countries.
Xenophobia: Why Buhari govt won't end relationship with South Africa despite attacks – Minister Onyeama
The Federal Government on Friday declared that it won't severe diplomatic relationship with South Africa despite the renewed xenophobic attacks on Nigerians.
Minister of Foreign Affairs, Geoffrey Onyeama made the disclosure when he appeared before the senate committee on Diaspora at the National Assembly.
Onyeama said taking such action would not be in the interest of Nigerians in South Africa, adding that Nigeria would consider other options apart from diplomatic ties severance, to resolve the ongoing crisis.
He said: "We are not thinking to the stage of diplomatic ties called off. There are various options. We are not by any means at a stage where we are breaking diplomatic relations with South Africa.
"We just met with the senate committee to review the situation with regard to South Africa and we looked at all the possible options we analysed the possible causes and agreed on a road map going forward."
The Minister also disclosed that the special envoy President Muhammadu Buhari sent to South Africa would return to the country on Saturday.
He added: "Mr. President has dispatched a special envoy to South Africa who would be holding discussions with the South African government at the very highest level.
"He should be back tomorrow (Saturday), that will now give the government the basis for further action. In the meantime, if the government is very much on top of the situation.
"We know for a fact that no Nigerian life has been lost so we are extremely concerned to ensure that there will be adequate compensation for property that have been damaged.
"We know that a Nigerian Airline is putting a plane at the disposal of most Nigerians that wish to take the opportunity to leave South Africa, this is purely voluntary, but we are particularly determined to particularly make sure that this crisis does not re-occur.
"It has been happening for far too long, it's becoming almost endemic, so with the distinguished senators, are helping with some of the options that we may have to ensure that this will be the last time we will ever be meeting to talk about Nigerians attacked in South Africa and to take definitive measures.
"To start doing that, we want to have all the facts available and then we will take the necessary measures."
See what happens when you drink water immediately after eating
♥
See what happens when you drink water immediately after eating
Drinking water after a meal gives you a feeling of satisfaction however the same practice is detrimental to your health. By drinking water right after your meals, you are again tampering the natural time it takes for your food to digest.
There has also been a lot of debate on time and the amount of water to be taken after meal. Reasearch has it that drinking water immediately after eating is harmful to your health.
Experts recommends half an hour before you drink water after eating. When you drink water right after your meal, it will add coolant effect to your food and weakens your digestive strength.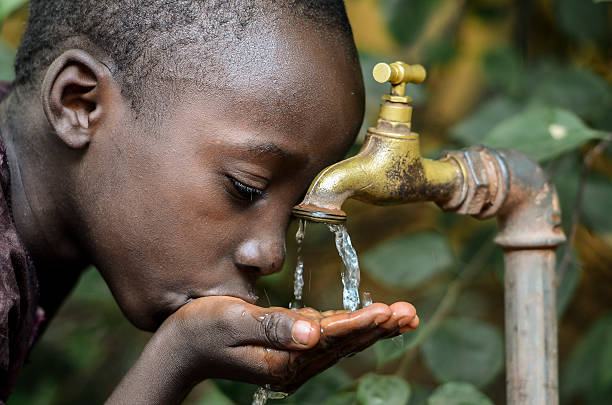 When you drink water immediately after meal it makes you feel hungrier faster than anticipated and results in overeating and bloating. Also if you drink water immediately after eating, you might become obese if you follow the practice regularly.
When you drink water immediately after eating it can lead to acid reflux(This is a chronic disease that occurs when stomach acid or bile flows into the food pipe and irritates the lining).The intake of water after meal dilute the gastric juices essential enzymes required for healthy digestion. It also piles up toxic wastes. When you drink water immediately after eating especially cold water it can make the digestive enzymes not to function which leads to the piling up of toxic wastes in the body.
It can also lead to other problems such as increase in uric acid levels, high cholesterol, high triglyceride levels – a major cause of heart diseases – diabetes, etc. While it is important to keep yourself hydrated by drinking enough water everyday, you should also know how long you will need to wait to drink water after having a meal.Have you learnt a thing or two?
Please share your thoughts in the comment section below