Akiolu spoke when Buhari and his campaign team visited his palace in Lagos Island on Saturday after arriving the state in continuation of the presidential rallies ahead of the Feb. 16 election.
The traditional leader, who noted that the body of traditional rulers in the state were happy to receive the team, said that they appreciated Buhari's efforts as a highly respected person in Nigeria.
He assured Buhari that there would be a repeat of his 2015 electoral victory in the coming election.
Give Buhari another chance and you will see how Nigeria will move forward, Akiolu said.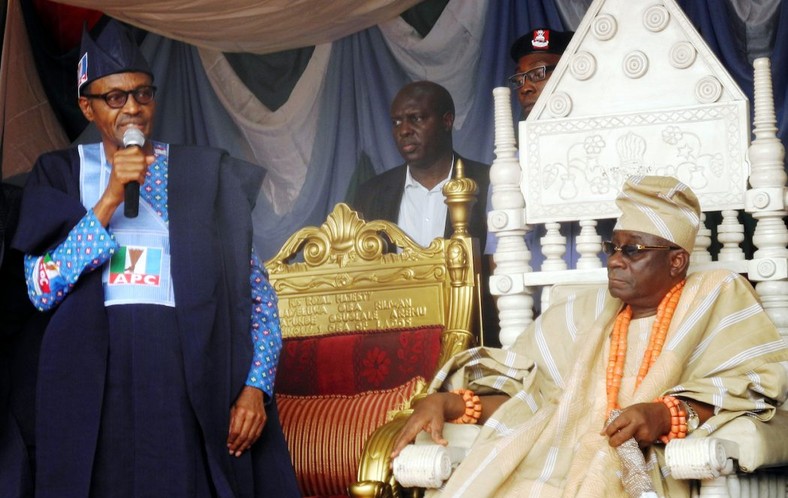 The monarch decried the rot that past administrations left behind in the country.
We should not go back to the past again. Now that you are here, Isha Allau, on Feb. 16, God will open the way for you. The best will happen to you, he said.
Akiolu, the Chairman, Lagos State Traditional Council of Obas and Chiefs, thanked the President for his achievements since assuming office and urged Nigerians to continue to support him.
He said that had a catalogue of requests, including mass transit and pressing issues on the Apapa ports, and they had all been committed into writing.
Akiolu presented Buhari with a Quran as he prayed for him.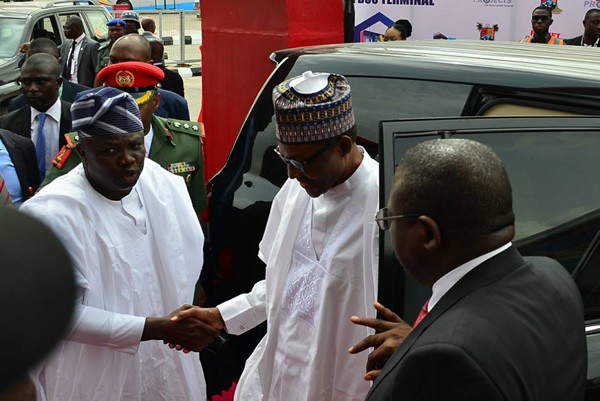 In his response, Buhari commended Akiolu appreciating the efforts of his government.
I appreciate all you have said and I assure you that I will continue to do my best.
The promise we made through our party in 2015, our country needs to be secured and properly managed.
If there is no security, we cannot do anything no matter your resources. We thank God our efforts have brought some fruits, Buhari said.
He said that his government was working hard to end importation of rice and ensure self-dependence.
We can feed ourselves and the money we save, we can put it in infrastructure; we are building the roads, we are building the rails and we are building power.
But the failure of former administrations in spite of enormous revenue they got to develop infrastructure is amazing, Buhari said.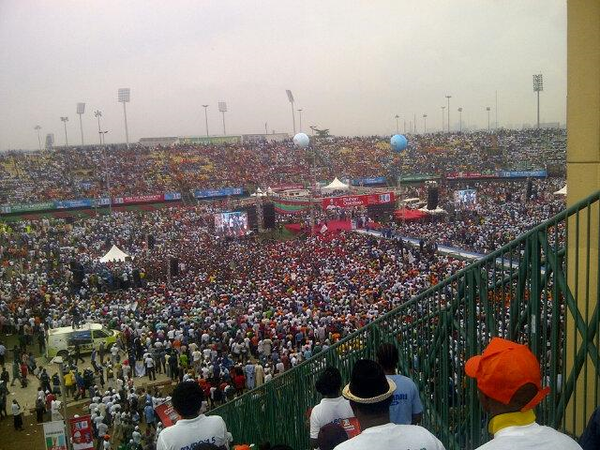 He commended the Minister of Works, Power and Housing, Mr Babatunde Fashola on his hard work and efficiency for keeping contractors on their toes, saying that he has done creditably well.
Earlier in his welcome address, Gov. Akinwunmi Ambode said that the state was very delighted to receive the President and for all he had done for the state.
It is my pleasure to welcome Mr President and Mr Vice President to the palace of the Oba of Lagos, who is the chairman of the council of Obas and Chiefs in Lagos State.
On behalf of all of them, we welcome you to Lagos State in continuation of your presidential campaign rally.
We are very delighted to receive you, we are very appreciative of everything that you have done for us in Lagos State.
All our Kabiyesis are also very appreciative, Ambode said.
According to him, Lagos has remained very peaceful in the last four years and the security and safety of Lagos cannot be underscored without the cooperation of all our traditional rulers.
He commended specially the Oba of Lagos and other traditional rulers for keeping the peace for the government.
According to Ambode, the President, Vice President and other party stalwarts are in the palace to receive royal blessings.
He added that with the royal blessings, APC will continue to hold strong in the state.
Agency of Nigeria (NAN) reports that Buhari who arrived the palace at exactly 10:59 am departed with his team before noon.
In the team were the Vice President Prof. Yemi Osinbajo, Gov. Gboyega Oyetola of Osun, APC Chieftain Bisi Akande, the National Leader of APC, Sen. Bola Tinubu and others.
MIXED REACTIONS AS ATIKU INSISTS HE MUST GET JUSTICE
Nigerians have expressed mixed opinions towards the candidate of the People's Democratic Party, PDP, in the last Presidential poll, Alhaji Atiku Abubakar's resolve to "go all the way" to ensure justice is served as regards he petition on the February 23 poll.
In a Friday twitter message, the ex Vice President addressed the September 11 ruling by the presidential Election Petition Tribunal, PEPT – which upheld the election victory of his rival, President Muhammadu Buhari of the All Progressives Congress, APC.
Atiku started by thanking Nigerians for their support in a long twitter thread.
And the solidarity I enjoyed from all walks of life and every strata of society, right from July 21, 2018, when I informed you, the good people of Nigeria, that I would contest the 2019 Presidential election, to Wednesday September 11, 2019, when the PEPT rendered its verdict.

— Atiku Abubakar (@atiku) September 20, 2019
He went on to declare "nothing good comes easy" suggesting he would go all the way to reclaim what he refers to as "his stolen Mandate"
I owe so much to this great land of Nigeria that took me from the streets of Jada, where I sold firewood, to the heights I have attained, by God's benevolence, in the civil service, in corporate Nigeria, and in public service.

— Atiku Abubakar (@atiku) September 20, 2019
"We must stand together to pursue this just cause all the way" he tweeted

We must stand together to pursue this just cause all the way, so that our judiciary are not afraid to do their jobs and have to be wary of blackmail, intimidation, and victimisation.

— Atiku Abubakar (@atiku) September 20, 2019
You can read the complete twitter thread by clicking  here
Meanwhile read below, how Nigerians have reacted;
Useless PEPT judges and INEC chairman are more dangerous than buhari.

Rendered its vertict because of tyrant president.

Votes of Nigerians didn't count those who counted it decided against Nigerians.

Bunch of clowns…. Slept off. pic.twitter.com/5FlC1esLZb

— Grace John (@onyiforlife) September 20, 2019
Nice article sir. Let the party appeal. Don't spend a dime of your personal money cos you are not coming anywhere ooo. Don't let them scam you again ooo.

— Iyalaya (@Lollylarry1) September 20, 2019
You do have a constitutional right to appeal to the PEPT ruling. In my opinion, you are on a wild goose chase.
The PEPT verdict was unanimous and your witnesses and your evidences held no water. I would advise that you swallow your pride and congratulate the President.

— Ndako-Jethro Amlabu (@Sylamlabu) September 20, 2019
Leadership is not by title, it's by life. It cannot be faked, it cannot be copied, it expresses itself with no stress.

Leadership is a heart matter. A heart that is more concerned with life after death, a "wanting to be right" mindset.

Our dry bones will rise again. We'll wait.

— Prof. AyeMojuba  (@ayemojubar) September 20, 2019
I congratulate you inspite of your hopeless judicial route.
At your age & coupled with your experience, you ought to know when to walk away & when to fight.
Your inability to accept your limitations is not only intriguing but also quite pathetic.
Oga go home & rest.
It is over.

— Sagittarian (@andioto) September 20, 2019
If you still believe #AtikuIsComing then salvation is still far from you.

It's checkmate, Buhari already pulled a clandestine operation – annexing the three arms of government as spoils of war.

The PDP should by now be strategizing on how to mount a viral opposition in 2023.

—  NEFERTITI – (The beautiful one has come) (@firstladyship) September 20, 2019
We wish you success because under this current administration, there won't be a country left to govern by 2023! 

— Jennifer Jacobs  (@TheTechnocratNg) September 20, 2019
We warn you that you can't rule Nigeria, but you heed, see the way you were disgraced. Once a thief will always remain a thief, its not rocket science. God bless.

— z (@lentin2) September 20, 2019
Definitely nothing good comes easy. The struggle however will continue until the stolen mandate is back insha Allah

— Dr El Mo Atiku Abubakar (@DrEl_Mo_Atiku) September 20, 2019
For goodness sake which side of the story do you want the judges to blv?

— Solomon Adamu (@Solex2030) September 20, 2019
I know you are not the one writing all these. Hence I don't expect anything from you. It's now "our collective goal" but when all is done, all that will matter is you and your cabals.

— Martin Mgbemere (@ExcelMartin) September 20, 2019
Destiny can only be delayed but can not be denied, I decree and declare, that no one can steal your mandate i am very very hopeful and sure that the God that we are serving will perform His miracles at d supreme court, ATIKU is our president.

— kalu john kennedy. (@kalujohnkennedy) September 20, 2019
You too can join the conversation, what's your take on this? Drop your comments below.
Dino Melaye speaks on dumping PDP, returning to APC
Senator representing Kogi West Senatorial District in the National Assembly, Dino Melaye, has denied allegation that he was planning to defect from the Peoples Democratic Party (PDP) to the All Progressives Congress (APC).
Melaye made the denial on Monday via his official twitter handle.
According to him, only 'foolish and stupid' people will decamp from PDP to APC.
The Senator also stated that APC will be defeated in forthcoming Kogi governorship election.
"Only compound fools and people with degree in stupidity will leave PDP for APC. APC will be defeated in Kogi State," Melaye tweeted.
Recall that the Senator rejected the party's appointment as the Director-General of the Kogi State PDP Governorship Campaign Council.
His tweet last Friday rejecting the offer sparked speculations that the Senator might dump the PDP.
He had tweeted, "Let me state categorically that I have turned down the position of the Director-General of the Kogi State Governorship Campaign Council.
"I wish PDP all the best.
"When truth is a casualty, there is chaos."