For many, Valentine's over-the-top romantic feel makes it perfect for marriage proposals.
According to a WeddingWire survey of 18,000 people, December is the peak month for getting engaged with Christmas Eve a particularly popular date. Valentine's season closely follows that; and it is not difficult to understand why this is the case. Proposals are often about romance, sweet memories and promises. And which day perfectly exemplifies this if not Valentine's?
So it feels just right, in the estimation of many guys, to get down on their knees, extend a ring to the special one and sow that seed of commitment February 14.
But no.
Valentine's is not the best time for you to propose and you might want to take a step back and consider your options a lot more closely.
Don't propose on Valentine's day
"Why not?" I can hear you think to yourself.
Marriage proposals are primarily about thoughtfulness. Attention to details and sensitivity to your partner's desire is the major key here. All the dreaminess of a candle-lit dinner at a fancy restaurant won't amount to much if her most treasured wish is to be proposed to in the most private of settings – like being proposed to when it's just you and her.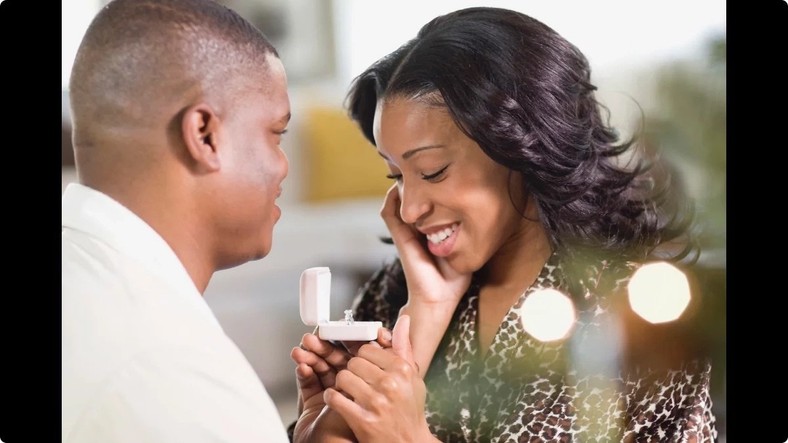 Like we already said in a previous article, a wedding proposal is not for the person making it; it is she [or he] to whom the proposal is being made that truly counts. You don't have to propose on Valentine's day. It's a trope you don't want to unneccesarily tie such beautiful memory to.
There's another way
As opposed to Valentine's day that's a day of love for all and sundry, think about important days that are specifically monumental in your relationship with your boo. It shows that an amount of thought has been put into it, and not just some lazy cliché affair.
Significant dates include first dates, first kiss, first day you saw her, first time you spoke, or any other day that means a lot to your relationship. Mind you, it's not just the significance in date that counts. Significance in days of the week also works so does venue.
If she has a bad memory attached to Thursdays for example, you might want to think twice before doing do it on a Thursday.
Remember, it's all about thoughtfulness.
If you must propose on Valentine's day…
Of course, Valentine's day proposals can't be completely invalidated just because they're common. Romance is still alive on the day and if you must exploit the magic of the night, you're absolutely welcome to!
Ensure to add a romantic, personal touch to whatever you do. So she'll know you out some thought into the proposal.
It could be something as simple as reminiscing on a memorable day in your relationship or in her life. Or making sure her fav colour, favourite song, etc is included in the plan.
Last but not least, never confuse expensive moves for thoughtful, romantic moves. If it's expensive, better make it thoughtful, too. It's most valued that way.
things a good guy won't do to the woman he loves
3 things a good guy won't do to the woman he loves
When a guy loves you, there are some things he cannot do to you, especially if they'll hurt your feelings.
Register with Helabet and get double your first deposit – up to KES 10,000!Here is a list of things that good guysdon't do to the women they love.
1. Puts destructive habits before you
A person who is addicted to something can never put their partner first.
This is because they will always choose their addictive habits over their partners.
However, when it comes to good guys, they know that such behaviour is self-destructive, and will focus their energy on making the relationship work.
2. He pressures you to do things for him that you don't feel comfortable doing
There are guys who will always pressure their women to do things for them even without consulting them and finding out if they are comfortable doing them or not.
However, good men will never pressure their women into doing something they aren't comfortable doing. This is because they respect their women as well as their choices and opinions.
3. Ignoring or neglecting you
Some men have a tendency of ignoring and not caring about their women.
However, a good man will never ignore you and will always strive to give you the care and attention that you deserve. A good guy will always invest in the relationship and will work towards making you happy.
ADULTS ONLY! HOW TO ENJOY S***X DURING RAINY SEASON
Weather for two as it is fondly called by most Nigerians is one of those seasons that gives people, that extra turn-on for some action in between bed sheets. Below are important reasons why everybody should wait for this special season of love.
It is true that the weather has taken a turn for good, and quite a number of persons are really loving it. The cold days and night are just the perfect time to increase the heat in our s*** lives.
Literally, any hope of getting cold out of our systems will mean heating up the bedroom, or using any other warm place you can get, for the purpose of achieving as much fun and warmth as possible out of the season.
Start the wet season by indulging in Indoor s***. Do this by exploring the different corners of your house asides your bedroom. Be sure to make love in other sections of the house including your kitchen, library, sitting room, bathroom, stair case and any other areas that catches your fancy.
This will increase you and your spouse's adrenaline rush, which will in turn, boost up more steamy activities during this period. Try taking precaution by ensuring you're in the clear to have i***course in areas devoid of privacy, as the heat and the steam is more than enough to see you through the remaining part of the season.
You might have believed that your spouse is very hot and sexy, and you cannot wait to bring out the inner tiger/tigress in you. The cold season is a perfect time to get aggressive, using lustful s**** positions to encourage your s**** drive, to hit the roof with the dull weather;  making you want to keep warm. What a better time than now to charge the heat with animalistic s***.
The bedroom s***** seems to be the cliché stuff to do in this season. But you actually can bring a lot of fun and excitement to bedroom s**** with every bit of creativity. Your natural adrenaline rush is going to be limited because this is a frequent thing but, that can be activated by spicing up the love making with creative dresses, role plays and styles. Settle for s****ual positions that will leave you and your partner feeling more bonded. The fun all these will bring to the bedroom copulation will be more than worth it.
If you are a couple that is into s**** toys, it will be time therefore, to incorporate it into your s****ual encounters this season. Do make use of water-proof s***** toys which you can dip in to warm water and put in to use during play time.
With your body and that of your man feeling cold, getting teased on the skin and erogenous zones with a warm s**** toy, will do a lot to stimulate an erotic chill throughout your body that will really turn you on, and probably send you way over the edge.
This is the best period ever to employ hot and sweaty quickies in order to keep both you and your partner warmed up. No matter where you want to get your fantasies, weather indoor or outdoor, just know that quickies can always get you sweaty as a result of the rush adrenaline that comes with it.
So whenever and wherever you have the need for s****, allow it to come quickly, randomly and passionately this season. As you know, you might get cold this time of the year, so take advantage of quickies to get warm and sweaty.
With the weather blowing so much cool breeze around, it might be the right time to try out some tantric s***. This is a slow form of s**** that is said to increase intimacy and create a mind , body connection. It also leads to powerful orgasms.
Just between the warm quickies and bedroom copulation, you might want to savour each and every moment of your s***ual activity which can really help to prolong orgasms. Hit the bed, experiment more with relaxed, slower paced s*** and enjoy the joys of intense exploration.
Have you learnt a thing or two?
Please share your thoughts in the comment section below
Images: Google