For many, Valentine's over-the-top romantic feel makes it perfect for marriage proposals.
According to a WeddingWire survey of 18,000 people, December is the peak month for getting engaged with Christmas Eve a particularly popular date. Valentine's season closely follows that; and it is not difficult to understand why this is the case. Proposals are often about romance, sweet memories and promises. And which day perfectly exemplifies this if not Valentine's?
So it feels just right, in the estimation of many guys, to get down on their knees, extend a ring to the special one and sow that seed of commitment February 14.
But no.
Valentine's is not the best time for you to propose and you might want to take a step back and consider your options a lot more closely.
Don't propose on Valentine's day
"Why not?" I can hear you think to yourself.
Marriage proposals are primarily about thoughtfulness. Attention to details and sensitivity to your partner's desire is the major key here. All the dreaminess of a candle-lit dinner at a fancy restaurant won't amount to much if her most treasured wish is to be proposed to in the most private of settings – like being proposed to when it's just you and her.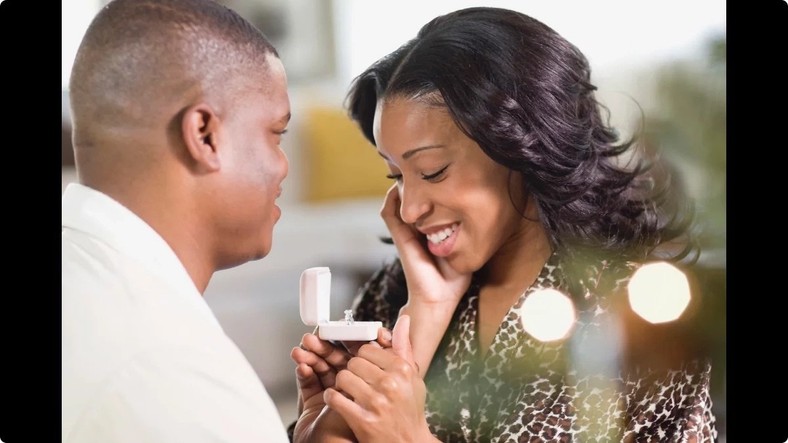 Like we already said in a previous article, a wedding proposal is not for the person making it; it is she [or he] to whom the proposal is being made that truly counts. You don't have to propose on Valentine's day. It's a trope you don't want to unneccesarily tie such beautiful memory to.
There's another way
As opposed to Valentine's day that's a day of love for all and sundry, think about important days that are specifically monumental in your relationship with your boo. It shows that an amount of thought has been put into it, and not just some lazy cliché affair.
Significant dates include first dates, first kiss, first day you saw her, first time you spoke, or any other day that means a lot to your relationship. Mind you, it's not just the significance in date that counts. Significance in days of the week also works so does venue.
If she has a bad memory attached to Thursdays for example, you might want to think twice before doing do it on a Thursday.
Remember, it's all about thoughtfulness.
If you must propose on Valentine's day…
Of course, Valentine's day proposals can't be completely invalidated just because they're common. Romance is still alive on the day and if you must exploit the magic of the night, you're absolutely welcome to!
Ensure to add a romantic, personal touch to whatever you do. So she'll know you out some thought into the proposal.
It could be something as simple as reminiscing on a memorable day in your relationship or in her life. Or making sure her fav colour, favourite song, etc is included in the plan.
Last but not least, never confuse expensive moves for thoughtful, romantic moves. If it's expensive, better make it thoughtful, too. It's most valued that way.
Nigerian lady tattoos her boyfriend's name on her face to prove her love (video)
A Nigerian lady has attracted attention on social media after being seen in a viral video getting a tattoo of her boyfriend's name on her face.
The lady who reportedly did this to prove her love to her boyfriend, had "Anjola my love" written on her face by the tattoo artist.
Here is the video below;
Six Strange Things Women Do When They Are Cheating In A Relationship
Six Strange Things Women Do When They Are Cheating In A Relationshi
Their are some certain things men should get suspicious of in other to know where they stand and be able to act fast.
One thing about relationships is that you can easily know when men are cheating due to their predictable actions. But for their female counterpart, the reverse is the case. All thanks to their secret lifestyle
Unfortunately for women, their behaviors always disappoint them naturally. So here are six Strange things women do when they are cheating in a relationship
1. She never parts with her phone.
She start being too private with her phone. Everyone is entitled to their own privacy, but if she's being too secretive with her phone, then their is a problem.
2. When she starts becoming disrespectful.
It's very painful when a girl who love and cherish you suddenly start becoming disrespectful to you. Do not assume it is normal because another man is now in her life and also flashing money on her.
3. No calls around you.
If she hastenly cut call around you or she avoided some male callers when you are around, better make sure you keep your eyes open.
She might also prefer not to pick your calls, at this point just know that she is with some other guy.
4. Strongly in opposition.
A minor disagreement happens now and then between every couples, but if she gets miffed over minute issue, you need to be careful as their is something she is hiding behind her anger.
5. When she wants a break in the relationship.
This particular one is really common. When she suddenly wants a break in the relationship, just know that she is cheating.
6. She is always lost in thoughts.
Women are known to be attentive creatures and good listeners. They sacrifice a lot in relationships, but if she barely pays attention to what her man is saying, just no that she is cheating because someone else is playing that role for the boyfriend.