For many, Valentine's over-the-top romantic feel makes it perfect for marriage proposals.
According to a WeddingWire survey of 18,000 people, December is the peak month for getting engaged with Christmas Eve a particularly popular date. Valentine's season closely follows that; and it is not difficult to understand why this is the case. Proposals are often about romance, sweet memories and promises. And which day perfectly exemplifies this if not Valentine's?
So it feels just right, in the estimation of many guys, to get down on their knees, extend a ring to the special one and sow that seed of commitment February 14.
But no.
Valentine's is not the best time for you to propose and you might want to take a step back and consider your options a lot more closely.
Don't propose on Valentine's day
"Why not?" I can hear you think to yourself.
Marriage proposals are primarily about thoughtfulness. Attention to details and sensitivity to your partner's desire is the major key here. All the dreaminess of a candle-lit dinner at a fancy restaurant won't amount to much if her most treasured wish is to be proposed to in the most private of settings – like being proposed to when it's just you and her.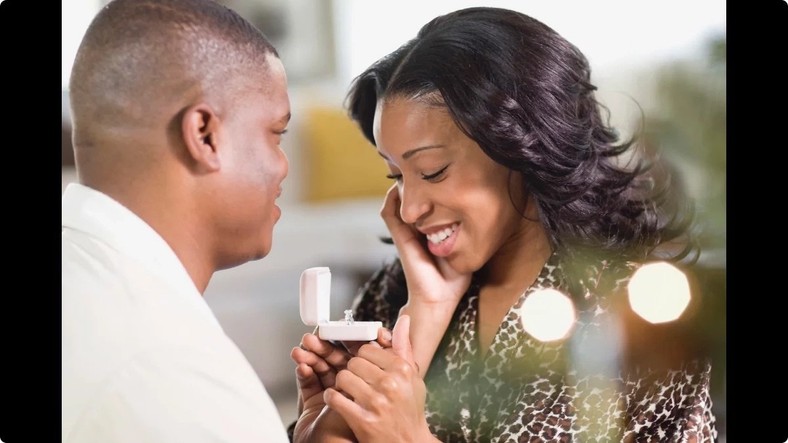 Like we already said in a previous article, a wedding proposal is not for the person making it; it is she [or he] to whom the proposal is being made that truly counts. You don't have to propose on Valentine's day. It's a trope you don't want to unneccesarily tie such beautiful memory to.
There's another way
As opposed to Valentine's day that's a day of love for all and sundry, think about important days that are specifically monumental in your relationship with your boo. It shows that an amount of thought has been put into it, and not just some lazy cliché affair.
Significant dates include first dates, first kiss, first day you saw her, first time you spoke, or any other day that means a lot to your relationship. Mind you, it's not just the significance in date that counts. Significance in days of the week also works so does venue.
If she has a bad memory attached to Thursdays for example, you might want to think twice before doing do it on a Thursday.
Remember, it's all about thoughtfulness.
If you must propose on Valentine's day…
Of course, Valentine's day proposals can't be completely invalidated just because they're common. Romance is still alive on the day and if you must exploit the magic of the night, you're absolutely welcome to!
Ensure to add a romantic, personal touch to whatever you do. So she'll know you out some thought into the proposal.
It could be something as simple as reminiscing on a memorable day in your relationship or in her life. Or making sure her fav colour, favourite song, etc is included in the plan.
Last but not least, never confuse expensive moves for thoughtful, romantic moves. If it's expensive, better make it thoughtful, too. It's most valued that way.
questions you can ask a lady to know who she really is
5 questions you can ask a lady to know who she really is
Ladies can be very canny and are sometimes masters of camouflage and deception. Unless you are immensely gifted, it may be problematic to fully understand a lady.
The intellectual pathways of a lady may sometimes seem dully hazy but you will find it extremely hard to understand them. But what really can you do to know who they are?
Well, asking someone a question will in some way reveal their true identity depending on how they react to the question as well as the kind of reaction they give.
But what really are these questions you can ask to have a clue of their personality?
1. What is the thing that happened that made you feel weak?
Here, you will get to know what really upsets her and emotionally unseats her. Her response to this, if at all is genuine, will help you know the kind of person she can turn out to be when upset or when annoyed. If nothing has ever made her feel weak, then, you can also know that she has a very strong personality.
2. Do you have a clue about how you will turn out to be?
This is a yes or no question. However, you may want to hear an explanation about the yes or the no. If she has no clue, it will tell you that this is someone who is just living because they are not dead; they really have no interest in life.
3. What makes you unique from other people?
Here, you get a direct response that will be hinged largely on her personality. If she says there is nothing unique about her, you get to know the kind of person you are interacting with. This is probably someone who doesn't value anything about herself. If there is anything she picks out,  then, you can as well judge from this.
4. What will make you leave someone you love?
This question calls for a variety of responses and each response will represent a personality at different levels of the society. Will it be because she is way too erratic or will it be because she is just too easily pissed? That will be up to you to judge.
5. Is there anything you question about me?
With this query, you get to know what is being kept in the dark about you. You also get to probably know why it is so.
HEART BREAKING! HOW BEAUTIFUL NIGERIAN BRIDE FINDS OUT SHE IS HIV POSITIVE, ONE WEEK TO WEDDING
A doctor who took to Twitter to stress the need for a medical test, disclosed that a Nigerian bride who came in for her test with her husband just found out she is HIV positive with just one week to their wedding.  It was discovered that the bride-to-be was HIV positive. No doubt, discovering that a person is infected with the virus is not another way of saying his or her life has ended.
But in this particular situation, the bride-to-be's ailing health condition was only discovered one week to her wedding with her sweetheart. Now, dealing with this news, and then, planning a wedding – that is if there is still a marriage ceremony to plan – can be very traumatic.
The doctor who revealed that the Nigerian bride just found out she is HIV positive with just one week to their wedding, added that the test left him in tears and he can't stop crying. He wrote on Twitter;
"IDK who need to hear this, Please do your check up some months to your wedding and know your status and that of your partner not when it next week or next day to the wedding. Couples to be just came for it now, The bride is Hiv+! Just week to thier wedding. cant stop my tears".
Knowing the shattering effect of this news, the doctor felt really sorry for them. Hence, while he took to sharing this story . He also advised couples to go for medical tests and check their results long before a wedding is even planned as knowing about any mishap just a week to a planning union is not very ideal
Many people have reacted to this post in quite expected ways. See some of the reactions below: "There is nothing to be sad about. If you allow love to concur.
HIV is no more the death sentence it use to be. With ARV the bride will have low viral load and won't be able to even pass the virus to the husband and she won't die not even in 50 years time. People need more education about HIV." another user said,
nikky248: "Now the test of true love comes into play.
" ngwajanengweji: "Most people lack knowledge abt HIV if they could learn and stop living in 1980's and open their minds to education."
_.rubie__: "They can still get married tho.
" uzoukwucynthia: "They can go ahead with d wedding if they want to. Treatment is free and available."
What are your thoughts on this?Kindly leave a comment
Source; Nairaland