For many, Valentine's over-the-top romantic feel makes it perfect for marriage proposals.
According to a WeddingWire survey of 18,000 people, December is the peak month for getting engaged with Christmas Eve a particularly popular date. Valentine's season closely follows that; and it is not difficult to understand why this is the case. Proposals are often about romance, sweet memories and promises. And which day perfectly exemplifies this if not Valentine's?
So it feels just right, in the estimation of many guys, to get down on their knees, extend a ring to the special one and sow that seed of commitment February 14.
But no.
Valentine's is not the best time for you to propose and you might want to take a step back and consider your options a lot more closely.
Don't propose on Valentine's day
"Why not?" I can hear you think to yourself.
Marriage proposals are primarily about thoughtfulness. Attention to details and sensitivity to your partner's desire is the major key here. All the dreaminess of a candle-lit dinner at a fancy restaurant won't amount to much if her most treasured wish is to be proposed to in the most private of settings – like being proposed to when it's just you and her.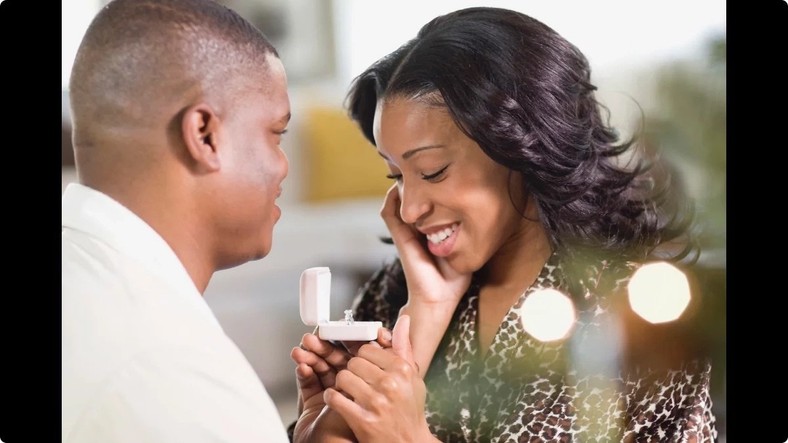 Like we already said in a previous article, a wedding proposal is not for the person making it; it is she [or he] to whom the proposal is being made that truly counts. You don't have to propose on Valentine's day. It's a trope you don't want to unneccesarily tie such beautiful memory to.
There's another way
As opposed to Valentine's day that's a day of love for all and sundry, think about important days that are specifically monumental in your relationship with your boo. It shows that an amount of thought has been put into it, and not just some lazy cliché affair.
Significant dates include first dates, first kiss, first day you saw her, first time you spoke, or any other day that means a lot to your relationship. Mind you, it's not just the significance in date that counts. Significance in days of the week also works so does venue.
If she has a bad memory attached to Thursdays for example, you might want to think twice before doing do it on a Thursday.
Remember, it's all about thoughtfulness.
If you must propose on Valentine's day…
Of course, Valentine's day proposals can't be completely invalidated just because they're common. Romance is still alive on the day and if you must exploit the magic of the night, you're absolutely welcome to!
Ensure to add a romantic, personal touch to whatever you do. So she'll know you out some thought into the proposal.
It could be something as simple as reminiscing on a memorable day in your relationship or in her life. Or making sure her fav colour, favourite song, etc is included in the plan.
Last but not least, never confuse expensive moves for thoughtful, romantic moves. If it's expensive, better make it thoughtful, too. It's most valued that way.
How to Know She's Wifey Material: 9 Clues You Should't Miss
Marrying has never been the difficult part, but finding 'the one' – the right one is. Men are often caught up in a tight dilemma when deciding whom to settle down with. Often time, they are beclouded by what she looks like and majorly fail out on nailing a keeper.
The question really is….what are you looking for? Are you looking for a trophy chick to hang on your hand or to make you feel good when you hang with the guys? Or are you looking for a "wife!" – Someone to build a legacy with. If a wife is what you're looking for, these 9 clues adapted from 
Afrojuju.net
will help you nail in on the right one
1. She spends more time in supporting your vision and aligning yours to hers. It shows she has your best interest at heart, most importantly, she has your back.
2. She is ever ready to tell you the slightest thing that happens to her and allows you to handle it. Shows she is not secretive and respects your views.
3. She spends time developing her mind and rates value more than love. Shows she is keen on being your help mate which is surely God's destiny for wives.
4. She always dresses decently, but attractively. Shows she is not only principled, but has values that can keep a home.
5. She is not demanding. Asks for nothing even when she knows she deserves it. Shows you won't go bankrupt within the first year of marriage.
6. She complements your actions and corrects you calmly. Shows she not only appreciates you, but totally respects you. I guess you can foresee a peaceful home with that.
7. She is always ready to listen when you scream and screams when she's afraid. Shows total submission.
8. She prays for your everyday development and closeness with God. Shows she desires that you remain the head in your home and live up to all your God given potentials.
9. She talks about your family and how to solve their needs. Shows she sees your family as hers now and will always work for their good.
With these clues, it should be easy for any man to identify a wifey material amidst the bevy of beautiful ladies in the world. Don't back your friend or loved ones up in a corner, pressuring them to convince you she's the one for you. Look out for these traits in that lady you are seeing and if she fails on too many counts, take a pass and find your "one." But if she is every last bit of these traits, then what are you waiting for? Put a ring on it already!
Love With Beautiful Corper, Writes Love Letter
JSS2 Student Falls In Love With Beautiful Corper, Writes Love Letter
Christy Augustine and the love letter in question
A corps member identified as Christy Augustine, took to the platform to share a photo of the love letter she got from a student at the school she was deployed to.
The corps member who took to social media to share the love letter, revealed that the student who gave it to her is in J.S.S 2. She took to a popular platform to ask if she should punish or advice the student.
Read her post below;
"Imagine this fa!
My fellow ranters…
This is one of my students in school, the worst part he is in jss2
And the funniest thing was that,
He walked up to me directly saying…Corper I have a letter for you.
After reading this am still confused either to punish him or advice him."
The letter reads:
"Good day Corpa Christy,
I love your teaching
I love the way you smile
I love the way you teach
Am in love with you for everything. How I wish you love me back