FRIEND OR ENEMY? Young Man Watches His Friend Die While Recording Him Drown At a Beach in Port Harcourt
Why so much emphasis on staying safe around water? Unlike many animals that instinctively and naturally swim if suddenly dropped into the water, humans must learn how to survive in the water. Swimming and water survival skills are not difficult to learn though. As history shows, many cultures throughout the ages have recognised the value of such skills. Also, we need to place our priorities right as the abuse of social media has led to the death of one who was left to drown while his friend filmed the whole event rather than lend a helping hand.
A young man has lost his life after he reportedly drowned in a Port Harcourt beach, while his friend filmed with the thought that he was having fun According to Twitter user @Aunty_Les, his cousin was the victim and the incident occurred in Abuloma, Port Harcourt.
Read her tweets below;
My cousin drowned yesterday. The girl who was with him was making a video asking him "is it deep". When he was drowning, and raising his hand for help, she thought he was calling her to come in, she was really saying "I can't risk my life like that o".

She was almost arrested cos they thought she knew he was drowning but made the video instead of screaming for help. From the video, he was standing at the shallow end of the beach but the ground under him opened up because they've been dredging that area.

Such a sad sad way to die. He was in the water for barely 10 seconds. If not for that video, the girl would have been arrested cos people who saw them together said it didn't take 5 mins from when they saw them to when he died.
The earliest movements to help people become safer in and around the water focused on learning to swim and other survival techniques. This is often called personal survival: being able to help oneself from trouble in the water without the help of others, or being able to keep from drowning while waiting for help.
Obviously, it is important to know how to swim if you find yourself in water and unable to reach safety immediately. But even those who know how to swim might need to use personal survival skills in situations like these:
A person might not be able to swim to safety after falling out of a boat or swimming out too far.
Someone might be carried away by a strong current.
Unforeseen circumstances may develop, such as cramps or an inability to swim because of very cold water.
A pedestrian may fall from a pier or be swept from shore by a large wave.
SOURCE: LB/ International Life Saving Foundation
JUST AFTER INNOSON WON BATTLE AGAINST GTB, MAN CLIMBS VERY HIGH MAST, CRASHES INTO BANK THROUGH THE ROOF IN IBADAN [VIDEO]
Nigerians have taken social media by storm since Friday to express their views and opinions on the legal battle between Innoson Motors Nigeria Limited and Guarantee Trust Bank, GTB. Recall that the take over was made known on Friday through a press release shared via tweet thread on the twitter account of Innoson Vehicles and signed by Cornel Osigwe, the Head of Corporate Communications for Innoson Group. While speculations and debates have been going on on the matter, another shocking incident, coincidentally involving a bank has created more uproar expecially as it involves the death  of a man.
It has been reported that a man has jumped to his death from a network mast situated in a bank in Ibadan, the Oyo State capital.
The man, suspected to be mentally unstable, was naked when he entered the bank premises on Saturday, located at Sango in Ibadan.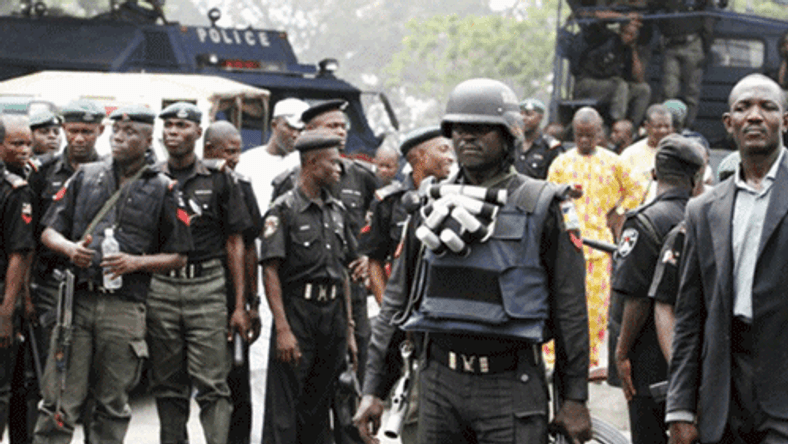 Olugbenga Fadeyi, the Oyo State Police Public Relations Officer, confirmed the incident to NAN, stating that the naked man came to the Wema Bank branch in Sango and entered the building through a small gate leading into the premises.
He, thereafter, climbed the mast and jumped down from the roof, before he could be rescued.
"The impact was so much that he crashed through the roof and fell inside the bank. An official of the bank was called in to open the premises."
"By the time the bank's door was opened, the man was already bleeding through the mouth and was rushed to the University College Hospital, where he was confirmed dead," Fadeyi said.
The victim's corpse has been deposited at Adeoyo Hospital for autopsy, while efforts are on to ascertain his identity.
See video below
Recall that in 2018, the Police arraigned Iliyasu Lawal, 28, Nura Iliyasu, 29, and Idris Suleiman 28, in a Wuse Zone 2 Magistrates' Court FCT for attempting to commit suicide inside the presidential villa.
Augustine Urom, the Prosecuting Counsel, had averred that Mr Lawal, on September 12 allegedly climbed an MTN telecommunication mast within the presidential villa to commit suicide while the others watched. Mr Urom further told the court that the Department of State Service (DSS) had transferred the defendants to the FCT Police Command on September 18.
He further averred that the defendants allegedly invaded the Aso Rock Villa with various protestation placards capable of making the public to revolt against the federal government. Mr Urom said the First Information Report (FIR) had alleged that the display of the defendants was capable of igniting uprising against a Constituted authority. The prosecutor claimed the offences contravened Sections 79, 348, 114, 113 and 231 of the Penal Code.
The defendants, however, pleaded not guilty to the five-count charges of joint act, criminal trespass, inciting disturbance, disturbance of public peace and attempt to commit suicide levelled against them. Uche Uwazuruonye, Counsel to Messrs Lawal and Suleiman thereafter filed an oral application seeking the court to admit his clients to bail.
Mr Uwazuruonye, said the alleged offences were bailable, adding that his clients would always be available to stand justice. "I assure the court that the defendants would not jump bail if admitted,'' he said.
Similarly, Dim Udebuani, Counsel to the second defendant, Mr Iliyasu, prayed the court to also grant his client bail, saying this will provide for him required right atmosphere to prepare his defence.
The Magistrate, Muhammad Abdulmumini, went ahead to admit the three defendants to bail in the sum of N250, 000 and a surety respectively. Mr Abdulmumini said the sureties must be from a Grade Level Seven Officer and above in the Federal Civil Service within the jurisdiction of the court. The Magistrate adjourned the case until October 16 for hearing.
Source: Dauly Advent
Please leave your comments below.
Settings for March and April airtel free data cheat 2019
Airtel free browsing cheat has been scarce after the free basics airtel cheat of early 2017, nothing as good as that has resurfaced until this recent airtel free data cheat 2019.
Read also;
How does it work
It work on all mobile device, android, iPhone or even "kpalasa" phones.
It works great on both old 3g SIM as well as 4g SIM
No VPN required
Settings for airtel free data cheat 2019
No special settings is required, all you need do is follow these simple steps;
Note: only try this if you are an airtel data subscriber. This may not work for you so try will the least data plan, if it works for you, you can go on to try it on airtel monthly data plan.
Dail *141# to subscribe to any airtel data plan
You will be given some bonus data alongside your purchased data, especially for new airtel sim that gets double data.
Use only the airtel free data and never touch the main data bundle
Afterwards, dail *126#
Choose 6 for reversal
If you are lucky you will get a reversal which you can use to purchase a new airtel data bundle.
You will be given new airtel free data , just repeat the process again by using only the free data and then dail the reversal code. That's all for this airtel cheat, enjoy