Now, due to personal reasons, I'm not in the habit of digging for the 'true' genesis of Valentine's Day. However, I've come to realize that in the human world, Valentine's Day is a day synonymous with Love (the 'human-kind' of love). I used those words because many humans believe already that love must be inside the same vehicle with sex (which means, the 'human-kind of Love' is not love in it actual self, but Lust, Infatuation, and anything negative you can think of)
It's a norm already for people to have sex on Valentine's Day as they believe the celebration isn't complete (or classic) without sex. However, wisdom demands that we should be wary of the direction of the crowd because the crowd can be wrong – and it is always fatal when the crowd is wrongly heading towards a wrong direction (because it means more lives would be ruined).
And so, it is quite nice to have a curiosity that seeks to know/determine if the culture of the crowd is right or wrong, healthy or harmful. The point here is, despite that almost everyone sees sex on Valentine's Day as quite normal, we are wise if we are bent on determining its rightness or wrongness.
I promised to be brief earlier, so, let me go straight to the point. If you must have sex on Valentine's Day, ensure you only have the 'Right Type of Sex'. Yeah, don't be surprised. There is a kind of sex that is right and healthy, and there are other ones that are wrong and harmful. Let me confidently say here that the 'Right Type of Sex' is sexual pleasure shared between a married man and his wife – any other thing is 'perfectly wrong'.
And why am I so sure of all these? Number 1, because that's what God told me in His Word, and I'm confident that God can never be wrong. God made sex, and being the Manufacturer, He is in the best position to tell us how to approach sex. And what He said is that He made sex to achieve certain divine purposes between a legally married man and his female wife inside the safe confines of their marriage institution – and any other contrary thing is a sin, harmful, and will bring forth fatal fruits.
Number 2, considering the effects that follow sex outside marriage, it is simple to identify what is right and what is wrong. Yeah, it is actually simple. You know, deep down within them, those engaging in premarital/extramarital sex are aware of the degree of it wrongness. The issue is, they intentionally allowed their urges and quest for pleasure to becloud their reasoning. And that's why those that engages in illicit sexual activities MUST always do it in secret, behind tightly closed doors. They can't flaunt the fruits with pride like a married couple would. Even the most hardened atheist will hide their illicit sexual activities from their married spouses – deep down, humans can identify rightness and wrongness. Then, we can't ignore the repercussions that follows: Physical Damages, Emotional Damages, Spiritual Damages and even Societal Damages.
So, despite being the popular norm, should you have sex on Valentine's Day (and beyond Valentine's Day)?
Answer: NO – If you are unmarried and won't share the pleasure with your married spouse.
Why? Apart from the fact that it is a sin against the Almighty God, also think about the terrible repercussions. Few-Minute pleasure can ruin your life forever!
You can contract a fatal sexual virus (condoms won't always save you) that will bring an end to your great dreams, goals and aspirations. You can bring forth an "unwanted pregnancy" that will attract disgrace to you and your family (condoms and pills are not 100% effective). By attempting to abort the pregnancy, implications might arise, leading to premature death, or damage of the womb and becoming barren forever.
In fact, your sex partner might be a terrible person with a deadly motive to drug you, rape you and make a video of your unclothedness in your unconscious state. The few-minute pleasure is not worth it at all! Flee sexual immoralities!
BE WARNED! HERE ARE 5 SURE SIGNS THAT YOU MIGHT LOOSE YOUR PARTNER TO THEIR EX
All relationships do not end at the altar. There might even be more relationships that failed to reach that landmark than relationships that do.
Point is, relationships end all the time, and when they do, it is not the end of the world. One would have to dust it off and move on to the next.
However, some people never really dust off the memories of their exes or get over the feeling of being with that person before trying to go be with someone else.
When you get with someone who has yet to move on from an ex; this is how you will know. The partner who compares you to an ex might not have moved on from that ex
1. The won't shut up about them
This is likely the most blatant pointer to the presence of residual feelings for an ex. When someone you are in a relationship with keep speaking about their ex and the things they had with them, it gets awkward and it's often likely that they are still pining for him or her.
That is not to say they can't even mention them here and there. Incidental mentions shouldn't be any trouble. It is the incessant, recurrent name dropping that's often problematic.
2. Comparisons
Imagine a partner talking about how better their ex was, right to your face. Crazy, right? It is both disrespectful for a partner to do this and it's just as bad for them to insinuate that you are a level below that other person.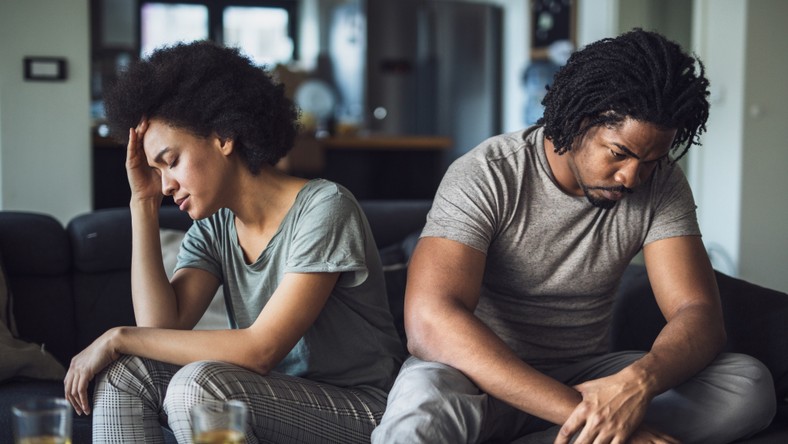 Even if it's true, it still isn't something to be said. If your partner doesn't even care about you and feels OK with making you feel less than their ex, it could be another way to know that they rate them higher than you and may low-key still be wishing they were with that person rather than you.
Building new memories with your partner are different from recreating memories you used to have with an ex.
3. They still talk. A lot.
This is also another uncomfortable thing to deal with in a relationship, no matter how you view it. Although some people manage to remain friends with their exes and that may be acceptable by their partners depending on the nuances of the breakup and the present relationship.
Regardless of this, having a partner talking to an ex so much when they are with you should bother you.
4. Always defensive of the ex
On this, Weena Cullins, a licensed clinical marriage and family therapist and relationship expert, tells INSIDER that "if someone constantly feels the need to defend their ex, specifically at times when their ex isn't the centre of conversation it could mean that they aren't quite over them."
If they won't create and enforce boundaries when it comes to the ex, too, it is something to be bothered about. No ex should have access to your partner as if they are still together.
A partner talking to an ex so much when they are with you should bother you.
5. Make your relationship an extension of the previous one
Tara Vossenkemper, a therapist and the founder and clinical director of The Counseling Hub, Columbia, South Carolina says "if your partner keeps trying to get you to do very specific things and then saying things like, 'that's what me and [ex] used to do,' then you need to take pause."
She tells Bustle further that "building new memories with your partner is different from recreating memories you used to have with an ex.
"One is meaningful and organic. The other is sad and full of baggage."
Pulse News
Leave your comments below…
things a good guy won't do to the woman he loves
3 things a good guy won't do to the woman he loves
When a guy loves you, there are some things he cannot do to you, especially if they'll hurt your feelings.
Register with Helabet and get double your first deposit – up to KES 10,000!Here is a list of things that good guysdon't do to the women they love.
1. Puts destructive habits before you
A person who is addicted to something can never put their partner first.
This is because they will always choose their addictive habits over their partners.
However, when it comes to good guys, they know that such behaviour is self-destructive, and will focus their energy on making the relationship work.
2. He pressures you to do things for him that you don't feel comfortable doing
There are guys who will always pressure their women to do things for them even without consulting them and finding out if they are comfortable doing them or not.
However, good men will never pressure their women into doing something they aren't comfortable doing. This is because they respect their women as well as their choices and opinions.
3. Ignoring or neglecting you
Some men have a tendency of ignoring and not caring about their women.
However, a good man will never ignore you and will always strive to give you the care and attention that you deserve. A good guy will always invest in the relationship and will work towards making you happy.