WOW! Davido Finally Unknowingly Reveals A Huge Secret He Has Been Keeping From Nigerians For So Long
Someday in the future, maybe it is going to be sooner than expected, Davido might be the first offspring of the Adeleke family in contemporary times, to become a state governor after a failed bid by his uncle Senator Ademola Adeleke. While engaging with Twitter followers in a chat to sensitize them about the imminent General Elections in Nigeria, Davido advised youths particularly to be careful not to be arrested but he could not provide proof concerning why they should be concerned about their safety.  The uncle is of the People's Democratic Party (PDP). He was one of the candidates who vied for a governorship role in Osun State, at a poll conducted in September 2018.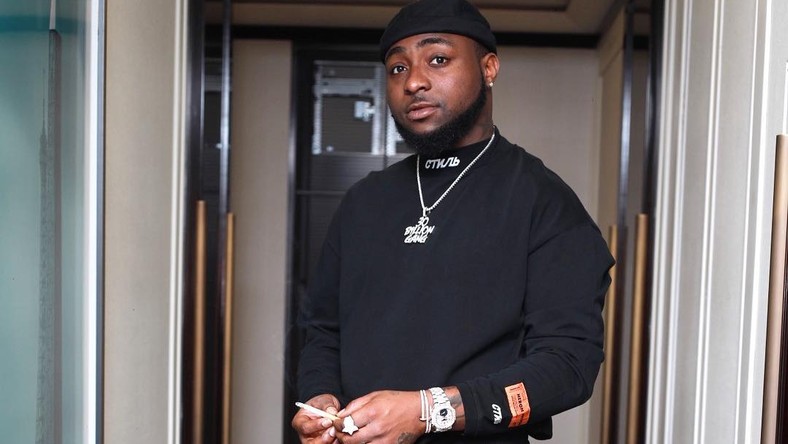 Unfortunately, he lost the contest to Alhaji Gboyega Oyetola of the All Progressives
Congress
 (APC). Davido has made himself relevant to all circles, including political figures. In the past months, a consciousness about national leadership has been obvious in the pop star who has introduced an initiative #DefendYourVote, to educate potential balloters on how to get the best out of their votes. The interest encouraged a witty response to a Twitter profile who questioned heavy involvement in
politics
by his family members.
Several fans of the 26-year-old singer reacted in several ways to his strong protest for votes to be rightly defended. Many of them attempted to shut him down while others posed challenging questions to him. In the midst of this, Davido let slip that he intended to be a governor at a point in his life. Prior to the conversation, Davido shared in an interview with UK's Channel 4 News his willingness to participate in making good decisions in government. He might not be entirely committed but "I will probably be around it," he says while chatting with an interviewer. "And why your first uncle(of blessed memories)is a senator, and your second uncle is a senator too and still want to be governor can u explain that," asks a curious Twitter profile @ashman_babane who is told in a comeback, "When I become governor I'll explain."
With the presidential and federal parliamentary elections coming up in six days, Davido has an energy that is as strong as in the TV interview. But his enthusiasm has made his followers question his integrity. Often times when Davido discusses his interest in politics, the PDP is usually the party he commends as having the right capacity to lead the country. This public admittance has encouraged suspicion concerning the involvement of the pop star in partisanship.
THROWBACK TO SOME LEGENDARY CHILDHOOD GAMES… IF YOU DIDN'T DO ANY, YOUR CHILDHOOD WAS BORING
Children want to grow up fast and do what adults do but ironically, adults want to be children again. With the struggles that comes with being a grown up, every once in a while, people find an escape, merely by reflecting on childhood memories. Anyone who grew up in Nigeria, probably had the best childhood in the world. Here are 6 childhood games that would have definitely made you love your childhood the more….
Fire on the mountain: 
Kids are arranged into two circles, one with one more member than the other. When a signal is given, they begin to run in opposite directions singing "fire on the mountain, run, run, run" until a whistle signalling – "fire is up!" is blown. Then each player tries to get a partner from the other circle.
After the scramble, the player without a partner is penalised to do certain stunts or made to squat in the centre of the circle. The removal process continues until one pair is left and the pair are crowned the winners.  The name for this game varies across Nigerian cultures.
Tinko Tinko: 
Girls especially loved this one. It involves two partners facing each other, while the theme song is sang by both as the game goes on. With hands held half way up, they begin the game which involves interchanging of hands front and back and slamming of hands by both partners. In this game, a lot of clapping happens in this game.
Who Is In The Garden: 
Here, the children make a big circle, starting with singing "form a big circle". After that, the anchor then stays in the middle and runs in the circle singing, " Who is in the garden a little fine boy/ girl (depending on the sex of the child) can I come and see him/ her, then everybody then responds "No" "No" "No", then the anchor someone else and says "follow me". This cycle is repeated until the last person remains, then others go in hiding while the last person goes searching for them.
Police and thief: 
This was like Nigerian kids replicating action blockbursters. In this game, there are the good guys (police) and the bad guys (thieves) but the stolen object is imagined. The kids then divide themselves into two groups, then the police group will try to find and catch those people playing thieves.
Ten Ten:
In playing this game, girls stand facing each other and clap their hands as they move their legs to a rhythm. The goal of each girl during this game is to ensure that she does not raise the same leg directly facing the other girl – which means it is no problem for a girl to raise a left leg when the other girl raises a right leg. The moment a girl raises the wrong leg, the other girl scores a point.
Boju-Boju:
 This is the Nigerian version of hide and seek. Every other person goes into hiding and the person seeking will start by singing the song, 'boju boju o…' and after singing, he starts to chase and anyone he/she catches will be the next to seek. Every seeker starts his/her chase by sing the song.
(Daily Advent)
Which was your favourite???
Davido, Burna Boy, Falz demand justice for Kolade Johnson.
Nigerian celebrities have called on President Muhammadu Buhari to put an end to the Special Anti-Robbery Squad (SARS), in seeking justice for Kolade Johnson.
Kolade was allegedly shot dead by a member of a police team, while he was watching a Premier League fixture between Liverpool and Tottenham Hotspur in Lagos on Sunday.
Speaking on the development, the Lagos Police Public Relations Officer, DSP Bala Elkana, in a statement said suspects have been arrested and investigation begun into the matter.
Johnson's death has since sparked widespread criticism from Nigerians and celebrities with a renewed call on the Federal Government to end the Federal Special Anti-Robbery Squad (F-SARS) unit of the police.
Here are reactions gathered by DAILY POST:
@Davido "Rip Kolade Johnson, All this nonsense must stop ! F*cked up my week up ! End SARS ASAP!! Rest In Peace Angel, God is alive !
@Simi "An innocent person dying because of the recklessness of an organization that only exists because of lack of value. They do not care at all! I'm actually fed up, I'm tired.
"Buhari please let someone pay for this. They can't keep doing this to your people and getting away with it."
@Banky W "This post is for our leaders: Buhari,Osinbajo, Akinwunmi Ambode, Sanwo-Olu… Dear Sirs, Kolade Johnson, an innocent, young citizen of Nigeria is dead. He was the only son of a widow, a husband and father.
" His only crime was being in the right place at the wrong time watching a football match when SARS operatives who allegedly came to arrest someone, started shooting sporadically.
"Kolade is not the first innocent victim of reckless behaviour by SARS operatives, and he will almost certainly not be the last. It is sickening, frustrating, and unfair.
"We are tired of hearing about victims of police brutality, but never hearing about the criminal, reckless police officers being brought to justice.
" We are tired of screaming and tweeting End SARS while our innocent young people are being extorted, bullied, maimed and killed by the very same officers who are meant to protect them.
"And we are tired of our leaders remaining silent, incident after incident.
We're going to track down Kolade's family, pray with them and raise money to assist them through this terrible tragedy.
"We hope that our leaders will use this opportunity to actually show that they care about our lives and wellbeing, by tracking down the reckless officers responsible for this murder and bringing them to justice for their vicious crime.
"We will not let this go. Kolade was innocent and did not deserve to die. Kolade could have been anyone of us. Please show us that you care about us. Please."
@Falz "So called police killing young people, abruptly ending our dreams and ambitions. How many more lives are we going to lose?
"What's the difference between these SARS guys and armed robbers / assasins ?
This administration is the most insensitive ever in our history. So we voted another 4 years of this bullshit?
@Burna Boy "This May be too much for some of you pto understand but until we are really ready to fight SARS and the powers that be I'm not talking about any aimless protest or marching. I mean really fight, nobody should include me in any hashtags. Until then let's continue to pray that our turn to die at the hands of SARS never comes."
@ Timi Dakolo "Another day another senseless killing yet no one is held accountable Another innocent Nigerian gunned down, a promising life snatched for no reason.
"To them it is fine as long as e no reach their house.senseless killings,End SARS.
"With all due respect Nigeria police, Show us a picture of them and let people that were there identify them as the officers that committed the crime."