WOW! Davido Finally Unknowingly Reveals A Huge Secret He Has Been Keeping From Nigerians For So Long
Someday in the future, maybe it is going to be sooner than expected, Davido might be the first offspring of the Adeleke family in contemporary times, to become a state governor after a failed bid by his uncle Senator Ademola Adeleke. While engaging with Twitter followers in a chat to sensitize them about the imminent General Elections in Nigeria, Davido advised youths particularly to be careful not to be arrested but he could not provide proof concerning why they should be concerned about their safety.  The uncle is of the People's Democratic Party (PDP). He was one of the candidates who vied for a governorship role in Osun State, at a poll conducted in September 2018.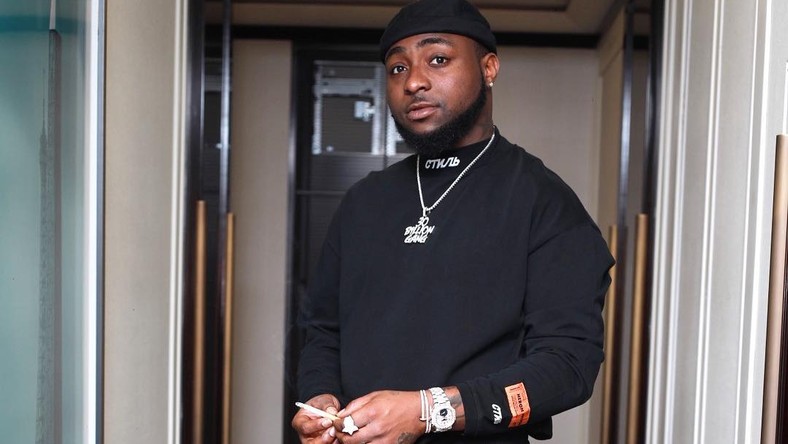 Unfortunately, he lost the contest to Alhaji Gboyega Oyetola of the All Progressives
Congress
 (APC). Davido has made himself relevant to all circles, including political figures. In the past months, a consciousness about national leadership has been obvious in the pop star who has introduced an initiative #DefendYourVote, to educate potential balloters on how to get the best out of their votes. The interest encouraged a witty response to a Twitter profile who questioned heavy involvement in
politics
by his family members.
Several fans of the 26-year-old singer reacted in several ways to his strong protest for votes to be rightly defended. Many of them attempted to shut him down while others posed challenging questions to him. In the midst of this, Davido let slip that he intended to be a governor at a point in his life. Prior to the conversation, Davido shared in an interview with UK's Channel 4 News his willingness to participate in making good decisions in government. He might not be entirely committed but "I will probably be around it," he says while chatting with an interviewer. "And why your first uncle(of blessed memories)is a senator, and your second uncle is a senator too and still want to be governor can u explain that," asks a curious Twitter profile @ashman_babane who is told in a comeback, "When I become governor I'll explain."
With the presidential and federal parliamentary elections coming up in six days, Davido has an energy that is as strong as in the TV interview. But his enthusiasm has made his followers question his integrity. Often times when Davido discusses his interest in politics, the PDP is usually the party he commends as having the right capacity to lead the country. This public admittance has encouraged suspicion concerning the involvement of the pop star in partisanship.
BET 2019: SEE HOW DAVIDO AND WIZKID REACTED TO BURNABOY'S BIG AWARD WIN
Ace Nigerian artistes Wizkid and Davido have reacted to Burnaboy's BET Award win at the just concluded event which took place at Microsoft Theater on June 23, 2019 in Los Angeles, California.
Oluwa Burna as he is fondly called picked up the prestigious award in the Best International Act category which had his countryman, Mr Eazi among the contestants.
Reacting to the Burnaboy's victory, Wizkid was the first to take to his Instagram page to congratulate the 'Ye' crooner on his latest feat. He put up a picture of Burnaboy on his story and sprinkled it with thoughtful emojis.
Davido in the same manner treated his 11 million Instagram followers to the picture of Burnaboy with the coveted award on his hands and left a congratulatory caption on it.
"Congrats Mi lo lo !!! U over deserve this my brother !! More to come @burnaboygram 
," he wrote. 
View this post on Instagram

‪Congrats Mi lo lo !!! U over deserve this my brother !! More to come @burnaboygram 

A post shared by Davido Adeleke (@davidoofficial) on 
This is Burnaboy's first BET win since his career. Meanwhile, the two arch rivals, Davido and Wizkid are the biggest winners of the award, having won it two times each.
Wizkid first won the award in 2012 alongside Sarkodie when it was still given to double singers, he grabbed it again in 2017 as a single winner.
Davido in the other hand lifted the award in first in 2014 before grabbing the most recent one in 2018 before Burnaboy joined the list in 2019.
RUGGEDMAN ATTACKED IN LONDON, SHOULD NIGERIANS BE WORRIED? (SEE VIDEO)
The most dreaded and unexpected has happened to veteran rapper, Ruggedman as he was attacked by angry youths suspected to be fans of cybercrime (Yahoo Yahoo) advocate, Naira Marley barely 24hrs after he was released from prison.
Should we be worried? Yes, we should! If Ruggedman was attacked by fans who advocate crime then there is a big problem in Nigeria. We know that crime has eaten deep in the Nigerian society as many now see it as a means of survival under the guise of the never-ending hardship in Nigeria but if being attacked for speaking against crime is now the order of the day, then we have a very humungous fish to fry.
Prior to this attack, on Friday 14th June 2019, rapper, Naira Marley who had a brawl with Ruggedman was released from prison following an arrest made by the Economic And Financial Crimes Commission (EFCC) on an 11 count charge of cybercrime. This arrest came as a result of his rants on social media where he publicly supported the online criminal acts.
While the rapper got large support from some celebrities and many youths who gave astonishing reasons why online fraud shouldn't be seen as a crime, some were not having it. Championing the team opposing the motion was veteran Rapper Ruggedman who obviously isn't getting much love from the streets at the moment.
If really, those who attacked Ruggedman were linked to Naira Marley, then this could pose as a serious threat to Naira Marley's freedom. Confirming the rumours of the probability that these attackers were actually 'Yahoo Yahoo' advocates, Ruggedman wrote on his Instagram page;
"Being attacked by 4 misguided boys will not deter me from fighting for the youths, even though they blindly fight me"
WATCH VIDEO OF THE ATTACK BELOW:
So what does the near future hold for Naira Marley? We understand that some artistes today gained popularity after their long battle with the law which was used as a tool to win the hearts of fans on the guise of injustice but Naira Marley's case is nowhere near justifiable because Cybercrime is an offence and even though he was released on bail, the possibility of him going back to jail if found guilty is still high. Now, an assault case which could be used against him is like adding salt and other spices to a fresh injury.
If you recall, Ruggedman who was ropped in during the whole Naira Marley saga got more attention of Nigerians after controversial blogger, Kemi Olunloyo accused the #EndSars Advocate of being a snitch. Trust me, whenever Kemi Olunloyo speaks on sensitive matters, crazy or not, Nigerians always keep her words to heart and when you have a set of angry Nigerian youths blinded by hate and vendetta, it's normal to expect such an attack on Ruggedman, only that we didn't think it would travel as far as the United Kingdom with boxing gloves.
Naira Marley, on the other hand, might just be waving goodbye to his career after the whole incident because judging from his history, he has not only had a feud with Ruggedman. Before attacking the likes of popular social media blogger, Tunde Ednut who spoke against cybercrime, the upcoming rapper had a brawl with Nigerian singer, Simi Gold who he called out on social media for allegedly snubbing him at an event. Should we say he was digging his grave unknowingly?
Truth be told, Naira Marley is not the first to have celebrity feuds but as an upcoming artiste trying to set his foot on a firm foundation in the entertainment industry, his move was just a NO NO. Interestingly, amidst the chaos, the upcoming rapper, recently released a song titled 'Opotoyi' with a video which has seen loads of downloads from fans and those curious to know all about the rapper.
While many see it as an attempt by the rapper to distract the public from his mess with the Law, some see it as a sign of greatness on the side of the rapper just as Kemi Olunloyo once prophecied. Besides, not everyone can drop a hot single in cuffs or behind bars.
On the flip side, Ruggedman is actually being called out as well by some Nigerians who claim the attack was just staged. Not that I'm one to believe such an accusation but a photo of Ruggedman and a British policeman which was allegedly taken after the incident makes the accusation look true.
Remember the Jussie Smollett case where the actor and singer claimed he was a victim of a homophobic attack which later on turned out to be untrue? well, many Nigerians are seeing it from that angle. Anyway, whatever the case may be, Ruggedman who has released a video confirming he was okay after the attack has just heightened the drama surrounding Naira Marley and the future of the upcoming rapper in the entertainment industry looks bleak.
WATCH RUGGEDMAN'S VIDEO BELOW:
For now, all I can say is that Ruggedman should watch his back and Naira Marley should try getting to the bottom of the matter because if he is discovered to be linked to this fresh attack, it will be an Adios Amigos case for his musical career. For your reading pleasure, below are the reactions of some Nigerians;