According to Listwand, Valentine's Day has been either made illegal or banned in five countries across the world. Whether for cultural or religions reasons, these countries have all made it illegal to celebrate this popular Western tradition. Violators of this law have to endure severe punishment in some of the countries if they are caught celebrating it.
Malaysia
In Malaysia, The celebration of Valentine's Day has been banned for Muslims since 2005, Muslims (who account for over 60% the population) are prohibited from celebrating Valentine's Day. Going out for the occasion is a big risk in the country. In 2012, police busted budget hotels and arrested more than 200 Muslims for defying a ban on any activities marking Valentine's Day.
Iran
In 2011, Iran banned the production of Valentine's Day gifts and any promotion of the day celebrating romantic love to combat what it sees as a spread of Western culture, In a statement from the state-run media, government officials warned, "Printing and producing any products related to Valentine's Day, including posters, brochures, advertising cards, boxes with the symbols of hearts, half-hearts, red roses and any activities promoting this day are banned," read the instruction. "Authorities will take legal action against those who ignore the ban."
Saudi Arabia
Every year in Saudi Arabia, officials with the conservative Muslim kingdom's Commission for the Promotion of Virtue and Prevention of Vice (CPVPV), better known as the religious police, clamp down on cupid do-gooders, prowling the street from shop to shop looking for anything related to Valentine's Day. Items were confiscated and people who looked like they were celebrating or promoting the holiday were arrested and punished. Some shop owners have become so paranoid about this that they'd rather close their shop for the day to avoid the risk of the religious police finding something 'illegal' in their stores.
Indonesia
The prohibitions of Valentine's day in some Indonesian cities come amid concerns that traditionally tolerant Indonesia is taking a sharp fundamentalist turn, by pushing to make pre-marital sex – including gay sex – illegal and punishable with jail time. In 2018, authorities in the country's second-biggest city Surabaya briefly
detained about two dozen couples during a raid to sniff out any sign of Valentine's Day celebrations. They were later released with a reprimand.
Pakistan

Pakistan is the most recent country to ban Valentine's Day celebrations in public spaces after the country's High Court passed a ruling, saying it was against Islamic teachings, according to local media reports.
Source; listwand.com/valentines-
What are your thoughts on this? Kindly leave a comment
Tacha speaks on having a body odour in Cool FM interview
Tacha speaks on having a body odour in Cool FM interview.
Former Big Brother Naija's housemate, Tacha aka Port Harcourt first daughter, has finally talked about her alleged body odour in her interview with COOL FM.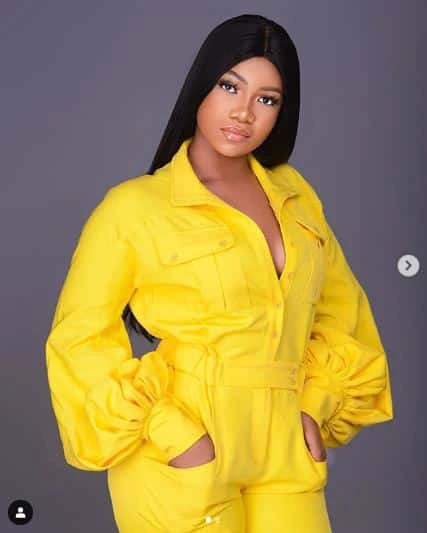 When asked if the rumour about she having a body adour is true, Tacha replied;
"Well I'm here, what do you think?"
Recall that, during the days of the reality show, Mike was heard telling Khafi to tell her friend to top up (use deodorant).
Despite not mentioning any names, quite a number of viewers have assumed he was talking about Tacha seeing as she and Khafi are pals. Well, Khafi and Cindy are also pals.
Some other housemates, seemed to agree with the idea that someone has body odour, going by their reactions.
BBNaija: Tacha reveals how Biggie "turned her on" during reality show
Tacha, one of the housemates during the 2019 Big Brother Naija, has claimed that the only person she was attracted to while in the house was Biggie.
Biggie is the instructive voice behind the screen of the reality show.
Tacha stated this during an interview on Cool FM with Dotun and Kemi Smallz.
While responding to a question about who she was attracted to in the house, Tacha narrated how Biggie had summoned and "turned her on" with the 'No-Leave-No-Transfer' slogan.
"I was attracted to Biggie. I was attracted to his voice and Biggie once turned me on.
"When Frodd won the Ultimate Veto Power and it was nomination night, he called Tacha. And after calling other nominees, he called Tacha again.
"When I queried, he said, 'Tacha, no leave, no transfer' and that turned me on. I was like 'Wow, Biggie did that for me!," Tacha said.
Tacha, was, however, disqualified from the show due to violent behaviour.