The Independent National Electoral Commission (INEC) is considering postponing Saturday's presidential and national assembly elections, PREMIUM TIMES has learnt.
Multiple sources close to the electoral commission said the postponement being considered is due to some logistics challenges being faced by the commission in many states.
The electoral body is facing difficulty distributing sensitive electoral materials to some states of the federation, an official said.
A formal announcement is expected on Friday night, our sources said.
It is unclear at this time what the new election date would be.
"There will definitely be a postponement but we are yet to take a decision on the new date," an official said.
Another official said the commission is considering fixing the elections for Sunday.
Our sources said INEC commissioners are currently locked in a meeting at the agency's headquarters in Abuja.
Some of the states where the logistic challenges are said to occur include Niger and Ekiti.
PREMIUM TIMES published a report by the News Agency of Nigeria where the Resident Electoral Commissioner in Niger State said ballot papers for two of the state's three senatorial districts were missing as of Friday evening.
EKITI LAMENTS
In Ekiti, the former governor of the state, Ayo Fayose, accused INEC of deliberately hoarding materials for the presidential, Senate and House of Representatives elections in some states to frustrate the PDP.
Mr Fayose said he was aware that ballot papers and result sheets for presidential and senatorial elections were not in Ekiti State as at 9 p.m. on Friday, adding that only materials for the House of Representatives were distributed.
According to his spokesperson, Lere Olayinka, Mr Fayose said similar situations already reported in Oyo, Taraba, Edo, Niger, Ogun, Rivers and other states.
The INEC Commissioner in charge of publicity, Festus Okoye, did not answer or return multiple calls from PREMIUM TIMES.
INEC had scheduled the national elections for Saturday while the governorship and state assemblies elections are scheduled for March 2.
Source: Premium Times
AISHAT BUHARI 'FINALLY' ACKNOWLEDGES MASSIVE CORRUPTION UNDER HER HUSBAND'S WATCH
The wife of the President, Aisha Buhari, has come out blunt again, describing her husband's administration as a failure in its Social Investment Programme.
She faulted the Social Investment Programme of the Federal Government, saying the programme has failed to achieve its aim in Kano and most parts of Northern Nigeria.
Mrs Buhari mentioned this during an interactive session with women as part of the presidential inauguration ceremony at the State House in Abuja.
The wife of the President, who specifically mentioned the conditional cash transfer component, questioned the method used in executing the programme.
She also faulted the amount of money spent on the purchase of mosquito nets.
"They have spent $16 million buying mosquito nets. I did not get it, but maybe some people have gotten it. I didn't get it. But I feel that, that's my personal opinion, $16 million is enough to fumigate Nigeria," she said.
Generally, Mrs Buhari did not agree with the method adopted for the programme, Channels TV reports.
She said, "I was expecting the social investment programme, N500 billion to be utilised in a different method; in order to achieve the aim. But I don't know the method they used. Most of the Northern States did not get the money. I don't know – my state didn't get the money. I don't know if your state got the money."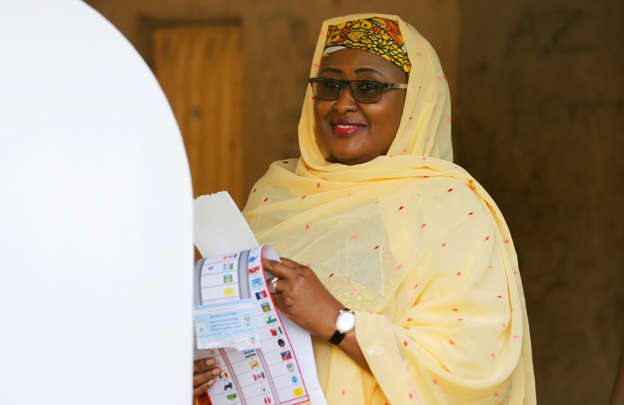 In her words, Mrs Buhari explained that the programme worked well in some state and that for other states where it did not succeed, a different approach should have been used.
She added, "In my state, one local government benefitted from it, out of 22 local governments. I didn't' ask what happened and I don't want to know."
Although the wife of the President is concerned about the performance of the programme in her state, she suggested it was worse in Kano.
Source: Daily Advent
REVELATION: Obasanjo reveals Nigeria's major problem
Former President, Olusegun Obasanjo says policy implementation was a major problem hindering Nigeria's growth and development.
Obasanjo said this in Ibadan on Saturday at the International Institute of Tropical Agriculture (IITA).
He said: "Our problem in this country has always been that of implementation. The 25-year Oyo State Government Agriculture Policy Framework presented is a good thing.
"We have formulated several policies in the past that suffered implementation. I hope your successor will implement it".
Obasanjo added that technology, finance and human resources were challenges facing agricultural development.
He added, "If you go into agriculture you may not be rich like Dangote, but you will be satisfied and comfortable.
"You will be comfortable because you are close to nature. Every individual is a stakeholder in the agriculture value-chain.
"If you are not a farmer, then you must be a consumer. If you are not a farmer, you can encourage a farmer".