The President of Nigeria, Muhammadu Buhari addressed the citizens of Nigeria in a nationwide live broadcast on Thursday night as he returned to his village, Daura, which 
is located
 in Katsina State, where he will cast his vote for the Presidential and National Assembly elections on Saturday, February 16, 2019
.
President Buhari, during the speech which was broadcast on NTA, called on Nigerians to vote for him during the Presidential elections because the only two choices they had was between going back or keeping the momentum of CHANGE
.
Here is part of the broadcast:
On Saturday, February 16, 2019, you will, once again, 

be called

 upon to choose the leaders who will pilot the affairs of our great nation for the next four years

. 

This is a constitutional right which should be 

freely

exercised by all eligible voters

. 

I wish 

therefore

 to start by assuring all Nigerians that this Government will do its very best to ensure that the 2019 elections take place in a secure and peaceful atmosphere

. 

It 

was indeed

such free, fair and peaceful elections that made it possible for our Government to emerge, despite the fact that we were contesting against a long-standing incumbent party

. 

And as your president and a fellow Nigerian, I ask that you come out and queue to fulfill this important obligation you have to yourselves and your fellow citizens – and to our common future

.
The damage that insecurity and corruption have done, over time, to our collective livelihood is incalculable

. 

However

, it is pleasing to note that our frontal attack on these twin evils is gaining momentum and bringing about visible progress

. The recovery of the economy from recession is complete and Nigeria is back on the path of steady growth. The key to creating more jobs lies in accelerating this momentum of economic growth. 

Happily

, we have succeeded in making the fundamental changes necessary for this acceleration, and we are now beginning to see the efforts bearing fruit

.
The Executive Orders, No. 5, and No. 

7 issued by me, and the recently approved National Infrastructure Maintenance Policy 

demonstrate

 our commitment to accelerated job creation and infrastructure development. 

We believe

 that Governments cannot 

simply

 proclaim jobs into existence. 

Job creation will only expand as a result of economic policies that enable the private sector to flourish, and this is the approach our Administration has taken

.
Executive Order No 5, which Promotes Nigerian Content in Contracts, as well as Science, Engineering and Technology, will preserve and 

prioritize

 job creation for our citizens

. 

Executive Order 7, on the Road Infrastructure Development and Refurbishment Investment Tax Credit Scheme, seeks to mobilize private capital and capacity for infrastructure development

. 

It responds to the demands of manufacturing and industrial complexes which wish to construct access roads without waiting for government, so long as they 

are allowed

 to recover the cost from taxes they would have paid to government

.
We expect that this approach will boost industrial expansion and rural development, 

consequently

 creating more jobs for our people

.
Similarly

, our recently issued Maintenance Policy targets artisans, carpenters, welders, tailors, painters, bricklayers, electricians, plumbers, landscapers and many more Ordinary Nigerians at the base of our economic pyramid who will get regular and large-scale opportunities to improve themselves

. 

It is an economic solution that also brings the relevant artisans and professionals into long term sustainable employment to maintain our Schools, Court Rooms, Hospitals, Police Stations, Federal Secretariats and other Public Buildings

.
There is no country that aspires to greatness without spending 

massively

 on its Critical Infrastructure

. 

Rather than the discredited policy of 'stomach infrastructure', which could only benefit a few for a little while, we 

are focused

 on real infrastructural development for the growth of our economy and the long-term benefit of all Nigerians

. When you voted for our message of CHANGE, you invited us to assume office and 

depart

 from that bad and most regrettable choice

. 

We have responded by making a choice for real infrastructure of Roads in every State, Housing in 34 States, Power Stations across Nigeria, Rail from Lagos to Kano

. 

The choice that now confronts us is whether we want to continue with real infrastructure development, which is the road to prosperity and jobs or return to the era of 'stomach infrastructure'

.
I will conclude by going back to where I started: that our choices have had consequences about employment and cost of living

. 

In making your choice this time, please ask yourself whether, and in what ways, others will do anything different to address the issues of Agriculture, Infrastructure, Security, Good Governance and Fighting Corruption

. 

If they are only hoping to do what we are already doing 

successfully

, we are 

clearly

 your preferred choice

. Think 

carefully

 and choose 

wisely

. This time, it is a choice about consolidating on growth for Jobs and Prosperity. February 16th is all about a choice. But it is more than a choice between APC and the opposition.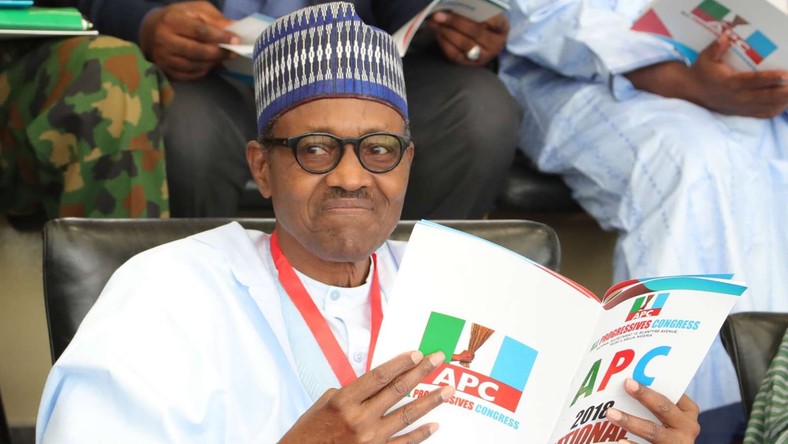 It is a choice about you, it is a choice between going back or keeping the momentum of CHANGE. 

The road to greater prosperity for Nigeria may be long, but what you can 

be assured

 of is a Leadership that is not prepared to sacrifice the future well-being of Nigerians for our own personal or material needs

. You can 

be assured

 of my commitment to remain focused on working to improve the lives of all Nigerians.
What are your thoughts? Let us know in the comments.
Edo election: 'If they want violence, we will give them' – Oshiomhole warns Obaseki, PDP
A former National Chairman of the All Progressives Congress, APC, Comrade Adams Oshiomhole, has said that his party will respond accordingly if the Peoples Democratic Party, PDP, decides to turn the September 19 governorship election into violence.
The former governor said the APC would not fold its arms and watch the governor of the state, Godwin Obaseki and the PDP violently steal the peoples' mandate.
Appearing on Arise Television on Monday, Oshiomhole averred: ''We will meet violence with violence.''
Oshiomhole was reacting to the governor's alleged threat to deal with APC members and supporters in the guise of dealing with trouble makers.
Recall that Governor Obaseki had earlier warned of stiff penalties against perpetrators of violence in the State.
Reacting to Obaseki's threat, Oshiomhole said: ''if they want violence, we will give them violence.''
Oshiomhole further explained that, among other things, he turned against his successor because the governor has not met the expectations of Edo people and regretted that he worked with Obaseki in 2016 without asking for his certificate.
Oshiomhole had earlier declared that Obaseki does not pose any threat to the APC candidate, Osagie Ize-Iyamu in the forthcoming governorship election.
Addressing the party faithful on Sunday, Oshiomhole said that Obaseki is not even eligible to contest for the election.
Oshiomhole said that it was a known fact that Ize-Iyamu, the APC candidate, finished from law school, adding that his former classmates have testified to that.
Edo/Ondo elections: Nigerian govt gives update on guidelines, protocols
The Presidential Task Force (PTF) on COVID-19 and the Independent National Electoral Commission (INEC) are currently working out the protocols and guidelines for the upcoming elections in Nigeria, including the Edo and Ondo States governorship elections.
The Chairman PTF on COVID-19, Mr. Boss Mustapha, disclosed this during the taskforce daily briefing in Abuja on Monday.
He said: "The national response will continue to guide the adoption of the sector's specific guidelines and protocols.
"The PTF is currently concluding discussions with the Independent National Electoral Commission (INEC) on the appropriate guidelines to be adopted for the upcoming elections in some parts of the country.
"The elections will begin with the August 8 by-election in Nasarawa State, to be followed by Edo and Ondo States elections in September and October.
"I wish to use this opportunity to implore parties' leaders, members, aspirants, and their supporters to remain mindful of the virulent nature of COVID-19 during electioneering.
"We need to remain alive to enjoy the benefits of our democracy."