n an effort to sanitize and pave way for peaceful general elections in the State, the Kano state police Command had carried out vigorous raids of criminal hideouts and black spots, arrest of known and identified criminals and recovery of large cache of weapons and hard drugs (Kwaya).
Notably, about 500 suspected members of gang of Yan daba, political thugs, drug sellers and users were arrested. Large quantities of machetes, weapons including sticks, swords, and charms were recovered from the suspects.
Also recovered are various intoxicating substances (Kwaya) such as diazaphern, valium 5, Indian hemp, solution, suck and die, potwin injection among others.
The suspects will be charged to court for prosecution immediately.
This is in continuation of the command's security and safety strategy towards ensuring hitch-free forthcoming general elections.
AISHAT BUHARI 'FINALLY' ACKNOWLEDGES MASSIVE CORRUPTION UNDER HER HUSBAND'S WATCH
The wife of the President, Aisha Buhari, has come out blunt again, describing her husband's administration as a failure in its Social Investment Programme.
She faulted the Social Investment Programme of the Federal Government, saying the programme has failed to achieve its aim in Kano and most parts of Northern Nigeria.
Mrs Buhari mentioned this during an interactive session with women as part of the presidential inauguration ceremony at the State House in Abuja.
The wife of the President, who specifically mentioned the conditional cash transfer component, questioned the method used in executing the programme.
She also faulted the amount of money spent on the purchase of mosquito nets.
"They have spent $16 million buying mosquito nets. I did not get it, but maybe some people have gotten it. I didn't get it. But I feel that, that's my personal opinion, $16 million is enough to fumigate Nigeria," she said.
Generally, Mrs Buhari did not agree with the method adopted for the programme, Channels TV reports.
She said, "I was expecting the social investment programme, N500 billion to be utilised in a different method; in order to achieve the aim. But I don't know the method they used. Most of the Northern States did not get the money. I don't know – my state didn't get the money. I don't know if your state got the money."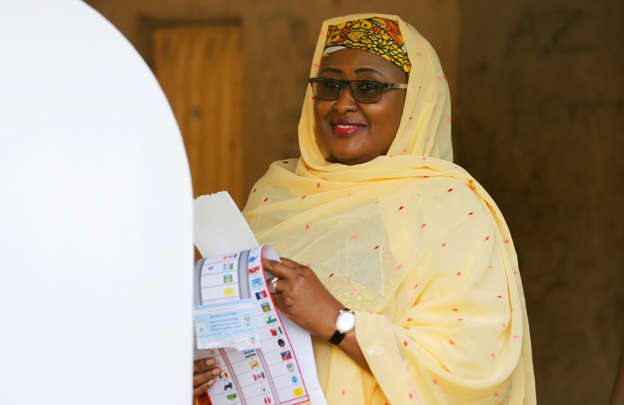 In her words, Mrs Buhari explained that the programme worked well in some state and that for other states where it did not succeed, a different approach should have been used.
She added, "In my state, one local government benefitted from it, out of 22 local governments. I didn't' ask what happened and I don't want to know."
Although the wife of the President is concerned about the performance of the programme in her state, she suggested it was worse in Kano.
Source: Daily Advent
REVELATION: Obasanjo reveals Nigeria's major problem
Former President, Olusegun Obasanjo says policy implementation was a major problem hindering Nigeria's growth and development.
Obasanjo said this in Ibadan on Saturday at the International Institute of Tropical Agriculture (IITA).
He said: "Our problem in this country has always been that of implementation. The 25-year Oyo State Government Agriculture Policy Framework presented is a good thing.
"We have formulated several policies in the past that suffered implementation. I hope your successor will implement it".
Obasanjo added that technology, finance and human resources were challenges facing agricultural development.
He added, "If you go into agriculture you may not be rich like Dangote, but you will be satisfied and comfortable.
"You will be comfortable because you are close to nature. Every individual is a stakeholder in the agriculture value-chain.
"If you are not a farmer, then you must be a consumer. If you are not a farmer, you can encourage a farmer".