2019 Polls: Popular Nigeria Prophet Predicts Winner Of Presidential Election
The founder of the Synagogue Church of All Nations(SCOAN), Prophet TB Joshua has prophesied victory for the candidate of the All Progressive Congress(APC), Muhammadu Buhari. The Prophet released the prophecy on Thursday, he said, "The election will be closely contested between the two leading political parties but I see Buhari Muhammadu winning"
This is an election year and Nigerian pastors are releasing different prophecies to Nigerians. Some have prophesied that Buhari will win while some said Atiku will win. The 2019 general election will hold on February 16, 2019. All the political parties have intensified the strategies to emerge victorious in the election. Whatever the prophecy that coming in regarding the election, only the voters will determine the winner.
Temitope Balogun Joshua (born June 12, 1963), commonly referred to as T. B. Joshua, is a Nigerian pastor, televangelist and philanthropist. He is the leader and founder of The Synagogue, Church of All Nations (SCOAN), a Christian organisation that runs the Emmanuel TV television station from Lagos.
Joshua is known for his popularity across Africa and Latin America and his social media presence with 3,500,000 fans on Facebook. His YouTube channel, Emmanuel TV, has over 1,000,000 YouTube subscribers and is the world's most viewed Christian ministry on the platform. Described as the "Oprah of evangelism" and "YouTube's most popular Pastor", Emmanuel TV is among the world's largest Christian television networks
He has been awarded various accolades, notably receiving the Officer of the Order of the Federal Republic (OFR) by the Nigerian government in 2008 and being voted the Yoruba man of the decade by Pan-Yoruba media outlet Irohin-Odua. He has been called one of Africa's 50 most influential people by Pan-African magazines The Africa Report and New African Magazine.
As of 2011, according to Forbes, Joshua was Nigeria's third-richest pastor,although the claim was immediately denied in a statement by the church. He is known to be controversial, and was even 'blacklisted' by the government of Cameroon in 2010.
Joshua wrote that in a heavenly vision he had received divine anointing and a covenant from God to start his ministry. Following this, Joshua founded the ministry organisation The Synagogue, Church of All Nations (SCOAN). According to the organisation, more than 15,000 members attend its weekly Sunday service; visitors from outside Nigeria are accommodated in the accommodation blocks constructed at the church.
The Guardian reported that The SCOAN attracts more weekly attendees than the combined number of visitors to Buckingham Palace and the Tower of London. The SCOAN's popular services have also resulted in an enormous boost for local businesses and hoteliers. Despite Joshua's popularity, the church only has a branch in Ghana,[31] Joshua stating that "it is not yet time" for him to have branches worldwide as "it will be too much for my character".
AISHAT BUHARI 'FINALLY' ACKNOWLEDGES MASSIVE CORRUPTION UNDER HER HUSBAND'S WATCH
The wife of the President, Aisha Buhari, has come out blunt again, describing her husband's administration as a failure in its Social Investment Programme.
She faulted the Social Investment Programme of the Federal Government, saying the programme has failed to achieve its aim in Kano and most parts of Northern Nigeria.
Mrs Buhari mentioned this during an interactive session with women as part of the presidential inauguration ceremony at the State House in Abuja.
The wife of the President, who specifically mentioned the conditional cash transfer component, questioned the method used in executing the programme.
She also faulted the amount of money spent on the purchase of mosquito nets.
"They have spent $16 million buying mosquito nets. I did not get it, but maybe some people have gotten it. I didn't get it. But I feel that, that's my personal opinion, $16 million is enough to fumigate Nigeria," she said.
Generally, Mrs Buhari did not agree with the method adopted for the programme, Channels TV reports.
She said, "I was expecting the social investment programme, N500 billion to be utilised in a different method; in order to achieve the aim. But I don't know the method they used. Most of the Northern States did not get the money. I don't know – my state didn't get the money. I don't know if your state got the money."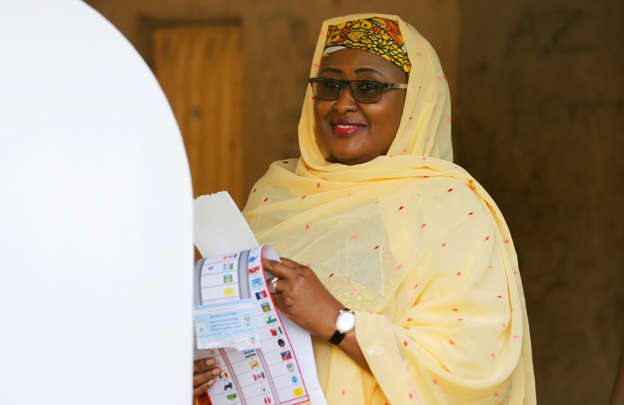 In her words, Mrs Buhari explained that the programme worked well in some state and that for other states where it did not succeed, a different approach should have been used.
She added, "In my state, one local government benefitted from it, out of 22 local governments. I didn't' ask what happened and I don't want to know."
Although the wife of the President is concerned about the performance of the programme in her state, she suggested it was worse in Kano.
Source: Daily Advent
REVELATION: Obasanjo reveals Nigeria's major problem
Former President, Olusegun Obasanjo says policy implementation was a major problem hindering Nigeria's growth and development.
Obasanjo said this in Ibadan on Saturday at the International Institute of Tropical Agriculture (IITA).
He said: "Our problem in this country has always been that of implementation. The 25-year Oyo State Government Agriculture Policy Framework presented is a good thing.
"We have formulated several policies in the past that suffered implementation. I hope your successor will implement it".
Obasanjo added that technology, finance and human resources were challenges facing agricultural development.
He added, "If you go into agriculture you may not be rich like Dangote, but you will be satisfied and comfortable.
"You will be comfortable because you are close to nature. Every individual is a stakeholder in the agriculture value-chain.
"If you are not a farmer, then you must be a consumer. If you are not a farmer, you can encourage a farmer".