The APC Presidential Campaign Council has listed some actions it expects the electoral commission, INEC, to take before Saturday's presidential election. The campaign council criticised the postponement of the election and listed seven things INEC should do before the rescheduled elections.
The council's position is contained in a statement by two of its directors, Babatunde Fashola and Hadiza Bala-Usman.
Read the full statement below.
TEXT OF APC PRESIDENTIAL CAMPAIGN COUNCIL PRESS BRIEFING ON THE POSTPONEMENT OF THE FEBRUARY 16 2019 PRESIDENTIAL AND NATIONAL ASSEMBLY ELECTION
Elections and political parties are primarily about people.
In this episode, millions of Nigerians have sacrificed their time, resources and convenience to perform this National civic duty only to be disappointed by the postponement.
As a party, our disappointment is doubled due to the fact that unlike some who were apparently privy to this postponement in advance, we found out alongside the public a few hours before the polls opened.
To the stranded youth corpers we empathise with you.
To the voters and volunteers who have travelled at great cost to cast their votes, we empathise with you.
To party agents and our party faithful we empathise with you.
Our sympathies go to all those people and we urge them not to despair.
However, we Nigerians are a determined and resilient people and we will not let the shortcomings of INEC deter us from exercising our franchise.
Therefore, we ask you all to stay calm, stay determined and come out en masse on February 23rd to vote for APC, President Muhammadu Buhari and all APC Senators and House of Representative candidates.
We urge all Nigerians to convert their disappointment to determination and ensure that their previous sacrifice does not go to waste.
As a result of the common pain shared by us all, we, the Directorate of Election Planning and Monitoring, and Contact and Mobilization on behalf of APC Campaign Council, demand greater openness and transparency in the Commission's preparations ahead of Saturday 23rdFebruary 2019.
We believe that members of the public should know:
a. What steps INEC have taken with CBN to assess, take inventory of materials and brief the public about what their condition is;
b. The status of INEC's plans to procure and provide materials for election and in particular let Nigerians know if all materials required are in country and if not what plans the commission has to ensure that they are.
c. INEC's plans to re-deploy and distribute materials ahead of Saturday 23rd 2019.
d. The specific problems INEC encountered in the failed attempt of Saturday 16thFebruary 2019 and measures it has taken to overcome them?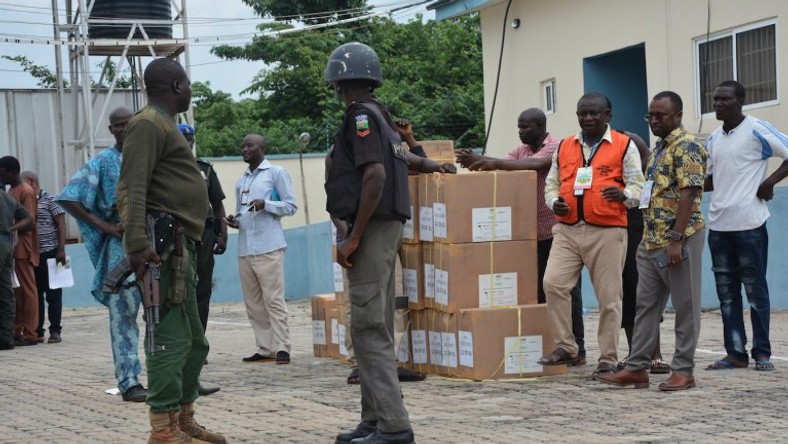 e. What transport logistics and further materials INEC require in terms of vehicles, boats, trucks, airplanes, helicopters, manpower and funding INEC requires to execute the elections of February 23rd and March 9th
f. Confirmation that the configuration of the card readers will be completed in readiness of Saturday 23rd 2019.
In addition to all of these, we believe that INEC should brief Nigerians daily on an ongoing basis until this process is concluded.
This is one way to elicit the buy-in of Nigerians that INEC is serious and this will replace disappointment with enthusiasm.
As President Buhari has urged that "Nigerians should continue to rally round INEC at this trying national moment," INEC has the duty to now make its processes open, believable and inspiring, this is what Nigerians can and will rally round.
This is the road to free and fair elections which is a victory for Nigeria and not for any party.
Babatunde Raji Fashola, SAN
Hadiza Bala-Usman
APC Directorate of Election Planning and Monitoring
APC Directorate of Contact and Mobilization
Sunday 17th February 2019
South West Governors react to call by Northern elders that Fulani herdsmen should leave Southern region
South-West Governors Forum has reacted to a recent call by Northern Elders Forum, NEF, asking herdsmen to leave the Southern region of the country and return to the North.
Governors of the South West said the call was most unfortunate, divisive and retrogressive.
The Chairman of NEF, Prof. Ango Abdullahi, had in a press conference in Abuja on Tuesday, claimed that there was a move by some trouble elements to engage herders with violence in the Southern part of the country, while directing the herders to return to the North.
South-West Governors' reaction was contained in a statement personally signed by the Forum's Chairman and Ondo State Governor, Oluwarotimi Akeredolu on Friday.
The statement added, "With no intention to engage anyone, it is incumbent on us, as elected representatives of our people in the South West Region of the country, to denounce this divisive and retrogressive statement in the strongest terms possible.
"The Southwest Governors viewed the report with palpable trepidation and outrage, the sustained attempts to fan the ember of discord, seizing every opportunity offered by the current security challenge to undermine the unity and peaceful co-existence among Nigerians."
"It is appalling, to assert the least, that the tragic incident, which claimed the life of Mrs. Funke Olakunrin, the daughter of Pa Fasoranti, the leader of Afenifere, would be used by certain persons to advance the cause of parochial and prebendal politics.
"We intend to get to the root of the sad occurrence as we await the findings of security agencies on the unfortunate incident."
"The governors and the people of the South West are working assiduously, at the current security challenges with a view to finding lasting solutions to curtail the nefarious activities of undesirable elements bent on wrecking our collective peace.
"We are not unaware of the antics of certain elements, who hope to garner political mileage from the contrived crises in virtually all parts of the country.
"We are equally convinced that this confusion serves the narrow interests of some persons.
"The country has a rich history; she has had to encounter adversities in the course of her transition to nationhood.
"She has overcome them all. This distraction will also pass. We look up to the security agencies to take cohesive steps to curtail this major challenge of insecurity which engenders hopelessness.
"We can only enjoin all citizens, on our part, to be patient and continue to cooperate with them as they combat the festering crises.
"We on our part have taken great strides with the hope that great success will be achieved.
"We, however, note, with discomfiture, the unpatriotic acts of some Nigerians, who will stop at nothing in their bid to undermine the Federal Government."
Buhari vs Atiku: I got presidential election results from website operated by INEC official – ICT expert tells tribunal
An ICT expert from Kenya, David Ayu Nyango Njoga on Friday said he retrieved the results of the 2019 presidential election from a server allegedly operated by the Independent National Electoral Commission, INEC.
Njong, who is a petitioner's witness, told the Presidential Election Petition Tribunal that the results of the last elections were stored in a server allegedly operated by INEC.
According to Njoga, he only got the report which he later analysed from a third party website: "www.factdontlieng.com".
Claiming that the information was provided by an INEC official, Njoga informed the tribunal that the alleged INEC official acted as an anonymous person.
When asked if the website belonged to INEC, he said no but by a whistle-blower.
Njonga said the website was created on March 12, 2019.
When reminded that the presidential election held on February 23 and the results were released before March 12, the witness went mute.