The APC Presidential Campaign Council has listed some actions it expects the electoral commission, INEC, to take before Saturday's presidential election. The campaign council criticised the postponement of the election and listed seven things INEC should do before the rescheduled elections.
The council's position is contained in a statement by two of its directors, Babatunde Fashola and Hadiza Bala-Usman.
Read the full statement below.
TEXT OF APC PRESIDENTIAL CAMPAIGN COUNCIL PRESS BRIEFING ON THE POSTPONEMENT OF THE FEBRUARY 16 2019 PRESIDENTIAL AND NATIONAL ASSEMBLY ELECTION
Elections and political parties are primarily about people.
In this episode, millions of Nigerians have sacrificed their time, resources and convenience to perform this National civic duty only to be disappointed by the postponement.
As a party, our disappointment is doubled due to the fact that unlike some who were apparently privy to this postponement in advance, we found out alongside the public a few hours before the polls opened.
To the stranded youth corpers we empathise with you.
To the voters and volunteers who have travelled at great cost to cast their votes, we empathise with you.
To party agents and our party faithful we empathise with you.
Our sympathies go to all those people and we urge them not to despair.
However, we Nigerians are a determined and resilient people and we will not let the shortcomings of INEC deter us from exercising our franchise.
Therefore, we ask you all to stay calm, stay determined and come out en masse on February 23rd to vote for APC, President Muhammadu Buhari and all APC Senators and House of Representative candidates.
We urge all Nigerians to convert their disappointment to determination and ensure that their previous sacrifice does not go to waste.
As a result of the common pain shared by us all, we, the Directorate of Election Planning and Monitoring, and Contact and Mobilization on behalf of APC Campaign Council, demand greater openness and transparency in the Commission's preparations ahead of Saturday 23rdFebruary 2019.
We believe that members of the public should know:
a. What steps INEC have taken with CBN to assess, take inventory of materials and brief the public about what their condition is;
b. The status of INEC's plans to procure and provide materials for election and in particular let Nigerians know if all materials required are in country and if not what plans the commission has to ensure that they are.
c. INEC's plans to re-deploy and distribute materials ahead of Saturday 23rd 2019.
d. The specific problems INEC encountered in the failed attempt of Saturday 16thFebruary 2019 and measures it has taken to overcome them?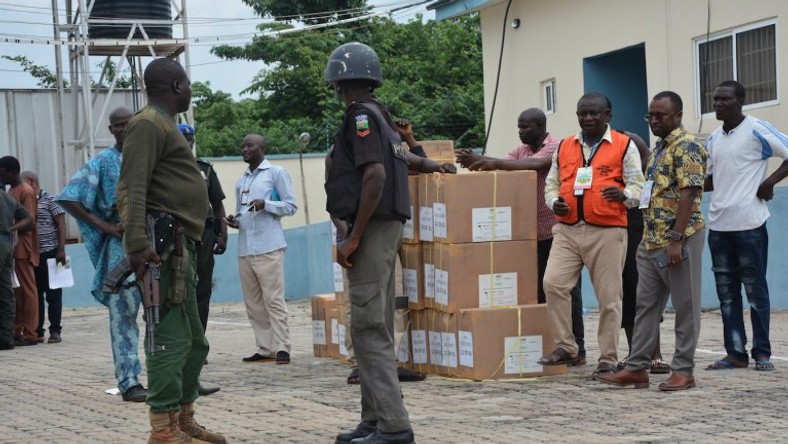 e. What transport logistics and further materials INEC require in terms of vehicles, boats, trucks, airplanes, helicopters, manpower and funding INEC requires to execute the elections of February 23rd and March 9th
f. Confirmation that the configuration of the card readers will be completed in readiness of Saturday 23rd 2019.
In addition to all of these, we believe that INEC should brief Nigerians daily on an ongoing basis until this process is concluded.
This is one way to elicit the buy-in of Nigerians that INEC is serious and this will replace disappointment with enthusiasm.
As President Buhari has urged that "Nigerians should continue to rally round INEC at this trying national moment," INEC has the duty to now make its processes open, believable and inspiring, this is what Nigerians can and will rally round.
This is the road to free and fair elections which is a victory for Nigeria and not for any party.
Babatunde Raji Fashola, SAN
Hadiza Bala-Usman
APC Directorate of Election Planning and Monitoring
APC Directorate of Contact and Mobilization
Sunday 17th February 2019
Buhari reacts as Police discover torture center in his village
President Muhammadu Buhari has commended the Nigeria Police Force for the discovery of a child-theft racket in Kano State and fake correctional centers in Kaduna and Katsina states.
DAILY POST recalls that the Police last Monday discovered another torture centre meant to be a reformation place for children with character deformation in Daura, Katsina State.
The Police raided the centre following a riot by the inmates over excessive abuses.
Reacting to the discovery, Buhari in a statement by his Senior Special Assistant on Media and Publicity, Garba Shehu, on Saturday, urged the police to sustain these good efforts across the country.
He noted that such arrests were in line with his commitment to human rights and dignity of the citizens regardless of their age, religion and ethnicity.
Buhari said he would not support criminality under any guise, including the abduction of children and selling them off illegally.
He maintained that no responsible democratic government would tolerate the existence of the torture chambers and physical abuses of inmates in the name of rehabilitation of the victims.
He, therefore, lauded the efforts of the police in exposing these human rights abuses by individuals and criminal groups.
Buhari expressed optimism that these efforts would be sustained to check illegal activities of this nature.
The President appealed to members of the general public to remain vigilant and assist security agencies in crime prevention and control by reporting the existence of criminal activities around their communities.
He said: "The sharing of human intelligence is everybody's responsibility in order to make our society safe and this government is ever committed to supporting the police to be more effective in the performance of its duties through proper funding and motivation of its personnel."
Buhari issues stern warning to state governors over contracts
President Muhammadu Buhari has warned that the Federal government might be forced to re-allocate projects elsewhere if any state government or communities create unnecessary impediments in the allocation of land or access to such lands for federal projects.
Buhari's warning was contained in a statement signed and forwarded to DAILY POST by his Media Aide, Garba Shehu, on Saturday.
According to Buhari: "The idea of chasing away contractors on-site or making undue demands from them by local communities or the deliberate actions of State governments to frustrate the allocation of lands for federal projects is an antithesis of the people's welfare."
The statement disclosed that, in a recent directive to Ministers, the President requested Ministers in his government to have the states clear all lingering land issues threatening federal projects under their supervision or have such projects moved to willing states where that becomes impossible.
Buhari regretted that, "some communities in the states are frustrating the siting of federal projects in their areas by making impossible demands for land compensation on contractors and even chasing them away from site where they are unable to meet up.
"To compound matters, contractors kept away from site often make further demands on payment whenever they return to site."
The Presidency noted that the refusal to allocate lands for federal projects or the growing hostility by communities against contractors on site are hurting the interests of the very people governments are elected to serve.
"By denying Federal government lands for projects and creating unnecessary obstacles for the execution of these projects, it may be unfair to turn around and accuse the same Federal government of marginalising people in terms of projects allocation.
"When it comes to the welfare of the people, governments at all levels should be united by the common goal of improving the well being of the people, regardless of political affiliation"
"It is, therefore, impossible to spread Federal government projects when petty demands or politics is allowed to override the higher interest of the people," the statement added.