Nigeria's rescheduled presidential and national assembly elections will now hold on Saturday, February 23, 2019.
Here are a few things you should know ahead of the vote:
1..Ballot materials are now chilling in a local government secretariat near you
According to Chairman of the Independent National Electoral Commission (INEC), Mr. Mahmood Yakubu, "ballot papers, result sheets and a host of non-sensitive materials are now in location across the 36 states of the federation and the federal capital territory." 
Yakubu adds that: "The movement of materials to local government areas for batching, according to wards and polling units, shall take place on Wednesday 20th and Thursday 21st Feb 2019, two days to the rescheduled date for the presidential and national assembly polls".
So, yeah, that means INEC is ready this time and has tidied up on its logistics.
2..Card readers everywhere
Some 180,000 card readers will be used for these elections nationwide.
And according to INEC, these card readers are in perfect condition.
3..Don't worry, these card readers have been reconfigured
Recall that before the election was postponed from Feb 16 to Feb 23, some election materials and card readers had been deployed to certain states.
The fear after the postponement was that some desperate politicians had tampered with or compromised the card readers and other sensitive election materials.
INEC announced on Tuesday, February 19, that the card readers have been reconfigured.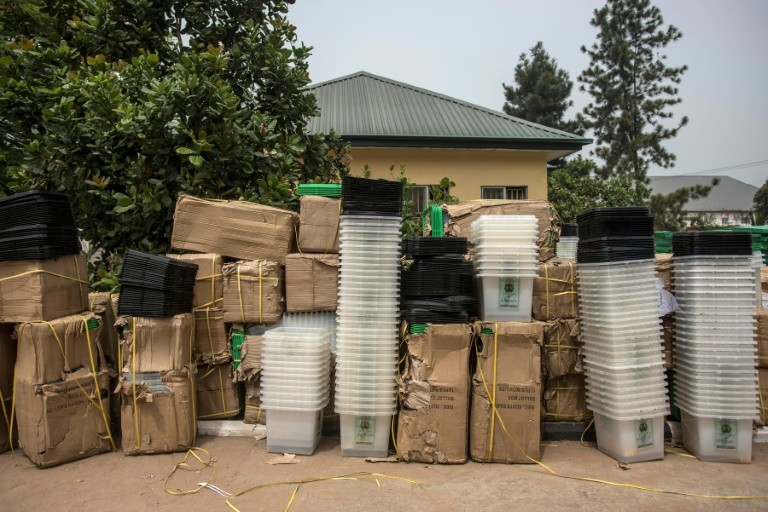 Reconfiguration as used here means that INEC has reset all card readers dispatched ahead of last Saturday's cancelled election, just in case anyone hacked into them with pre-loaded information.
INEC Chairman Yakubu says: "I am glad to say that as at today, about 98% of the smart card readers have been reconfigured and we are confident that by tomorrow, all would be ready."
He explains why the reconfiguration became necessary: "The Smart Card Readers (SCRs) are configured to only open for use at 8am on election day and to automatically shut down by 10pm. This is designed to forestall any illegal use of the SCRs before the appointed time of elections."
4..Note the time for everything
Yakubu says: "All Registration Area Centres (RACs) are to be activated by 9am on Friday.
"Personnel and materials must arrive at the polling units latest 7am on Saturday, while opening of polls nationwide will take place at 8am.
5..When does voting begin and end?
Voting will commence at 8am and close at 2pm on Election Day.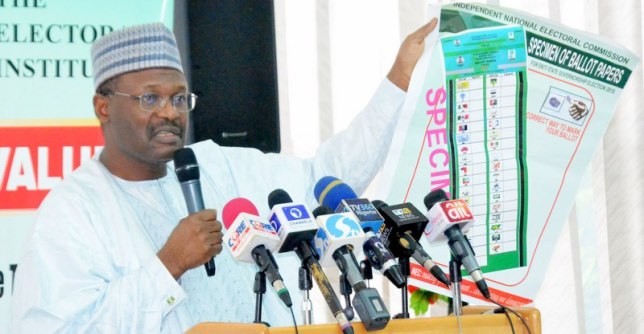 Results will be announced at all polling units immediately after collation, transported to the local governments, then to the State INEC headquarters from where there will be taken to Abuja's national collation center for a holistic tally.
You should know the winner of the presidential election before dawn of Sunday, February 24, 2019.
BREAKING: Hoodlums Loot NYSC Camp In Abuja
Hoodlums in their numbers have invaded the National Youth Service Corps (NYSC) camp in Kubwa Abuja looting properties belonging to the camp.
An eye witness, Precious Ayuba confirmed this incident to Tribune Online via a phone call. As at the time this report was being filed, the looting was still ongoing.
As at the time this report was being filed, the looting was still ongoing.
According to the source, the hoodlums got wind that COVID-19 palliatives were stored in the NYSC camp, but reaching there, they could not find any food item.
Disappointed by what they saw, the hoodlums started looting foams, chairs tables, television and other properties they could behold.
Recall that in Abuja alone, about 3 locations where COVID-19 palliatives were stored have been looted with NYSC camp being the latest.
Hoodlums have been on the loose across the country, looting COVID-19 palliatives storage houses.
COVID-19: Governors received N1billion each from Buhari, N1.1billion from World Bank – Yahaya Bello
Governors of the 36 states were said to have received N1billion each from the President Muhammadu Buhari-led Federal Government to cushion the effects of the coronavirus pandemic.
The Governors were also said to have signed a Memorandum of Understanding with the World Bank to receive a sum of N1.1billion for the same purpose.
Governor Yahaya Bello of Kogi State made this revelation on Tuesday while featuring on Channels TV's Sunrise Daily.
According to Gov Bello, all the state governors have since received the N1billion from the Federal Government.
However, Yahaya Bello said he was the only state governor who refused to sign an MoU with the World Bank.
Asked why he received the COVID-19 fund from the Federal Government despite not believing in the virus, Bello said, "even though we did not have COVID-19 in Kogi State, we are equally affected; because our economy was equally affected and Federal Government released that fund to assist every state and we cannot reject it."
He stated that he refused to sign the World Bank MoU because it was a one-sided agreement or document.
"Go and check records. Kogi State is the only State that refused to sign that document for N1.1bilion because I don't believe in COVID. N500million has been disbursed, Kogi State did not receive and I refused to receive and I rejected it," he said
The Kogi Governor debunked allegations that his government hoarded the CA-COVID relief packages in Lokoja or anywhere in the State as being rumoured.
The allegations, he said, were to discredit state governors and the Federal Government.