On Saturday, Alhaji Atiku Abubakar, the presidential candidate of the opposition Peoples Democratic Party (PDP) in the recently concluded Presidential election in Nigeria, unveiled his legal team headed by Dr. Livy Uzoukwu which he vowed would retrieve his "stolen mandate" which 
was given
 to him by Nigerians
.
Recall that Atiku rejected the results released by the Independent National Electoral Commission (INEC) which declared President Muhammadu Buhari of the All Progressives Congress (APC) as the country's President after he polled 15 million votes to Atiku's 11 million
.
According to The Punch, a statement released by Paul Ibe, the former Vice President's media adviser, showed that Dr. Livy Uzoukwu, SAN, is the Head of his Legal team
. 
Atiku went on to assure people that he was confident that a historic judgment will 
be given
 that would nullify the electoral fraud
.
The statement quoted Atiku as saying: "I have 
just
 inaugurated my Legal team, and charged them with the responsibility of ensuring that our stolen mandate 
is retrieved
. I am encouraged by the presence of fearless men and women of the Bench. 
The Judiciary, which had in the past discharged itself 
ably
, is once again 
being called
 upon to deliver judgement on this matter that will 
be untainted by
 lucre, and uncowed by the threat of immoral power
."
The re-election of President Buhari may have 
been protested by
 members of the opposition party but he has received congratulatory messages from within and outside the country
.
Apart from the United States of America, France and the United Kingdom, the President has also received congratulatory messages from the umbrella organisation for Muslims in Nigeria, the Nigerian Supreme Council for Islamic Affairs (NSCIA)
. 
The organisation under the leadership the Sultan of Sokoto, Alhaji Muhammad Sa'ad Abubakar, has congratulated Buhari on his reelection
.
The organisation described President Buhari's reelection as a reward for his good character and transparent honesty and advised the president to continue to 
be focused
, fair, and firm in his administration's efforts to reposition the country for good
.
In a statement by the chairperson of its media committee, Femi Abbas, the organisation said it would continue to pray for the President's success
.
The statement reads: "In appreciation of the Almighty Allah for His boundless favours on Nigeria through Your Excellency and acknowledgement of His honour in making your re-election a success, the Nigerian Supreme Council for Islamic Affairs (NSCIA), under the leadership of its President-General, the Sultan of Sokoto, Alhaji Muhammad Sa'ad Abubakar, CFR, mni, congratulates you on your electoral victory and wishes you another successful tenure as President of our beloved country
. 
As Your Excellency is aware, you are a pride not only to us as an Ummah but also the entire black race 
by virtue of
 your unique personality and immense qualities which have endeared you to millions of minds, including those of us in the Council and our affiliate bodies
. It is a sign of walaayah (friendship) with Allah that a person's love 
is planted
 in the hearts of people.
"You are a refreshing source of inspiration to many people all over the world as a symbol of unimpeachable character, transparent honesty, unimpregnable integrity and unassailable righteousness
. 
As Allah says in the Glorious Qu'ran, 'is there any reward for good other than good?' (Q55:66), Nigerians in their overwhelming majority have rewarded Your Excellency's goodness with a vote of confidence in you through the last February 23 presidential election
.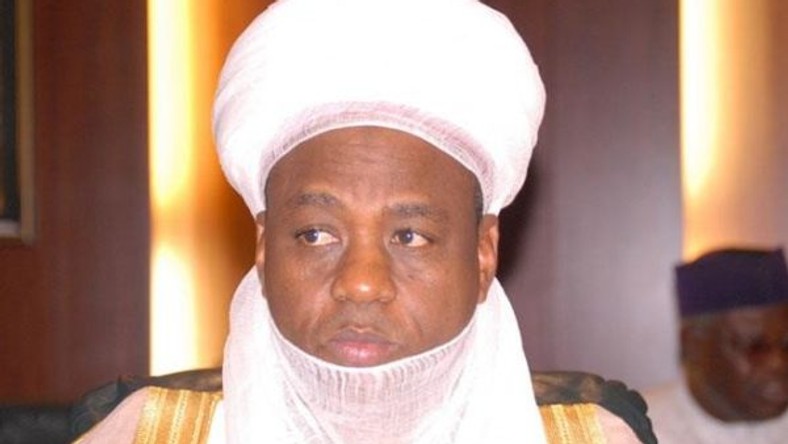 "We have no doubt that you are aware that leadership is a trust and that as Prophet Muhammad (SAW) said, every shepherd (leader) will 
be asked
 about his flock (followers); yet, we must enjoin you to continue to do your best in the interest of the country
. 
We urge you to continue to be fair and firm in leading Nigeria to where she deserves, despite the unfounded blackmail and character assassination by those whose pre-occupation is to 
eliminate
 Muslims and Islam from the public space 
in order to
continue to use religion to exploit and extort gullible individuals
.
"We urge you to be wary of hypocritical do-gooders contriving a non-existent tension for relevance when indeed by their partisan pre-election activities, they cannot 
genuinely
 lay claim to neutrality and sincerity
. 
Our prayer is that the Almighty Allah continues to grant you good health, long life and divine wisdom to steer the ship of Nigeria to the shore of greatness in peace, development, security and decorum
. 
We also beseech Him to continue to guide and guard you in the discharge of your onerous duties so that you will remain a pre-eminent role model that you are for all incorruptible persons
."
What are your thoughts? Let us know in the comments section.
Majority of Nigerians are poor – Buhari tells new Ministers [Full text]
President Muhammadu Buhari has told his Ministers designate that majority Nigerians are extremely poor.
President Buhari said this on Tuesday at the end of a two-day Presidential Retreat for designate and senior Government officials.
Here is the full text of the President's speech:
After two days, we have come to the end of a successful retreat. However, you will agree that our work is just beginning.
These last two days have been very instructive for me personally, because I have had the opportunity to know many of you new Ministers-Designate better. I was also pleased to see that you have all equally enjoyed debating and deliberating on the various challenges before us over the next 4 years.
Ladies and Gentlemen, majority of our people are poor and are anxiously hoping for a better life. A Nigeria in which they do not have to worry about what they will eat, where they will live or if they can afford to pay for their children's education or healthcare.
Our responsibility as leaders of this great country is to meet these basic needs for our people. As I mentioned yesterday, this Administration inherited many challenges from our predecessors to mention a few:
A country in which 18 local governments in the Northeast were under the control of Boko Haram
Decayed infrastructure in which our rail lines and roads had severely deteriorated;
A rent seeking economy that depended largely on oil revenues and imports
Significant unpaid pensions, subsidy debts, legacy contractor debts. I can go on and on.
In our first term, we laid the foundation to rebuild our country. We recaptured those 18 Local Governments previously held by Boko Haram, whose activities are now limited to sporadic attacks against soft targets.
Our investments in road and rail infrastructure are without precedent, and many of you can attest to this. We also focused on diversifying the economy from oil towards agriculture and industrialization.
Despite reduced revenues from oil and gas compared to past governments, we have broadly addressed many of the legacy debts they left behind.
Whilst we have obvious successes to celebrate, the challenges ahead are significant as you would have observed in detail over these two days. Nevertheless, from the quality of the deliberations, it is clear that solutions to our problems are well researched and have been well articulated.
We have discussed solutions relating to addressing Insecurity; Macroeconomic Stability; Agriculture and Food Security; Energy Security for Petroleum products and Electricity; Transportation and Critical Infrastructure; Industrialization and SME Development; Human Capital Development; Social Inclusion; Anti-Corruption; Housing Financing and Consumer Credit.
Public service is not easy work, and at times it can be thankless. I am therefore charging you all to see this opportunity to serve as an honour, to give your best to deliver on this mandate, for a more prosperous Nigeria, not for some, but for all Nigerians.
You will find that working collaboratively and purposefully will enable us to achieve quicker results, recognizing that four years is not a very long time. For the new Ministers, make sure you engage and benefit from the experience of the older Ministers and former Governors in the cabinet.
In terms of coordination, kindly ensure that all submissions for my attention or meeting requests be channeled through the Chief of Staff, while all Federal Executive Council matters be coordinated through the Secretary to the Government of the Federation.
I would like to thank the Office of the SGF for coordinating this successful Presidential Retreat. I would also like to thank the National Assembly leadership, the Party Chairman, Chairman of the Governors Forum, and resource firms, for the active engagements and contributions.
Once again, the challenges that lie ahead of us as a country are significant. But I have no doubt in your individual capacities and our collective patriotic commitment to deliver a better Nigeria for us, our children and a brighter future for all.
German Government deports Nigerians 48 hours after Ekweremadu attack
The German government has deported a new batch of Nigerian migrants less than 48 hours after the attack on former Deputy President of the Senate Ike Ekweremadu by the Indigenous People of Biafra (IPOB) NAN reports.
Former Deputy Senate President, Senator Ike Ekweremadu, was on Saturday disgraced by suspected members of the Indigenous People of Biafra (IPOB) in Nuremberg, Germany.
According to reports, the migrants have already left Frankfurt Airport at 8 a.m., and were expected to land in Nigeria's Murtala Mohammed International Airport between 2 p.m. and 3 p.m.
The number of migrants deported was not ascertained as at the time of this report, it was however, gathered that they were picked randomly from different accommodation centres.
It would be recalled Last month two batches of Nigerians were sent back home from the European country.
"The flight will be from Frankfurt on Monday. For those who have been given the information, the plane will take off by 8 a.m. and arrive in Nigeria between 2 p.m. and 3 p.m.
"Those who will be deported will be picked randomly from their different accommodation centres from 3 a.m. till 5 a.m. in different regions and conveyed to a central place and finally to Frankfurt Airport," the Co-ordination Activist for Network Refugees 4Refugees, a political platform for refugees and migrant self-organisation based in Stuttgart, Germany, Rex Osa, told The Nation.
Osa added, "When their asylum application is already expired, they are obligated to leave the country.
"For those who don't leave voluntarily, they will be given a what is I can translate in English to mean toleration status. This status is not a resident title; it is to show that the person is still there because the deportation is hindered because of one reason or the other.
"These people are picked up early in the morning without expecting the police.
"Some would be picked up from work also. When the police arrive in their rooms, they would be allowed to pack things not more than say 64 kilos. The police will be standing to make sure the person does not escape."
The activist urged the federal government to come to the aid of the victims as many of them are coming with a myriad of challenges.
"Among these people are many sick people. Nigeria should be expecting a lot of people who have psychological problems, and people with spinal cord problems leading to paralysis."