For many people, cheating is a deal breaker, however, there are couples who choose to work it out after one person strays. In some cases, it's a chance for couples to restrengthen their relationship and start over again. But if you're the one who was cheated on, it's up to you to recognize a situation where forgiving a cheater can a good idea or the worst mistake you'll ever make.
If you notice these signs, then you should definitely break off the relationship after he cheats on you.
1. He isn't remorseful
You cannot forgive a cheater who doesn't feel like he did anything wrong. Any guy that tells you he's entitled to having other partners or even worse, that it was your fault he cheated, isn't a man who deserves a second chance.
2. It's not the first time
You cannot keep forgiving a cheater unless you're ready to deal with that for the rest of your life. A serial cheaterwill not make a committed partner. Save yourself the heartache and leave.
3. He's not ready to be fully transparent
A cheater who wants forgiveness should be ready to open up to you. He should be able to answer all your questions about the affair and can attempt to help you understand what was going on in his head when he did it. However, if he confesses to sleeping with one other woman, only for you to later find out there are many more, or you find out other lies he didn't admit to, then he isn't to be trusted.
4. He's not ready to cut ties with the other woman
So he tells you he won't cheat again, but still wants to remain in communication with the person he cheated with? That's not really the type of drama you should have to deal with. The best thing to do is to walk away.
5. It's hard for you to move on
Here's the thing, not everyone is capable of forgiving a cheater. And if you find his betrayal so hurtful that you just know you can never look at him the same way, that's completely okay. It just shows that you have your limits and your partner has crossed it.
It's better to let go of the relationship. Otherwise, the resentment and hate will continue to grow no matter what he does. He may be a truly changed man but all that means nothing if you've already fallen out of love with him.
Share your thoughts in the comment section below
Source: Zumi.ng
BE WARNED! HERE ARE 5 SURE SIGNS THAT YOU MIGHT LOOSE YOUR PARTNER TO THEIR EX
All relationships do not end at the altar. There might even be more relationships that failed to reach that landmark than relationships that do.
Point is, relationships end all the time, and when they do, it is not the end of the world. One would have to dust it off and move on to the next.
However, some people never really dust off the memories of their exes or get over the feeling of being with that person before trying to go be with someone else.
When you get with someone who has yet to move on from an ex; this is how you will know. The partner who compares you to an ex might not have moved on from that ex
1. The won't shut up about them
This is likely the most blatant pointer to the presence of residual feelings for an ex. When someone you are in a relationship with keep speaking about their ex and the things they had with them, it gets awkward and it's often likely that they are still pining for him or her.
That is not to say they can't even mention them here and there. Incidental mentions shouldn't be any trouble. It is the incessant, recurrent name dropping that's often problematic.
2. Comparisons
Imagine a partner talking about how better their ex was, right to your face. Crazy, right? It is both disrespectful for a partner to do this and it's just as bad for them to insinuate that you are a level below that other person.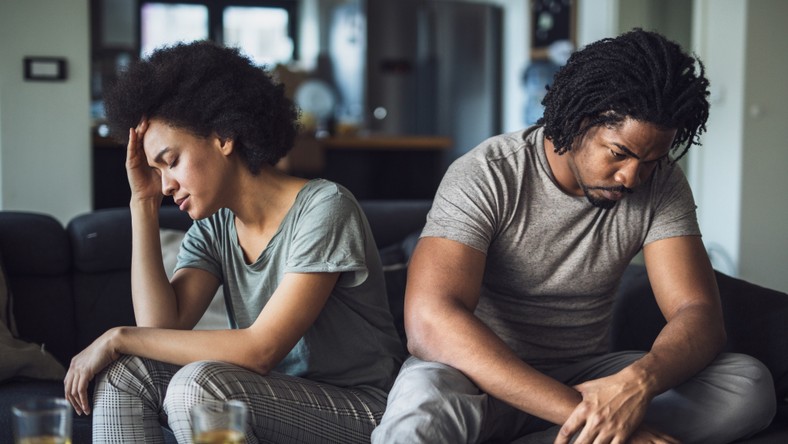 Even if it's true, it still isn't something to be said. If your partner doesn't even care about you and feels OK with making you feel less than their ex, it could be another way to know that they rate them higher than you and may low-key still be wishing they were with that person rather than you.
Building new memories with your partner are different from recreating memories you used to have with an ex.
3. They still talk. A lot.
This is also another uncomfortable thing to deal with in a relationship, no matter how you view it. Although some people manage to remain friends with their exes and that may be acceptable by their partners depending on the nuances of the breakup and the present relationship.
Regardless of this, having a partner talking to an ex so much when they are with you should bother you.
4. Always defensive of the ex
On this, Weena Cullins, a licensed clinical marriage and family therapist and relationship expert, tells INSIDER that "if someone constantly feels the need to defend their ex, specifically at times when their ex isn't the centre of conversation it could mean that they aren't quite over them."
If they won't create and enforce boundaries when it comes to the ex, too, it is something to be bothered about. No ex should have access to your partner as if they are still together.
A partner talking to an ex so much when they are with you should bother you.
5. Make your relationship an extension of the previous one
Tara Vossenkemper, a therapist and the founder and clinical director of The Counseling Hub, Columbia, South Carolina says "if your partner keeps trying to get you to do very specific things and then saying things like, 'that's what me and [ex] used to do,' then you need to take pause."
She tells Bustle further that "building new memories with your partner is different from recreating memories you used to have with an ex.
"One is meaningful and organic. The other is sad and full of baggage."
Pulse News
Leave your comments below…
things a good guy won't do to the woman he loves
3 things a good guy won't do to the woman he loves
When a guy loves you, there are some things he cannot do to you, especially if they'll hurt your feelings.
Register with Helabet and get double your first deposit – up to KES 10,000!Here is a list of things that good guysdon't do to the women they love.
1. Puts destructive habits before you
A person who is addicted to something can never put their partner first.
This is because they will always choose their addictive habits over their partners.
However, when it comes to good guys, they know that such behaviour is self-destructive, and will focus their energy on making the relationship work.
2. He pressures you to do things for him that you don't feel comfortable doing
There are guys who will always pressure their women to do things for them even without consulting them and finding out if they are comfortable doing them or not.
However, good men will never pressure their women into doing something they aren't comfortable doing. This is because they respect their women as well as their choices and opinions.
3. Ignoring or neglecting you
Some men have a tendency of ignoring and not caring about their women.
However, a good man will never ignore you and will always strive to give you the care and attention that you deserve. A good guy will always invest in the relationship and will work towards making you happy.