10 signs you are dating a mammy water. Guys, you really should see this, No.3 will scare YOU!
10 signs you are dating a mammy water. Guys, you really should see this, No.3 will scare YOU!
Signs you are dating a mammy water: This is for all the guys who pick up random girls on the streets without knowing anything about them. Here's how to know if you are sharing your bed with a mammy water:
You picked her up from the street or some other random place. Maybe she was even standing in front of an uncompleted building..
You don't know her surname. She told you her name is " Just Julie"..
She agreed to sleep with you on the very first day, in fact she moved into your house, no questions asked.
She never gets tired. She can pound yam, fry garri, grind pepper with a stone and still sleep with you when she finishes.
She always looks perfect, even first thing in the morning. No pimples, her make-up looks permanent and everything is always in the right place.
Her Brazilian hair looks natural. It really looks like her hair but maybe salons have found a way to remove natural hair and put it back later.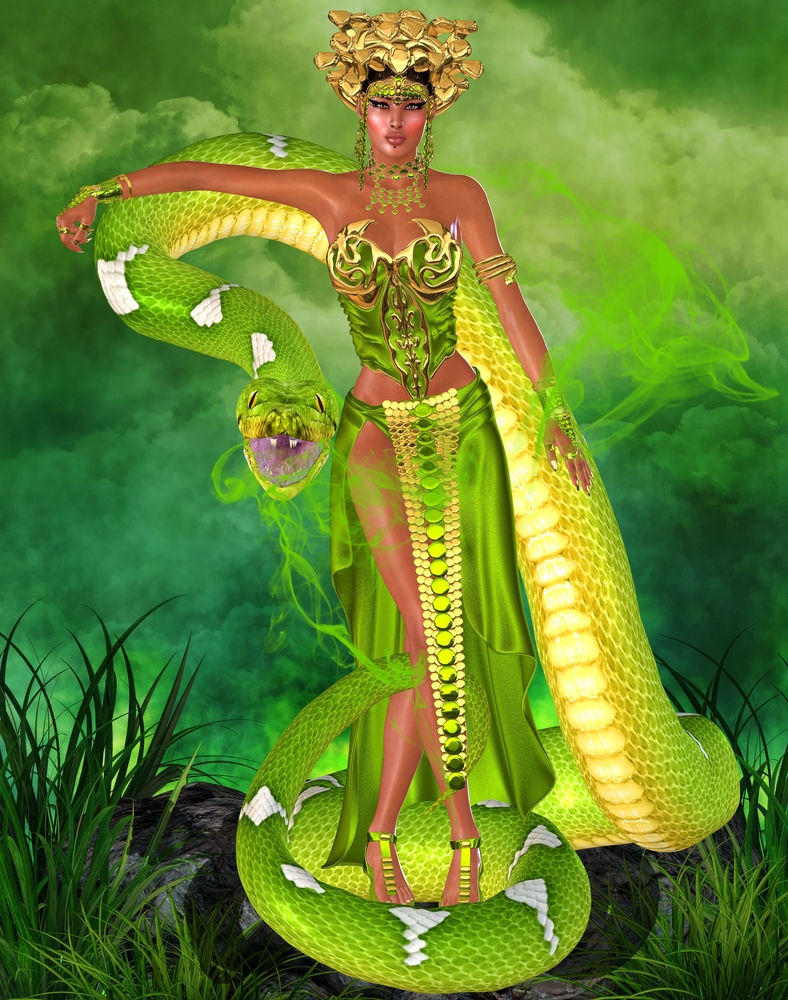 She never talks about her family and she doesn't have any friends. You only hear her saying "My sea sisters" sometimes at night but you're not bothered because girls call themselves all sorts of things.
Ever since you started sleeping with her, your life has turned upside down but of course your stepmother in the village is to blame.
She has stopped you from eating fish. Ever since she came into your life, it's only chicken or meat, nothing that comes from the sea.
She doesn't ask you for anything. In fact, she's every Nigerian boyfriend's dream. You don't pay for human hair or internet subscriptions and she doesn't even want iPhone.  She doesn't care about Valentine's Day and you don't even know her birthday sef. She never gets jealous or goes through your phone and she couldn't care less about your Facebook password. In fact she's the best!
If the girl you're with falls into all these categories, you better wake up my guy, NA FISH SHE BE!!!
6 WAYS PARENT UNKNOWINGLY INTRODUCE THEIR CHILDREN TO CHILD ABUSE
Parenting can be a very tasking job, considering the demands of new born babies, raising them, attending to their needs and other things can make parents wants to break.
More tasking is when the child begins to grow, the elementary stage of the child which informs the beginning stages of the child. The child formative years is the most imperative years of his life, which most them suffers major abuses because of something the parent did or did not do.
As a parent, it is assumed that you try the best you can to protect your children from all forms of abuse.
But even after that, it seems your best wasn't good enough so they still fall victim to the very abuse you were protecting them from.
Here is a shocking fact: half of the times your kids were abused, you were the one who exposed them to it.
How?
1. Allowing Them To Sit On An Adult's Laps
Be watchful of some older relatives and outsiders who carry your children on their laps. Especially the ones who always insist that your child sits in that position.
Your girl child could be fondled or molested by them, unknown to you. Protect your children, make sure that they don't carry your child like that.
2. Being Accepting Of Over-Involved Outsiders
Those aunties and uncles that are always showing care to your child. Buying them toys, helping out with their school fees and even asking you if they can take them to their house for holidays. Be careful of them.
Some of them could be grooming your children for sex or expose them to other vices.
3. Unsupervised Plays
Adults aren't the only ones who abuse your children. Even older children can molest their younger siblings.
Also, from age 6, children become curious about their genitals and want to explore. So a harmless play could lead to something else.
Be wary of older children in your compound who befriend your kids.
4. Relatives
Yes, it is true that relatives also submit your children to various types of abuse, sad and hurtful as it sounds.
Not every family member you allow to care for your children has their best interest at heart.
5. Insults And Name Calling
As a parent, you often make the mistake of raining all forms of insult on your children. You call them idiot, useless and other vile names.
Know today, that insulting your child hurts their self-esteem and breaks their spirit.
Even if they don't cry when you do so, they get hurt.
6. Negligence
Refusing to provide your child with basic needs is also a form of abuse. Or refusing to be involved in their lives.
How else do parents expose their children to abuse? Let's talk about it in the comment section.
(Daily Advent)
Leave your comments below…
10-signs-you-are-dating-a-mammy-water-guys-you-really-should-see-this-no-3-will-scare-you/
6 things you're doing that could cause relationship problems
6 things you're doing that could cause relationship problems
Relationships are a two-way street. Yes, your partner may have some things they could work on but that doesn't mean you're completely blameless when it comes to your relationship problems.
No one likes admitting, even to themselves, that they may be doing something wrong, but looking at your behaviour with a critical eye can have a really positive impact on your relationship.
Here are 6 things you might be guilty of that often cause relationship problems:
Having unrealistic expectations
If you expect to come home to a fresh bouquet of flowers every day from your practical and budget-conscious boyfriend, you're going to be disappointed… a lot.
We all have certain expectations in a relationship. These can range from big things, like marriage and kids, to smaller details like if you're okay with socks on the bathroom floor.
It's important that you sit down and discuss these expectations so you're both on the same page. This way you'll understand what each of you expects from the other.
Not respecting boundaries
Just because you're comfortable with something, doesn't mean your significant other (SO) is. If he isn't okay with being very affectionate in front of his parents, respect that.
Boundaries are there to create a safe space in a relationship so they should be agreed upon and respected by both parties. Figure out what they are for both of you early on in the relationship, before any resentment can come into play.
This doesn't mean that you have to be the only one making sacrifices, but the two of you should have mutual respect for the lines put in place.
Expecting affection, but not giving it
In a relationship, we all want to feel loved and appreciated, so being affectionate with your partner is important. If you want more affection between the two of you, being cold and offish won't magically make your relationship warm and loving.
Try doing something for your SO like watching his favourite movie together or making him a cup of coffee while he's still in bed on a Sunday morning. Those little acts of kindness will make a big impact in creating a loving relationship.
Communicating poorly
Good communication has been touted as the number one requirement for any happy relationship. So it's not surprising that a lack of it can cause serious relationship problems.
If your partner has done something that annoyed or upset you, speak up. Tell them what you have an issue with, how it made you feel and offer a solution to avoid it in the future.
Allow them to do the same and have mutual respect for each other during the process. This way, you'll be able to deal with small disagreements before they become serious issues.
Being overly critical
We all know relationships take compromise. You're both learning how to live together harmoniously and this means quite a bit of trial and error.
The worst thing to do when your partner is attempting to improve is to immediately begin criticizing their efforts. No one likes being yelled at for doing their best and this might discourage them from trying again in the future.
If you see your partner is trying to improve, even if the attempt is not perfect, give them some positive feedback and offer assistance in order to encourage them to keep at it.
Using your partner as your go-to scapegoat
Nobody likes being treated as someone else's emotional punching bag, especially when that person has done nothing wrong.
If you've had a stressful day at work or your sister said something that rubbed you the wrong way, don't snap at your partner when they ask what's for dinner and take your frustrations out on them.
Instead, try venting your feelings to your SO and ask them for advice on the situation. This will turn a bad mood into a helpful bonding opportunity.