TROUBLE AGAIN! ONNOGHEN TO FACE FRESH TRIALS AS EFCC TO DRAG HIM TO COURT FOR MONEY LAUNDERING, HUGE AMOUNTS DISCOVERED
The suspended Chief Justice of Nigeria, Justice Walter Onnoghen, may face two fresh trials on alleged huge deposits on his accounts. There were indications that Onnoghen might be tried for alleged several breaches of the criminal and anti-corruption laws, including money laundering, bribery and tax evasion.

The latest cases also border on alleged strange deposits in his accounts and cash gifts from some Senior Advocates of Nigeria (SANs). It was learnt that the Federal Government has delayed the arraignment of the CJN in deference to the constitutional provisions on the National Judicial Council (NJC).

The constitution stipulates that such allegations against a judicial officer should first be presented to the NJC.

The Economic and Financial Crimes Commission (EFCC) has submitted a petition and a comprehensive report on Onnoghen's accounts to the NJC. A top government official, who spoke in confidence with select newsmen, said there are three dimensions to the allegations against Onnoghen.

He said apart from the trial of Onnoghen at the Code of Conduct Tribunal (CCT), there might be two other cases against him. The source said the suspended CJN might be arraigned before a High Court of Justice very soon.

The source said: "When President Muhammadu Buhari decided to suspend Chief Justice Walter Onnoghen on the 25th of January, 2019, it was in response to serious allegations of irregularities, illegalities and criminal conduct contained in petitions submitted against the top judicial officer, and indeed some findings of the Economic and Financial Crimes Commission (EFCC), which not only substantiated those petitions but threw up even more damning facts.

"Since then, there have been several public revelations and judicial proceedings which are sometimes confusing to members of the general public."

"For clarity, there are two different cases currently ongoing before constituted panels and a separate ethical issue in the public domain."
"This particular illegality has been admitted in writing by the Chief Justice himself and is a matter for criminal prosecution now before the Code of Conduct Tribunal (CCT)."

"But we must note that because of its specialised nature, CCT has a narrow jurisdiction and the case before it is confined to the issues of asset declaration, failure to declare assets as required by law and false declaration of assets."

"That is what the CCT had been hearing since charges were first filed against the CJN on the 10th of January, 2019. The prosecution recently closed its case and lawyers to the suspended CJN are now to open the defence or make a no case submission. Just for clarity, it is worth emphasizing that the CCT will only treat issues relating assets declaration."

The source gave insights into the new cases against the suspended CJN. He added: "The more interesting aspect of the suspended CJN's dilemma involves allegations of several breaches of the criminal and anti-corruption laws, including money laundering, bribery and tax evasion."

"It is alleged, for instance, that the suspended CJN is the owner of some domiciliary accounts primarily funded through US dollar cash deposits made by himself. More disturbing is the pattern of deposits which, according to EFCC, were made in a manner inconsistent with financial transparency and the code of conduct for public officials."

"These include instances of repeated cash deposits of 10,000 US dollars each, totaling close to two million dollars.

"These serious allegations would ordinarily have gone to the High Court for prosecution, but for a case precedent which stipulates that such allegations against a judicial officer should first be presented to the National Judicial Council, more or less an internal disciplinary panel for erring judicial officers, before being prosecuted in a criminal court.

"The allegations of unexplained wealth, huge cash deposits being made into the suspended CJ's Naira, dollar and pound sterling accounts directly from the court and well beyond his estacode and other allowances; unexplained payments into the suspended CJN's account by lawyers who at the same time were appearing before him for adjudication, etc, are currently being handled by the NJC and would be filed in court after the NJC has made its decision on them."
"For instance, there are findings to the effect that the CJN allegedly received a Mercedes Benz car and dollar cash deposits from Joe Agi, appearing, who is a Senior Advocate. Worse still, the CJN is shown to have received cash gifts directly into his bank accounts from several other senior advocates."
"Even as the world eagerly awaits the decision of NJC on these matters, it is pertinent to emphasize that the conclusion of the cases before the CCT and NJC is not likely to be the end of the matter. Criminal charges are still to be filed in court."
source: Daily Advent
AISHAT BUHARI 'FINALLY' ACKNOWLEDGES MASSIVE CORRUPTION UNDER HER HUSBAND'S WATCH
The wife of the President, Aisha Buhari, has come out blunt again, describing her husband's administration as a failure in its Social Investment Programme.
She faulted the Social Investment Programme of the Federal Government, saying the programme has failed to achieve its aim in Kano and most parts of Northern Nigeria.
Mrs Buhari mentioned this during an interactive session with women as part of the presidential inauguration ceremony at the State House in Abuja.
The wife of the President, who specifically mentioned the conditional cash transfer component, questioned the method used in executing the programme.
She also faulted the amount of money spent on the purchase of mosquito nets.
"They have spent $16 million buying mosquito nets. I did not get it, but maybe some people have gotten it. I didn't get it. But I feel that, that's my personal opinion, $16 million is enough to fumigate Nigeria," she said.
Generally, Mrs Buhari did not agree with the method adopted for the programme, Channels TV reports.
She said, "I was expecting the social investment programme, N500 billion to be utilised in a different method; in order to achieve the aim. But I don't know the method they used. Most of the Northern States did not get the money. I don't know – my state didn't get the money. I don't know if your state got the money."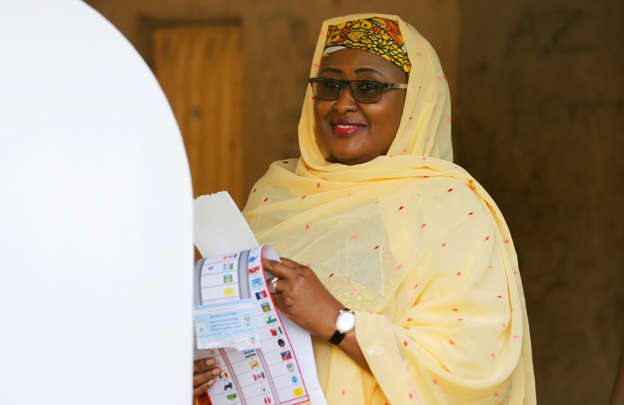 In her words, Mrs Buhari explained that the programme worked well in some state and that for other states where it did not succeed, a different approach should have been used.
She added, "In my state, one local government benefitted from it, out of 22 local governments. I didn't' ask what happened and I don't want to know."
Although the wife of the President is concerned about the performance of the programme in her state, she suggested it was worse in Kano.
Source: Daily Advent
REVELATION: Obasanjo reveals Nigeria's major problem
Former President, Olusegun Obasanjo says policy implementation was a major problem hindering Nigeria's growth and development.
Obasanjo said this in Ibadan on Saturday at the International Institute of Tropical Agriculture (IITA).
He said: "Our problem in this country has always been that of implementation. The 25-year Oyo State Government Agriculture Policy Framework presented is a good thing.
"We have formulated several policies in the past that suffered implementation. I hope your successor will implement it".
Obasanjo added that technology, finance and human resources were challenges facing agricultural development.
He added, "If you go into agriculture you may not be rich like Dangote, but you will be satisfied and comfortable.
"You will be comfortable because you are close to nature. Every individual is a stakeholder in the agriculture value-chain.
"If you are not a farmer, then you must be a consumer. If you are not a farmer, you can encourage a farmer".