HEART BREAKING! HOW BEAUTIFUL NIGERIAN BRIDE FINDS OUT SHE IS HIV POSITIVE, ONE WEEK TO WEDDING
A doctor who took to Twitter to stress the need for a medical test, disclosed that a Nigerian bride who came in for her test with her husband just found out she is HIV positive with just one week to their wedding.  It was discovered that the bride-to-be was HIV positive. No doubt, discovering that a person is infected with the virus is not another way of saying his or her life has ended.
But in this particular situation, the bride-to-be's ailing health condition was only discovered one week to her wedding with her sweetheart. Now, dealing with this news, and then, planning a wedding – that is if there is still a marriage ceremony to plan – can be very traumatic.
The doctor who revealed that the Nigerian bride just found out she is HIV positive with just one week to their wedding, added that the test left him in tears and he can't stop crying. He wrote on Twitter;
"IDK who need to hear this, Please do your check up some months to your wedding and know your status and that of your partner not when it next week or next day to the wedding. Couples to be just came for it now, The bride is Hiv+! Just week to thier wedding. cant stop my tears".
Knowing the shattering effect of this news, the doctor felt really sorry for them. Hence, while he took to sharing this story . He also advised couples to go for medical tests and check their results long before a wedding is even planned as knowing about any mishap just a week to a planning union is not very ideal
Many people have reacted to this post in quite expected ways. See some of the reactions below: "There is nothing to be sad about. If you allow love to concur.
HIV is no more the death sentence it use to be. With ARV the bride will have low viral load and won't be able to even pass the virus to the husband and she won't die not even in 50 years time. People need more education about HIV." another user said,
nikky248: "Now the test of true love comes into play.
" ngwajanengweji: "Most people lack knowledge abt HIV if they could learn and stop living in 1980's and open their minds to education."
_.rubie__: "They can still get married tho.
" uzoukwucynthia: "They can go ahead with d wedding if they want to. Treatment is free and available."
What are your thoughts on this?Kindly leave a comment
Source; Nairaland
questions you can ask a lady to know who she really is
5 questions you can ask a lady to know who she really is
Ladies can be very canny and are sometimes masters of camouflage and deception. Unless you are immensely gifted, it may be problematic to fully understand a lady.
The intellectual pathways of a lady may sometimes seem dully hazy but you will find it extremely hard to understand them. But what really can you do to know who they are?
Well, asking someone a question will in some way reveal their true identity depending on how they react to the question as well as the kind of reaction they give.
But what really are these questions you can ask to have a clue of their personality?
1. What is the thing that happened that made you feel weak?
Here, you will get to know what really upsets her and emotionally unseats her. Her response to this, if at all is genuine, will help you know the kind of person she can turn out to be when upset or when annoyed. If nothing has ever made her feel weak, then, you can also know that she has a very strong personality.
2. Do you have a clue about how you will turn out to be?
This is a yes or no question. However, you may want to hear an explanation about the yes or the no. If she has no clue, it will tell you that this is someone who is just living because they are not dead; they really have no interest in life.
3. What makes you unique from other people?
Here, you get a direct response that will be hinged largely on her personality. If she says there is nothing unique about her, you get to know the kind of person you are interacting with. This is probably someone who doesn't value anything about herself. If there is anything she picks out,  then, you can as well judge from this.
4. What will make you leave someone you love?
This question calls for a variety of responses and each response will represent a personality at different levels of the society. Will it be because she is way too erratic or will it be because she is just too easily pissed? That will be up to you to judge.
5. Is there anything you question about me?
With this query, you get to know what is being kept in the dark about you. You also get to probably know why it is so.
10 signs you are dating a mammy water. Guys, you really should see this, No.3 will scare YOU!
10 signs you are dating a mammy water. Guys, you really should see this, No.3 will scare YOU!
Signs you are dating a mammy water: This is for all the guys who pick up random girls on the streets without knowing anything about them. Here's how to know if you are sharing your bed with a mammy water:
You picked her up from the street or some other random place. Maybe she was even standing in front of an uncompleted building..
You don't know her surname. She told you her name is " Just Julie"..
She agreed to sleep with you on the very first day, in fact she moved into your house, no questions asked.
She never gets tired. She can pound yam, fry garri, grind pepper with a stone and still sleep with you when she finishes.
She always looks perfect, even first thing in the morning. No pimples, her make-up looks permanent and everything is always in the right place.
Her Brazilian hair looks natural. It really looks like her hair but maybe salons have found a way to remove natural hair and put it back later.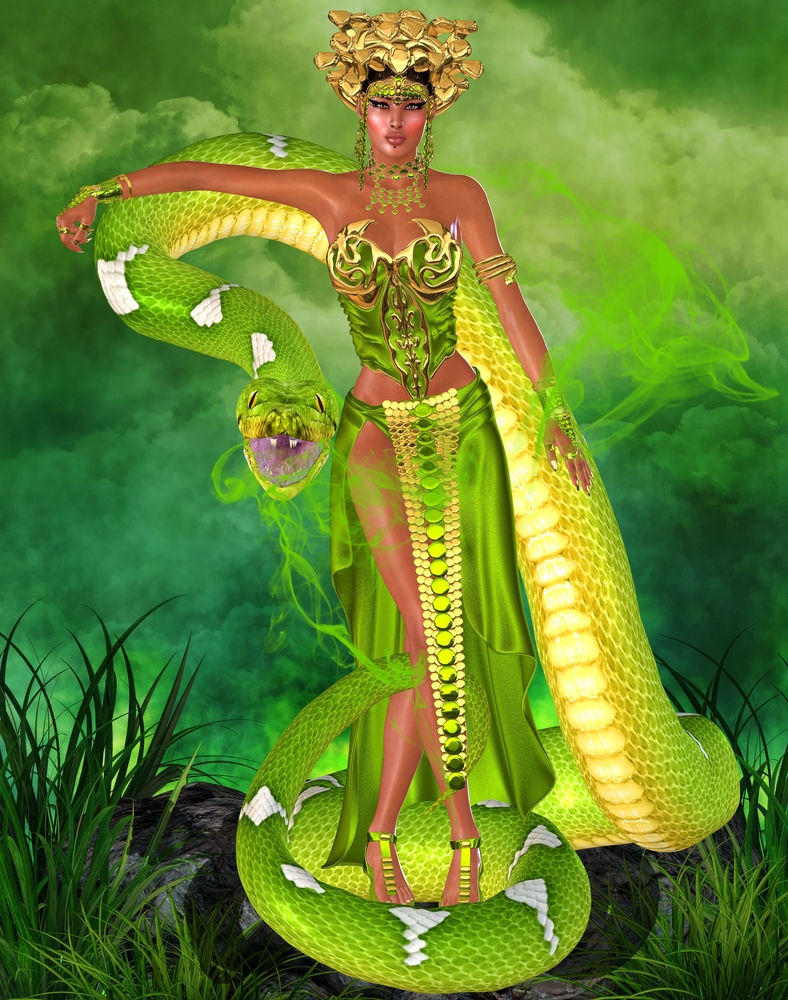 She never talks about her family and she doesn't have any friends. You only hear her saying "My sea sisters" sometimes at night but you're not bothered because girls call themselves all sorts of things.
Ever since you started sleeping with her, your life has turned upside down but of course your stepmother in the village is to blame.
She has stopped you from eating fish. Ever since she came into your life, it's only chicken or meat, nothing that comes from the sea.
She doesn't ask you for anything. In fact, she's every Nigerian boyfriend's dream. You don't pay for human hair or internet subscriptions and she doesn't even want iPhone.  She doesn't care about Valentine's Day and you don't even know her birthday sef. She never gets jealous or goes through your phone and she couldn't care less about your Facebook password. In fact she's the best!
If the girl you're with falls into all these categories, you better wake up my guy, NA FISH SHE BE!!!