Former Real Madrid boss, Jose Mourinho, has paid special tribute to Liverpool manager, Jurgen Klopp, after the Reds completed a stunning comeback against Barcelona on Tuesday.
Liverpool reached the Champions League final at the expense of Barcelona who threw away their commanding 3-0 advantage.
Midfielder Georginio Wijnaldum scored twice in quick succession in the second half to level the tie overall before Origi struck with 11 minutes remaining to seal Liverpool's 4-0 victory.
Mourinho, who had aimed plenty of digs at Klopp during their rivalry in the Premier League, said that the German coach has been integral to Liverpool's success.
"I didn't expect it, I said impossible is nothing, I said if it's possible, Anfield is one of the places to make the impossible be possible," Mourinho told beIN Sports.
"But I have to say that for me, this has one name – Jurgen.
"I think this is not about tactics, this is not about philosophy, this is about heart and soul, and a fantastic empathy he created with this group of players.
"They had the risk of finishing a fantastic season without anything to celebrate, and now they are one step from being European champions.
"I think Jurgen deserves, you know, the work they are doing in Liverpool is fantastic.
"But I think this is about him, this is a reflection of his personality, don;t give up, a fighting spirit, every playing giving everything.
"He's not crying because he's missing a player, he's not crying because they are playing 50 or 60 matches per season.
"Other coaches in other leagues they are crying, saying their players are playing too many matches when they play 30 or 35 matches
"Everything I think today is about Jurgen's mentality.
"I just hope that Jurgen wins the Champions League finally.
"Because he lost already two Champions League finals and also a Europa League final.
"I think he deserves to make it happen. Because the work is fantastic."
What Barcelona star Lionel Messi has said about Chelsea's Mason Mount
What Barcelona star Lionel Messi has said about Chelsea's Mason Mount
The Blues' youngster made his debut at Stamford Bridge at the start of the season and has gone onto be a key man for Frank Lampard
Mason Mount celebrates after scoring for Chelsea against Everton. (Photo by Chris Lee – Chelsea FC/Chelsea FC via Getty Images)
Chelsea youngster Mason Mount has had a breakthrough season at Stamford Bridge.
The 21-year-old has not only made his Premier League debut during the 2019/20 campaign but has also made his international bow, coming on as a second-half substitute in the 4-0 European qualifier win over Bulgaria back in September.
He has made 41 appearances in all competitions for Chelsea so far this season scoring six goals and providing five assists.
The midfielder has gone from strength to strength under Frank Lampard and has earned praise from around the game for his performances.
WILLIAN'S LATEST WORKOUT ROUTINE
However, there is one player whose praise may mean a bit more to the Blues' player.
Barcelona star Lionel Messi is known as one of the greatest of his generation and of all time.
A goalscoring record of 627 goals in 718 appearances for the Catalan giants speaks for itself with the 32-year-old establishing himself as a legend of the game.
RELATED ARTICLES
What will be on the agenda during the Premier League's stakeholders meeting
The Willian comments to give Arsenal hope of signing the Chelsea winger on a free transfer
And the Argentinian is still going strong, having found the net 19 times in 22 La Liga appearances this season.
Messi has partnered with football card manufacturers Topps to put together a set which lets the player have his say on his greatest Champions League moments. The set also includes cards on 'top talent' and 'youth on the rise' from the competition.
Mount is one of the players featured on a 'youth on the rise' card, also included on it is a comment from Messi himself
"Having watched him play he has the potential to be one of the best," is what the Argentinian said about the Chelsea man.
A compliment like that from Messi will serve as a huge confidence boost to Mount as he continues to make an impact in the Premier League, Champions League and on the international stage.
If Mount can reach even half the heights of Messi then Chelsea fans will be very happy indeed.
Messi & Ronaldo on top coronalVirus'. Ronaldo replies Messi and donates money against Corona virus
Ronaldo replies Messi and donates money against Corona virus
Juventus and Portugal forward Cristiano Ronaldo and his agent have together donated €1million to there's intensive care units in Portugal to fight the pandemic virus. The news came a day after Barcelona and Argentina captain Lionel Messi has donated €1million to support the fight against Corona virus. The fund is meant to purchase sanitary material.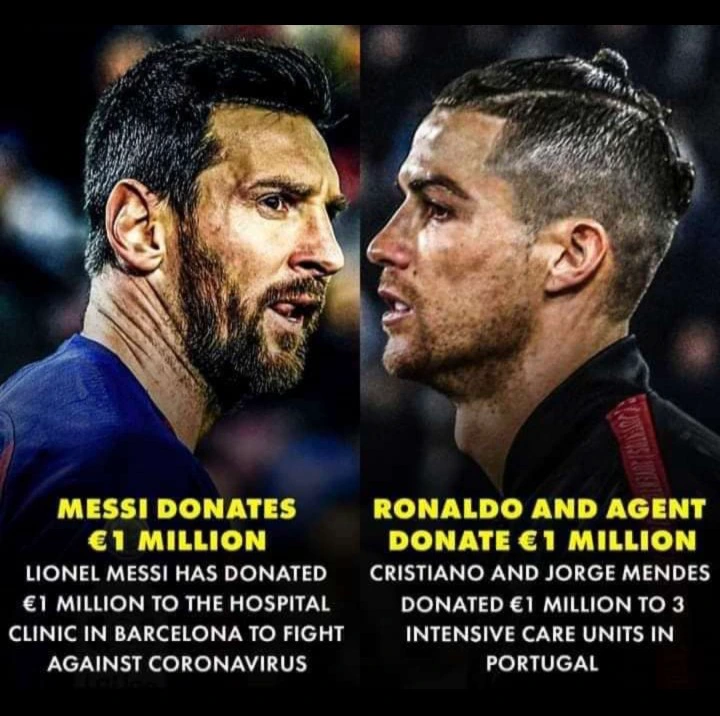 Although Lionel Messi donated €1million alone whereby Cristiano Ronaldo donated the money with his agent Jorge Menses.
Lionel Messi's donation is to be directed to hospital clinic in Barcelona where he is currently and the rest will be split among hospitals in his homeland Argentina.
This shows that the two players don't just compete on the football pitches, they do that off the pitch too. And it also shows that the two players are not just sportsmen but also humanitarians.
We hope that the Corona virus be conquered and everything can come back to normal.