Reason why 15-Year-Old Ekele Franklin, Best 2019 UTME Candidate, May Not Be Offered Admission By UNILAG
The Joint Admissions And Matriculation Board announced the results for the 2019 Unified Tertiary Matriculation Examination in the early hours of Saturday.
From the breakdown and analysis given by Ishaq Oloyede, the Registrar of the board, it became pretty clear that, just like last year, another precocious student, emerged as the overall best student.
Ekele Franklin, 15, is this year's superstar!
To score the highest mark in UTME, at whatever age, is no mean feat. To do it at the age of 15, when most of your contemporaries are still tied to their mother's apron strings, is breathtakingly incredible. And when you consider the number of candidates that sat for the Examination(over 1.7million!) Franklin and his kith and kin have every reason to be on cloud noun. The teenager from Imo state is now the envy of his age-mates.
However, Franklin's joy may be short-lived, the impressive result may not secure him the desired admission for this reason.
Is it fair, however, that such a brilliant mind be held back by age?
An Unwritten But Attractive Law
There is an unwritten law, effective though, that puts a limit on the age by which a student can start his/her academic odyssey in any public University in Nigeria.
According to the unwritten law, the 'standard' and official age for admission into public University is Sixteen(16). The admission seeker is expected to be sixteen by the 1st of October in the year of admission if not all is the hope of securing admission will be a mirage.
For the reason, Franklin whose official age might not be offered admission for his dream course at the University of Lagos, come to the beginning of a new session except he is 16 by then.
Are There Precedents?
Yes. Thousands of brilliant admission seekers had been denied admission solely because of this unwritten but active law. Though most of the people that had been at the receiving end of this law are faceless, a case will suffice; That of Faith Oluwatomi Oyende.
Faith Oluwatomi Oyende, at the age of 21(now a graduate of biochemistry), graduated with a 4.68 cumulative grade point average, CGPA, to emerge the best graduating student from the Faculty of Science at the 21st convocation ceremony of Lagos State University (LASU).
While answering questions from the Vanguard Newspaper last year on how she achieved the feat, Faith said: "It is a long story. I actually wanted to become a medical doctor. But I was denied admission at both University of Lagos, UNILAG, and LASU because I was not yet 16years old.
Having finished secondary school at age 15, I wrote and passed the Joint Admission Matriculation Board Examination. But during the post-JAMB test, I was told I must have completed 16 years on or before October 1, 2011. Unfortunately, I was to be 16 on January 1, 2012."
The same fate befell the brilliant Orishenye Okorogheye who, after having A1 in the students he sat for in May/June 2018 WASSCE, emerged as the best UTME candidate in 2018 at the age of 15 as well. He was stopped in his tracks while trying to apply to UNILAG for Post-UTME despite scoring 332.
Justification Of The Law
There are many justifications for this Law both from academics and counsellors. The summary of which is that most of the under-16 brilliant students are not 'emotionally mature
AISHAT BUHARI 'FINALLY' ACKNOWLEDGES MASSIVE CORRUPTION UNDER HER HUSBAND'S WATCH
The wife of the President, Aisha Buhari, has come out blunt again, describing her husband's administration as a failure in its Social Investment Programme.
She faulted the Social Investment Programme of the Federal Government, saying the programme has failed to achieve its aim in Kano and most parts of Northern Nigeria.
Mrs Buhari mentioned this during an interactive session with women as part of the presidential inauguration ceremony at the State House in Abuja.
The wife of the President, who specifically mentioned the conditional cash transfer component, questioned the method used in executing the programme.
She also faulted the amount of money spent on the purchase of mosquito nets.
"They have spent $16 million buying mosquito nets. I did not get it, but maybe some people have gotten it. I didn't get it. But I feel that, that's my personal opinion, $16 million is enough to fumigate Nigeria," she said.
Generally, Mrs Buhari did not agree with the method adopted for the programme, Channels TV reports.
She said, "I was expecting the social investment programme, N500 billion to be utilised in a different method; in order to achieve the aim. But I don't know the method they used. Most of the Northern States did not get the money. I don't know – my state didn't get the money. I don't know if your state got the money."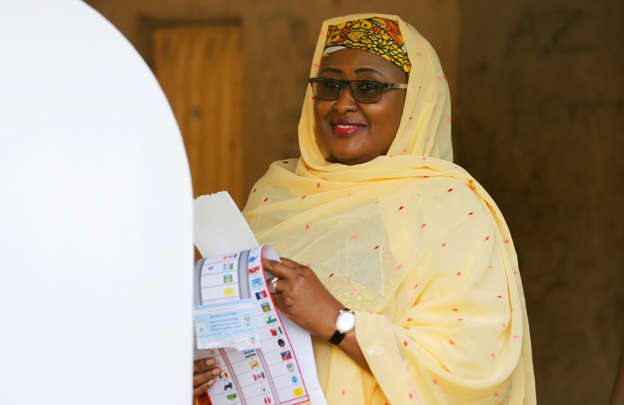 In her words, Mrs Buhari explained that the programme worked well in some state and that for other states where it did not succeed, a different approach should have been used.
She added, "In my state, one local government benefitted from it, out of 22 local governments. I didn't' ask what happened and I don't want to know."
Although the wife of the President is concerned about the performance of the programme in her state, she suggested it was worse in Kano.
Source: Daily Advent
REVELATION: Obasanjo reveals Nigeria's major problem
Former President, Olusegun Obasanjo says policy implementation was a major problem hindering Nigeria's growth and development.
Obasanjo said this in Ibadan on Saturday at the International Institute of Tropical Agriculture (IITA).
He said: "Our problem in this country has always been that of implementation. The 25-year Oyo State Government Agriculture Policy Framework presented is a good thing.
"We have formulated several policies in the past that suffered implementation. I hope your successor will implement it".
Obasanjo added that technology, finance and human resources were challenges facing agricultural development.
He added, "If you go into agriculture you may not be rich like Dangote, but you will be satisfied and comfortable.
"You will be comfortable because you are close to nature. Every individual is a stakeholder in the agriculture value-chain.
"If you are not a farmer, then you must be a consumer. If you are not a farmer, you can encourage a farmer".