The Islamic Sharia police also known as Hisbah, in Kano State has detained 80 people accused of eating in public, rather than fasting from dawn to sunset as Muslims are required to do during the holy month of Ramadan.
The Sharia police said the people were arrested at different times across the city of Kano.
Kano state is one of the several states in northern Nigeria where Sharia law was re-introduced since 2000. Sharia law is being implemented partially along with the country's secular law.
The Hisbah spokesman in Kano state, Adamu Yahaya, told the BBC on Thursday that all those arrested were Muslims and officers do not target non-Muslims because they are not bound by Islamic law.
"Some of those arrested told us that they were eating because they did not sight the Ramadan crescent themselves while others feigned sickness, but we found their excuses baseless," he said.
Yahaya added that the 80 were admonished and released because they were first-time offenders
He said: "They were warned that if they were caught again, they would be taken to court. We will continue with our patrols throughout Ramadan with a view to arresting Muslims who do not observe the fast."
The Ramadan fast is compulsory for all adult Muslims but some categories of people such as those who are seriously ill are not required to fast.
source: Daily Post
AISHAT BUHARI 'FINALLY' ACKNOWLEDGES MASSIVE CORRUPTION UNDER HER HUSBAND'S WATCH
The wife of the President, Aisha Buhari, has come out blunt again, describing her husband's administration as a failure in its Social Investment Programme.
She faulted the Social Investment Programme of the Federal Government, saying the programme has failed to achieve its aim in Kano and most parts of Northern Nigeria.
Mrs Buhari mentioned this during an interactive session with women as part of the presidential inauguration ceremony at the State House in Abuja.
The wife of the President, who specifically mentioned the conditional cash transfer component, questioned the method used in executing the programme.
She also faulted the amount of money spent on the purchase of mosquito nets.
"They have spent $16 million buying mosquito nets. I did not get it, but maybe some people have gotten it. I didn't get it. But I feel that, that's my personal opinion, $16 million is enough to fumigate Nigeria," she said.
Generally, Mrs Buhari did not agree with the method adopted for the programme, Channels TV reports.
She said, "I was expecting the social investment programme, N500 billion to be utilised in a different method; in order to achieve the aim. But I don't know the method they used. Most of the Northern States did not get the money. I don't know – my state didn't get the money. I don't know if your state got the money."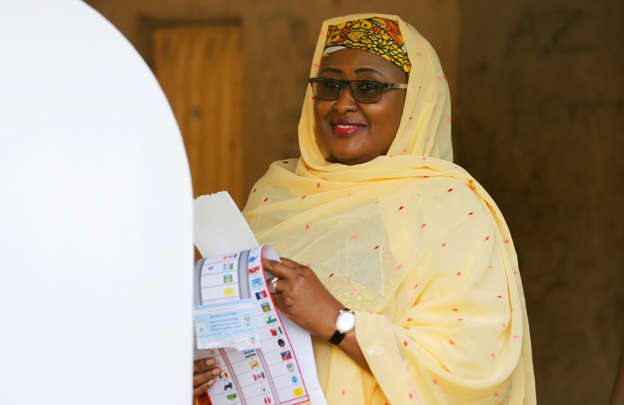 In her words, Mrs Buhari explained that the programme worked well in some state and that for other states where it did not succeed, a different approach should have been used.
She added, "In my state, one local government benefitted from it, out of 22 local governments. I didn't' ask what happened and I don't want to know."
Although the wife of the President is concerned about the performance of the programme in her state, she suggested it was worse in Kano.
Source: Daily Advent
REVELATION: Obasanjo reveals Nigeria's major problem
Former President, Olusegun Obasanjo says policy implementation was a major problem hindering Nigeria's growth and development.
Obasanjo said this in Ibadan on Saturday at the International Institute of Tropical Agriculture (IITA).
He said: "Our problem in this country has always been that of implementation. The 25-year Oyo State Government Agriculture Policy Framework presented is a good thing.
"We have formulated several policies in the past that suffered implementation. I hope your successor will implement it".
Obasanjo added that technology, finance and human resources were challenges facing agricultural development.
He added, "If you go into agriculture you may not be rich like Dangote, but you will be satisfied and comfortable.
"You will be comfortable because you are close to nature. Every individual is a stakeholder in the agriculture value-chain.
"If you are not a farmer, then you must be a consumer. If you are not a farmer, you can encourage a farmer".