NAIRA MARLEY: SEE WHAT BOBRISKY DID AFTER THE SINGER APPEAR IN COURT FOR FRAUD CHARGE (PHOTO)
With the on-going saga between Naira Marley and EFCC, Nigerian male barbie has reacted as she decides to say a short prayer for the upcoming singer.  Naira Marley who appeared in court for internet fraud charges moved controversial cross-dresser, Bobrisky as  She defended him publicly.
Taking to his/her social media handle, the self-acclaimed, male barbie prayed for God's mercy and favour on the artiste. Although, a  follower  who didn't sit well with the prayers  pointed out to Bobrisky that justice is what is needed, and not God's favour, especially if he's guilty of fraud as charged. But Bobrisky jumped to the singer's defence and asked the follower not to judge.
The bleaching expert however retorted that one shouldn't be quick to judge as the rapper is innocent until proven guilt. If the rapper is guilty of the charges levelled against him, "he shall be liable to imprisonment for a term of not more than seven years or a fine of not more than N5,000,000.00 and forfeiture of the advantage or value derived from his act.
In related news; Justice Nicholas Oweibo of the Federal High Court in Lagos has ordered that upcoming musician, Azeez Fashola, alias Naira Marley, be remanded in the prison custody.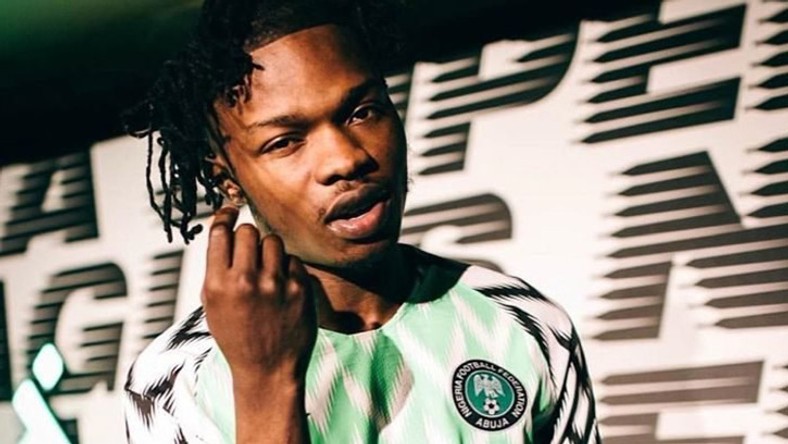 The judge made the remand order on Monday morning shortly after the musician was arraigned before him on 11 counts, bordering on credit card fraud.
The Economic and Financial Crimes Commission has handed over Azeez Fashola better know as Naira Marley to men of the Nigerian Prison Service for detention.  He pleaded not guilty to 11 count charge preferred against him by the anti-graft agency.
Until his arraignment at the Federal High Court in Ikoyi on Monday morning, he was in the detention facility of the EFCC.
Naira Marley's mother who was at the court to witness her son's arraignment is currently in tears. Her agony was intensified when she witnessed the EFCC hand him over to the Nigerian Prison Service for detention until May 30, 2019.
What are your thoughts on this? Kindly leave a comment below and don't forget to share
naira marley girl friend
what did naira marley post online
naira marley girlfriend
naira marley girlfriend picture
naira marley parents picture
has boby risky and naira marley friend
3 Possible Reasons Wizkid Deleted All His Instagram post
Wizkid perhaps shocked a larger percentage of his fanbase yesterday when he pulled down all the posts from his Instagram page. See Post
Tiwa Savage had done the same earlier this year just before she signed to Universal Music.
But what could have warranted the Starboy to have followed in the same path?
Here are three possible reasons,
1. Made In Lagos Album Might Be Released Soon
We've all have been anticipating Made In Lagos album for a year now. We all learnt of the title of the album when he dropped Soco in the early months of 2018.
He had promised, it will drop last year but this year, speculations are rife it might drop anytime from now.
In readiness to perhaps, the biggest album we might hear this year, that could be why Wizkid deleted all his posts.
2. His Sony Contract Has Been Terminated
Few Wizkid enthusiasts have ascribed the reasons for this. You'll wonder why this has a correlation. The Starboy is one of the few Nigerian artistes who have an international record deal.
However, this international record deal has also been a problem in recent years. It's perhaps the reason why Wizkid has not had any official release so far this year.
The record label has to vet and approve his output. Remember Davido had several issues with Sony in 2016 before renegotiating in 2017.
WizKid could have decided to have a clear out in anticipation for a fresh start. Either the Sony contract has been renegotiated or may be terminated.
3. A Fresh Start Or Maybe A Big Deal For The Starboy
Remember Tiwa Savage had a similar clear out earlier this year before she announces her signing to Universal Music Group claiming she wanted to start things afresh.
Who knows, a big deal might be in for the Starboy or also, the Starboy wants to start things all over again.
So Guys
What Could Be The Real Reason Wizkid
NOLLYWOOD ACTRESS, TOYIN ABRAHAM NOW A MOTHER AS SHE GIVES BIRTH IN THE US – DETAILS
Congratulations are in order as Nollywood actress, Toyin Abraham is now a mother as reports have it that she has finally given birth in the US.
Earlier on Wednesday, August 14, 2019, the official wedding photo of the actress Toyin Abraham and her colleague, Kola Ajeyemi had emerged. The portrait was released online by the couple's media publicist with the aim of confirming that their union is indeed now official. Just when social media was trying to get used to the fact that their 'World Best' was married, a new twist about her birth surfaced, taking them by storm.
According to Kemi Filani News, the wedding portrait had been released following the arrival of Toyin Abraham's baby. A close source confirmed that the wedding photo was released ahead of the big announcement of the arrival of Toyin's new born baby…"so that people will not go to town with the talk that, like Linda Ikeji, Toyin had a baby out of wedlock" the source confirmed. It has further been confirmed that both mother and child are doing okay in the US.
Another source who shared the photo below confirmed, "Congratulation is in order!!!!d baby has even landed ha! See God ooooo Awilo gave mama pikin at last oooooooo. (Tho,sorrow may last for a night,but joy comes in the morning)."
Congratulations, Toyin and Kola Ajeyemi!
naira marley girl friend
what did naira marley post online
naira marley girlfriend
naira marley girlfriend picture
naira marley parents picture
has boby risky and naira marley friend