NAIRA MARLEY: SEE WHAT BOBRISKY DID AFTER THE SINGER APPEAR IN COURT FOR FRAUD CHARGE (PHOTO)
With the on-going saga between Naira Marley and EFCC, Nigerian male barbie has reacted as she decides to say a short prayer for the upcoming singer.  Naira Marley who appeared in court for internet fraud charges moved controversial cross-dresser, Bobrisky as  She defended him publicly.
Taking to his/her social media handle, the self-acclaimed, male barbie prayed for God's mercy and favour on the artiste. Although, a  follower  who didn't sit well with the prayers  pointed out to Bobrisky that justice is what is needed, and not God's favour, especially if he's guilty of fraud as charged. But Bobrisky jumped to the singer's defence and asked the follower not to judge.
The bleaching expert however retorted that one shouldn't be quick to judge as the rapper is innocent until proven guilt. If the rapper is guilty of the charges levelled against him, "he shall be liable to imprisonment for a term of not more than seven years or a fine of not more than N5,000,000.00 and forfeiture of the advantage or value derived from his act.
In related news; Justice Nicholas Oweibo of the Federal High Court in Lagos has ordered that upcoming musician, Azeez Fashola, alias Naira Marley, be remanded in the prison custody.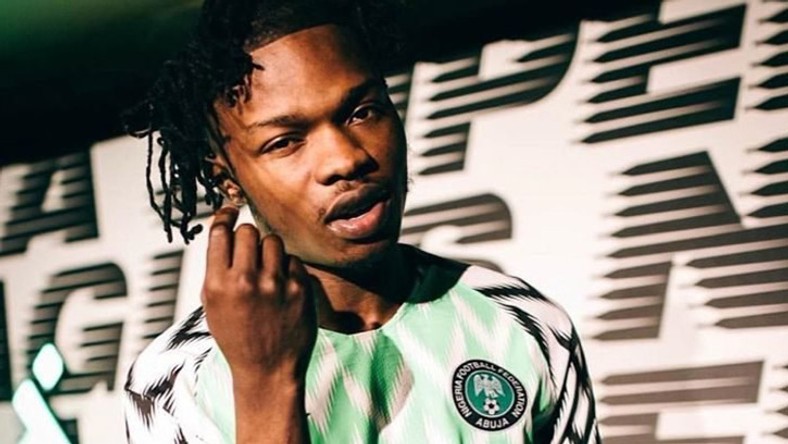 The judge made the remand order on Monday morning shortly after the musician was arraigned before him on 11 counts, bordering on credit card fraud.
The Economic and Financial Crimes Commission has handed over Azeez Fashola better know as Naira Marley to men of the Nigerian Prison Service for detention.  He pleaded not guilty to 11 count charge preferred against him by the anti-graft agency.
Until his arraignment at the Federal High Court in Ikoyi on Monday morning, he was in the detention facility of the EFCC.
Naira Marley's mother who was at the court to witness her son's arraignment is currently in tears. Her agony was intensified when she witnessed the EFCC hand him over to the Nigerian Prison Service for detention until May 30, 2019.
What are your thoughts on this? Kindly leave a comment below and don't forget to share
naira marley girlfriend
naira marley girlfriends
naira marley parents
who is naira marley girlfriend
naira marley girl friend
naira marley girlfriend picture
who is bobrisky
naira marley gf
what did naira marley post online
naira marley parents picture
has boby risky and naira marley friend
nairamarley girlfriend
who is the real girlfriend of naira marley
naira marley mom picture
picture of naira marley girl friend
naira marley real girl friend
is bobrisky and naira marley friend
wat is d name of nairal marley girl friend
naira marley' girlfriend
show me pics of naira marley and girlfriend
Twitter issues fact check of Trump tweets for first time
Twitter issued a fact check of some of Donald Trump's tweets on Tuesday, marking the first time the U.S. president's favoured social media platform has pushed back against him spreading falsehoods.
The move, which almost immediately heightened tensions between Trump and the social media giant, came in the form of a label under two of the president's tweets, which claimed that mail-in voter ballots are subject to extreme fraud.
The label says "Get the facts about mail-in ballots," and then redirects users to news articles and a bulleted list refuting Trump's claims.
Shortly after Twitter issued the fact check, the president accused the company of "interfering" in the November presidential election and impinging on free speech.
"Twitter is completely stifling FREE SPEECH, and I, as President, will not allow it to happen!" he tweeted while doubling down on voter fraud claims.
It is unclear how Twitter will treat Trump's future tweets that promote false information.
On Tuesday, Trump issued separate tweets promoting a baseless conspiracy theory about Joe Scarborough, a liberal television news host and former congressman, which were not fact-checked by Twitter.
Nick Pacilio, a Twitter spokesman, would not comment on whether the company will continue to fact-check Trump's tweets, saying the label is used "based on what people tweet."
Twitter has faced a growing backlash for giving the president a massive platform to spread false information.
Trump, who has more than 80 million Twitter followers, says his use of social media is essential to bypass what he sees as a biased media establishment.
"Partnering with biased fake news 'fact checkers' is a smoke screen to lend Twitter's obvious political tactics false credibility," Trump's campaign manager Brad Parscale said in a statement responding to Twitter flagging the president's tweets.
"There are many reasons we pulled all our advertising from Twitter months ago, and clear political bias is one of them," Parscale added.
The president has increasingly claimed that mail-in ballots are subject to high rates of fraud at time when some states are increasing access to postal voting to protect public health ahead of the November presidential elections.
Election law experts say there is little evidence of increased fraud in mail-in ballots, as general voter fraud remains extremely low.
Republicans have long pushed to tighten the process for voter registration as Democrats have sought to expand voter accessibility.
Some studies show increased voter turnout is a boon for Democratic candidates.
In June of last year, Twitter said that it would mark tweets deemed to be in the public interest that violate its policies on such things as abusive behaviour and public safety.
BBNaija announces return of Tacha, Mercy, Ex-housemates, reveals date for reunion
Organizers of Big Brother Naija reality show has announced the return of 2019 Pepper Dem ex-housemates
This was disclosed in a statement by the host of BBN Ebuka Obi-Uchendu's on his Twitter page on Sunday.
Ebuka said the ex-housemates will be back on a show to run as from the first of June, 2020 on DStv channel 198 and GOtv channel 29.
"Who is ready for some #BBNaija #PepperDemReunion drama?
"Premiering on June 1 on African Magic Urban and Family on DStv and GOtv."
Recall that BBNaija for the first time introduced the reunion show in 2019, which starred the See Gobe housemates.