NAIRA MARLEY: SEE WHAT BOBRISKY DID AFTER THE SINGER APPEAR IN COURT FOR FRAUD CHARGE (PHOTO)
With the on-going saga between Naira Marley and EFCC, Nigerian male barbie has reacted as she decides to say a short prayer for the upcoming singer.  Naira Marley who appeared in court for internet fraud charges moved controversial cross-dresser, Bobrisky as  She defended him publicly.
Taking to his/her social media handle, the self-acclaimed, male barbie prayed for God's mercy and favour on the artiste. Although, a  follower  who didn't sit well with the prayers  pointed out to Bobrisky that justice is what is needed, and not God's favour, especially if he's guilty of fraud as charged. But Bobrisky jumped to the singer's defence and asked the follower not to judge.
The bleaching expert however retorted that one shouldn't be quick to judge as the rapper is innocent until proven guilt. If the rapper is guilty of the charges levelled against him, "he shall be liable to imprisonment for a term of not more than seven years or a fine of not more than N5,000,000.00 and forfeiture of the advantage or value derived from his act.
In related news; Justice Nicholas Oweibo of the Federal High Court in Lagos has ordered that upcoming musician, Azeez Fashola, alias Naira Marley, be remanded in the prison custody.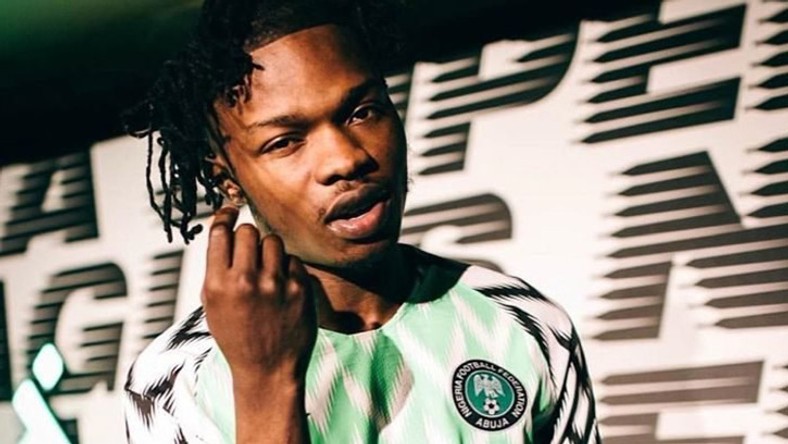 The judge made the remand order on Monday morning shortly after the musician was arraigned before him on 11 counts, bordering on credit card fraud.
The Economic and Financial Crimes Commission has handed over Azeez Fashola better know as Naira Marley to men of the Nigerian Prison Service for detention.  He pleaded not guilty to 11 count charge preferred against him by the anti-graft agency.
Until his arraignment at the Federal High Court in Ikoyi on Monday morning, he was in the detention facility of the EFCC.
Naira Marley's mother who was at the court to witness her son's arraignment is currently in tears. Her agony was intensified when she witnessed the EFCC hand him over to the Nigerian Prison Service for detention until May 30, 2019.
What are your thoughts on this? Kindly leave a comment below and don't forget to share
RUGGEDMAN ATTACKED IN LONDON, SHOULD NIGERIANS BE WORRIED? (SEE VIDEO)
The most dreaded and unexpected has happened to veteran rapper, Ruggedman as he was attacked by angry youths suspected to be fans of cybercrime (Yahoo Yahoo) advocate, Naira Marley barely 24hrs after he was released from prison.
Should we be worried? Yes, we should! If Ruggedman was attacked by fans who advocate crime then there is a big problem in Nigeria. We know that crime has eaten deep in the Nigerian society as many now see it as a means of survival under the guise of the never-ending hardship in Nigeria but if being attacked for speaking against crime is now the order of the day, then we have a very humungous fish to fry.
Prior to this attack, on Friday 14th June 2019, rapper, Naira Marley who had a brawl with Ruggedman was released from prison following an arrest made by the Economic And Financial Crimes Commission (EFCC) on an 11 count charge of cybercrime. This arrest came as a result of his rants on social media where he publicly supported the online criminal acts.
While the rapper got large support from some celebrities and many youths who gave astonishing reasons why online fraud shouldn't be seen as a crime, some were not having it. Championing the team opposing the motion was veteran Rapper Ruggedman who obviously isn't getting much love from the streets at the moment.
If really, those who attacked Ruggedman were linked to Naira Marley, then this could pose as a serious threat to Naira Marley's freedom. Confirming the rumours of the probability that these attackers were actually 'Yahoo Yahoo' advocates, Ruggedman wrote on his Instagram page;
"Being attacked by 4 misguided boys will not deter me from fighting for the youths, even though they blindly fight me"
WATCH VIDEO OF THE ATTACK BELOW:
So what does the near future hold for Naira Marley? We understand that some artistes today gained popularity after their long battle with the law which was used as a tool to win the hearts of fans on the guise of injustice but Naira Marley's case is nowhere near justifiable because Cybercrime is an offence and even though he was released on bail, the possibility of him going back to jail if found guilty is still high. Now, an assault case which could be used against him is like adding salt and other spices to a fresh injury.
If you recall, Ruggedman who was ropped in during the whole Naira Marley saga got more attention of Nigerians after controversial blogger, Kemi Olunloyo accused the #EndSars Advocate of being a snitch. Trust me, whenever Kemi Olunloyo speaks on sensitive matters, crazy or not, Nigerians always keep her words to heart and when you have a set of angry Nigerian youths blinded by hate and vendetta, it's normal to expect such an attack on Ruggedman, only that we didn't think it would travel as far as the United Kingdom with boxing gloves.
Naira Marley, on the other hand, might just be waving goodbye to his career after the whole incident because judging from his history, he has not only had a feud with Ruggedman. Before attacking the likes of popular social media blogger, Tunde Ednut who spoke against cybercrime, the upcoming rapper had a brawl with Nigerian singer, Simi Gold who he called out on social media for allegedly snubbing him at an event. Should we say he was digging his grave unknowingly?
Truth be told, Naira Marley is not the first to have celebrity feuds but as an upcoming artiste trying to set his foot on a firm foundation in the entertainment industry, his move was just a NO NO. Interestingly, amidst the chaos, the upcoming rapper, recently released a song titled 'Opotoyi' with a video which has seen loads of downloads from fans and those curious to know all about the rapper.
While many see it as an attempt by the rapper to distract the public from his mess with the Law, some see it as a sign of greatness on the side of the rapper just as Kemi Olunloyo once prophecied. Besides, not everyone can drop a hot single in cuffs or behind bars.
On the flip side, Ruggedman is actually being called out as well by some Nigerians who claim the attack was just staged. Not that I'm one to believe such an accusation but a photo of Ruggedman and a British policeman which was allegedly taken after the incident makes the accusation look true.
Remember the Jussie Smollett case where the actor and singer claimed he was a victim of a homophobic attack which later on turned out to be untrue? well, many Nigerians are seeing it from that angle. Anyway, whatever the case may be, Ruggedman who has released a video confirming he was okay after the attack has just heightened the drama surrounding Naira Marley and the future of the upcoming rapper in the entertainment industry looks bleak.
WATCH RUGGEDMAN'S VIDEO BELOW:
For now, all I can say is that Ruggedman should watch his back and Naira Marley should try getting to the bottom of the matter because if he is discovered to be linked to this fresh attack, it will be an Adios Amigos case for his musical career. For your reading pleasure, below are the reactions of some Nigerians;
Naira Marley Released from prison 14 Days After He Was Granted Bail
Azeez Fashola, Nigerian musician better known as Naira Marley has been released from prison custody after perfecting his bail condition.
The artiste was arrested and charged to court by the Economic and Financial Crimes Commission on an 11 count charge of advance fee fraud popularly called 'yahoo yahoo'.
Azeez Fashola, aka, Naira Marley, who had been in prison custody pending when he would perfect his bail conditions following his arraignment by the Economic and Financial Crimes Commission (EFCC) before Justice Nicolas Oweibo of Federal High Court, Lagos.
Justice Oweibo had said one of the sureties must be on Grade Level 10 in the federal or state employment.
The other surety must have a landed property within the court's jurisdiction.
The judge directed the EFCC to verify the bail terms and adjourned until October 22 for trial.
The EFCC is prosecuting Naira Marley for alleged credit card fraud.
He was charged with 11 counts of violating the Cyber Crimes Act of 2015.
The defendant pleaded not guilty.
The musician risks seven years in jail if found guilty.