EFCC BOSS, MAGU REACTS TO NAIRA MARLEY'S ARREST WITH A POWERFUL MESSAGE THAT MAKES NIGERIAN ARTISTES BREATHE SIGH OF RELIEF.
The publicity generated by the arrested of Nigerian musician Afeez Fashola, a.k.a Naira Marley by  operatives of the Economic and Financial Crimes Commission, EFCC has not only sparked an unending debate in the public dormain, it has also attracted a sepcial address by the boss of the anti graft agency,   Mr. Ibrahim Magu.
WATCH: NAIRA MARLEY UNDER TIGHT SECURITY IN COURT WITH EFCC
Video Credit: GoldMyneTV
The EFCC acting Chairman, finally gave in to intense pressure by delivering an address on Wednesday, in an interactieve session with artistes, comedians and On-Air-Personalities in Abuja, regarding the arrest of Naira Marley.
According Magu, who once again reiterated that Naira Marley was in their custody for charges bordering on internet fraud, emphasized that the commission had no issue with any member of the entertainment sector of the country.
"I have said it in the past and I will also like to restate, that the EFCC does not go after an innocent person.
"Our mandate is to rid Nigeria of any form of economic and financial crimes, and internet fraud is not excluded,"
Magu also sought to partner with Nigerian artistes and comedians in the fight against corruption particularly internet fraud.
EFCC acting spokesman, Mr Tony Orilade quoted the chairman to have told the stakeholders in the entertainment industry that they had a part to play in discouraging criminality in the society.
He said, "You have a very wide reach, so lend us your voices. Please let your works propagate and promote integrity and the right values.
"I urge you to raise a collective slogan against all forms of criminality among our youths, condemn in strong terms, ostentatious living without credible sources of income, particularly the get-rich-at-all-cost syndrome among the youths.
"We need you to join hands with the EFCC in this fight against corruption because we need you more than ever before to change the negative narratives about our country being havens of internet fraudsters.
"I have always stressed that we cannot claim to have the monopoly of knowledge of how to fight corruption at the EFCC.
"We are, however, driven by the passion to explore all frontiers that will enable us to achieve a better society for our children yet unborn – an egalitarian society and one which we all can be proud of."
He noted that the engagement with the members of the creative and entertainment industry was out of great concern due to the increasing cases of "yahoo-yahoo" among Nigerian youths.
Source: DAILY ADVENT
BBNaija: 2face Idibia, Larry Gaga pay housemates surprise visit [PHOTO]
The Big Brother Naija housemates have gotten a huge surprise after Nigerian singers, Tuface Idibia and Larry Gaaga paid them a visit.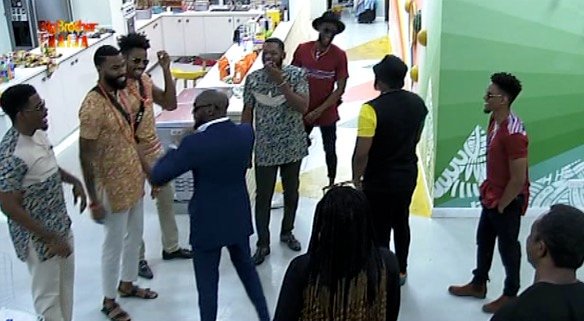 Recall that Ebuka had tweeted hours earlier that there would be a surprise person coming to the house.
At 7pm, Tuface arrived with his manager, Efe Omorogbe, record producer, Larry Gaaga and a lady. The look on the faces of the housemates were priceless.
Guess who's coming into the House? @official2baba is coming to celebrate his birthday with the #BBNaija Housemates and we can't keep calm https://bit.ly/2m2sygQ 
571 people are talking about this
The housemates proceeded to give them a tour of the house with Tuface even ringing the bell to the diary room.
Don Jazzy sends message to Buhari over appointment of new economic team
Mavin producer, Don Jazzy has commended President Muhammadu Buhari for appointing a new economic team.
The Presidency had said that the new team is made up of the following: Prof. Doyin Salami – Chairman; Dr. Mohammed Sagagi – Vice-Chairman; Prof. Ode Ojowu – Member; Dr. Shehu Yahaya – Member; Dr. Iyabo Masha – Member; Prof. Chukwuma Soludo – Member; Mr. Bismark Rewane – Member; Dr. Mohammed Adaya Salisu – Secretary (Senior Special Assistant to the President, Development Policy).
Reacting, Don Jazzy, while describing the appointees as ' brightest minds said they deserved the appointment.
He, however, advised the Buhari led-government to prioritize the development of Nigeria's Human Development Index, HDI.
He wrote on Instagram, "Appointees in the new Economic Advisory Council are some of the brightest minds we have in the country and their appointments are well-deserved.
"Hopefully, the government's reposed trust in their expertise would have positive effects on the economy. However, I would advise the govt. to prioritize the development of our HDI in this term. Substantial funds should be earmarked in our fiscal budgets to improve our Education and Health sectors in compliance with WHO and UNESCO. Bill Gates sounded this note of warning in a meeting with the National Economic council one year ago, faulting the Economic Recovery and Growth Plan(ERGP) which doesn't prioritize human capacity development.
"I understand people would be wondering how this would affect our economy positively. Let's consider this. In the south here where Education is considered to be very important in many families, parents spend a lot of money on educating their children.
"Many of these parents are civil servants who only rely on their salaries in these times when the minimum wage is a meagre $83.5. These parents are forced to take different loans to educate their offspring and keep them healthy, thereby making their monthly net income to be insufficient.
" This is one of the reasons why more people keep slipping into extreme poverty everyday. Almost half of the population is already in abject penury and all hands must be on deck to avoid the worse."