It has been reported that popular Nigerian Musician, Naira Marley who is still in EFCC custody has come out to disclose new information that the public did not know about him before.
The 'Am I yahoo a boy' crooner, Marley stated in an interview that he has two wives and four children while pleading that he is not a criminal.  Naira Marley said he is not a criminal and has no idea what the Economic and Financial Crimes Commission found on his laptop. Naira Marley, 28, said apart from storing his songs and
music
videos
, he had never done anything illegal with his laptop.
Naira Marley who revealed in his statement under an oath made while in EFCC custody that;
"My name is Azeez Fashola. I am married to two wives and I have four kids. They are all British citizens staying in the United Kingdom. I studied in the United Kingdom, started studying at Porlock Hall, then I moved to Walworth School where I received my GCSE".
"My results for my GCSE are English (C), Maths (B) and Science (C).  "I left Walworth School with my qualification and went further to study at Peckham Academy, where I got distinction in Business. Then, I went further to study at Crossways College where I finished my Business Law; but I had kids at that time, so I took a break and started making music till date".
 According to Naira Marley, he did not own a laptop but was given one to use temporarily to upload videos on YouTube. Naira stated,
"I started making music in 2014 individually (sic), but now I'm signed to Marathon, a United Kingdom-based record label. I had a deal with Coca-Cola for my song, Issa Goal, in which I featured Olamide and Lil Kesh. I also had deals with Nike to participate in the Nigerian sportswear (sic)".
"I'm in possession of a MacBook laptop, which I borrowed from a friend named Yad Isril in England, because while returning to Nigeria, I knew I was going to need a laptop to upload my music videos on YouTube and also to keep my exclusive songs. I'm in possession of the laptop but I have no idea what is on it apart from my music videos".
The singer also disclosed that the laptop had no password and could be accessed by anyone. Naira claimed to have met Isril in a secondary school in England. "He owns the butcher's and an electronics shop in England. He is a British citizen, though his family is from Iraq.
"I don't have a personal laptop at the moment because I don't need it. My management team handles everything I need to do on the laptop. I only use my iPhone X for everything I do," he said.
Meanwhile, Naira Marley has arrived court for his bail hearing today, 30th, of May. The singer who was spotted in a black outfit arrived at the court a few minutes ago.
Here is a video of Naira Marley arriving court below;
20 people are talking about this
It would be recalled that the Naira Marley was arraigned on 11-count charges, bordering on fraudulent activities and money laundering.
"Some of the counts in the charges filed against Naira Marley includes, "That you, Azeez Adeshina Fashola, aka Naira Marley, and Raze (still at large), on or about the 11th day of December 2018, within the jurisdiction of this honourable court, conspired amongst yourselves to use Access card 42658840359191132 issued to persons other than you in a bid to obtain gain and you thereby committed an offense contrary to Section 27(1)(b) of the Cyber Crimes (Prohibition, Prevention etc) Act 2015 and punishable under Section 33(2) of the Same Act".
"That you, Azeez Adeshina Fashola, aka Naira Marley, and Raze (still at large), on or about the 10th day of May 2019, within the jurisdiction of this honorable court, with intent to defraud possessed, counterfeit card 4921819410257431 issued to Timea Fedorne Tatar and you thereby committed an offense contrary to and punishable under Section 33(9) of Cyber Crimes (Prohibition, Prevention, etc) Act 2015″.

 
Naira Marley faces a 7 year imprisonment sentence if found guilty.
Source: Daily advent
What do you think about this? Please share your thoughts with us below
naira marley wife picture
naira marley girlfriend
is naira marley married
name of naira marley wife
BBNaija: 2face Idibia, Larry Gaga pay housemates surprise visit [PHOTO]
The Big Brother Naija housemates have gotten a huge surprise after Nigerian singers, Tuface Idibia and Larry Gaaga paid them a visit.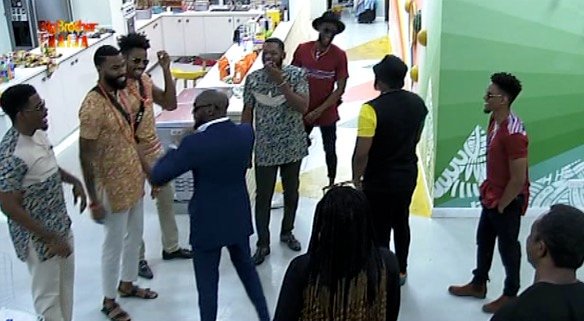 Recall that Ebuka had tweeted hours earlier that there would be a surprise person coming to the house.
At 7pm, Tuface arrived with his manager, Efe Omorogbe, record producer, Larry Gaaga and a lady. The look on the faces of the housemates were priceless.
Guess who's coming into the House? @official2baba is coming to celebrate his birthday with the #BBNaija Housemates and we can't keep calm https://bit.ly/2m2sygQ 
571 people are talking about this
The housemates proceeded to give them a tour of the house with Tuface even ringing the bell to the diary room.
naira marley wife picture
naira marley girlfriend
is naira marley married
name of naira marley wife
Don Jazzy sends message to Buhari over appointment of new economic team
Mavin producer, Don Jazzy has commended President Muhammadu Buhari for appointing a new economic team.
The Presidency had said that the new team is made up of the following: Prof. Doyin Salami – Chairman; Dr. Mohammed Sagagi – Vice-Chairman; Prof. Ode Ojowu – Member; Dr. Shehu Yahaya – Member; Dr. Iyabo Masha – Member; Prof. Chukwuma Soludo – Member; Mr. Bismark Rewane – Member; Dr. Mohammed Adaya Salisu – Secretary (Senior Special Assistant to the President, Development Policy).
Reacting, Don Jazzy, while describing the appointees as ' brightest minds said they deserved the appointment.
He, however, advised the Buhari led-government to prioritize the development of Nigeria's Human Development Index, HDI.
He wrote on Instagram, "Appointees in the new Economic Advisory Council are some of the brightest minds we have in the country and their appointments are well-deserved.
"Hopefully, the government's reposed trust in their expertise would have positive effects on the economy. However, I would advise the govt. to prioritize the development of our HDI in this term. Substantial funds should be earmarked in our fiscal budgets to improve our Education and Health sectors in compliance with WHO and UNESCO. Bill Gates sounded this note of warning in a meeting with the National Economic council one year ago, faulting the Economic Recovery and Growth Plan(ERGP) which doesn't prioritize human capacity development.
"I understand people would be wondering how this would affect our economy positively. Let's consider this. In the south here where Education is considered to be very important in many families, parents spend a lot of money on educating their children.
"Many of these parents are civil servants who only rely on their salaries in these times when the minimum wage is a meagre $83.5. These parents are forced to take different loans to educate their offspring and keep them healthy, thereby making their monthly net income to be insufficient.
" This is one of the reasons why more people keep slipping into extreme poverty everyday. Almost half of the population is already in abject penury and all hands must be on deck to avoid the worse."
naira marley wife picture
naira marley girlfriend
is naira marley married
name of naira marley wife