Love making cannot be separated from romantic relationship.
While some lovers in the tangle of romance radiate and show love to each other in the ecstasy of love making, others restrict themselves till marriage, has they uphold the believe that love making is made for those tied in the union of marriage.
Many specification has been used as indices to judge the performance of partners in bed, why some believe that you can know your partners love making capacity by talking with them about it, others have a different opinion about it.
Holding the thought that doing the act is the only way that can help one identify the bed performance capacity of one's partner.
Why it is a popularly held notion that lanky guys have good dicks which can help them perform better on bed, it may or may not be true, but whether it is, some people think some kind of guy, have the better potency of great bed performance.
It is a known truth that good bed performance could save and also crash a romantic relationship, and many has testify that they can't live with a man that cannot perform optimally on bed.
Relationship thrive and fails on bed performance.
A relationship expert, Joro has come to make a shocking revelation of a lady who thinks the size of the man does not matter, that his financial status defines his bed performance.
Joro on his page posted;
"Joro, Broke guys are better at sex than rich guys. Let your ancestors argue it. Don't have time.
Broke Guys: will use all their might to fuck and satisfy you because they don't have money to give you. They want to prove a point.
Rich Guys: will fuck like they're doing you a favour, he will do and rest.
New money rich guys will fuck angry sha. He will want to fuck his money worth we'll.
Old money rich doesn't care that much.
Old moey rich doesn't care that much.
Don't overlook a broke guy. He can give you best love making. He will be grateful you even gave him pussy to fuck.
JoroMy humble view sha. I want love more. But I want sex for my soul. "
Could this be true? would it be fare to say that the lady is right or wrong, that broke guys have great bed making performance?
If you believe that the lady is right?
Leave your comments below…
(Daily Advent)
rich girl with a broke guy
BE WARNED! HERE ARE 5 SURE SIGNS THAT YOU MIGHT LOOSE YOUR PARTNER TO THEIR EX
All relationships do not end at the altar. There might even be more relationships that failed to reach that landmark than relationships that do.
Point is, relationships end all the time, and when they do, it is not the end of the world. One would have to dust it off and move on to the next.
However, some people never really dust off the memories of their exes or get over the feeling of being with that person before trying to go be with someone else.
When you get with someone who has yet to move on from an ex; this is how you will know. The partner who compares you to an ex might not have moved on from that ex
1. The won't shut up about them
This is likely the most blatant pointer to the presence of residual feelings for an ex. When someone you are in a relationship with keep speaking about their ex and the things they had with them, it gets awkward and it's often likely that they are still pining for him or her.
That is not to say they can't even mention them here and there. Incidental mentions shouldn't be any trouble. It is the incessant, recurrent name dropping that's often problematic.
2. Comparisons
Imagine a partner talking about how better their ex was, right to your face. Crazy, right? It is both disrespectful for a partner to do this and it's just as bad for them to insinuate that you are a level below that other person.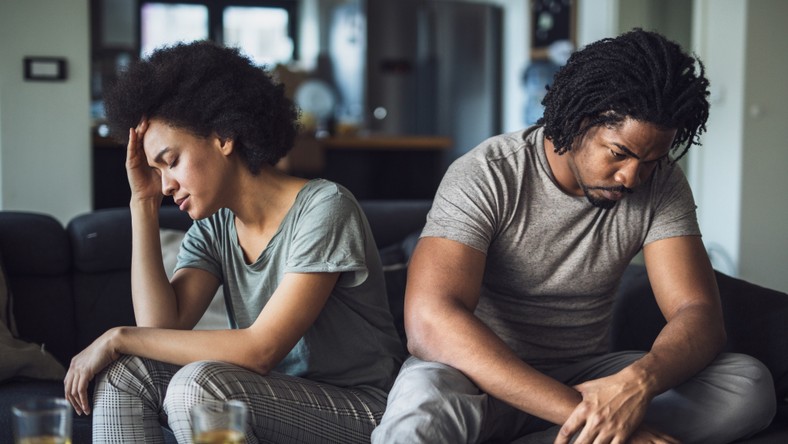 Even if it's true, it still isn't something to be said. If your partner doesn't even care about you and feels OK with making you feel less than their ex, it could be another way to know that they rate them higher than you and may low-key still be wishing they were with that person rather than you.
Building new memories with your partner are different from recreating memories you used to have with an ex.
3. They still talk. A lot.
This is also another uncomfortable thing to deal with in a relationship, no matter how you view it. Although some people manage to remain friends with their exes and that may be acceptable by their partners depending on the nuances of the breakup and the present relationship.
Regardless of this, having a partner talking to an ex so much when they are with you should bother you.
4. Always defensive of the ex
On this, Weena Cullins, a licensed clinical marriage and family therapist and relationship expert, tells INSIDER that "if someone constantly feels the need to defend their ex, specifically at times when their ex isn't the centre of conversation it could mean that they aren't quite over them."
If they won't create and enforce boundaries when it comes to the ex, too, it is something to be bothered about. No ex should have access to your partner as if they are still together.
A partner talking to an ex so much when they are with you should bother you.
5. Make your relationship an extension of the previous one
Tara Vossenkemper, a therapist and the founder and clinical director of The Counseling Hub, Columbia, South Carolina says "if your partner keeps trying to get you to do very specific things and then saying things like, 'that's what me and [ex] used to do,' then you need to take pause."
She tells Bustle further that "building new memories with your partner is different from recreating memories you used to have with an ex.
"One is meaningful and organic. The other is sad and full of baggage."
Pulse News
Leave your comments below…
rich girl with a broke guy
things a good guy won't do to the woman he loves
3 things a good guy won't do to the woman he loves
When a guy loves you, there are some things he cannot do to you, especially if they'll hurt your feelings.
Register with Helabet and get double your first deposit – up to KES 10,000!Here is a list of things that good guysdon't do to the women they love.
1. Puts destructive habits before you
A person who is addicted to something can never put their partner first.
This is because they will always choose their addictive habits over their partners.
However, when it comes to good guys, they know that such behaviour is self-destructive, and will focus their energy on making the relationship work.
2. He pressures you to do things for him that you don't feel comfortable doing
There are guys who will always pressure their women to do things for them even without consulting them and finding out if they are comfortable doing them or not.
However, good men will never pressure their women into doing something they aren't comfortable doing. This is because they respect their women as well as their choices and opinions.
3. Ignoring or neglecting you
Some men have a tendency of ignoring and not caring about their women.
However, a good man will never ignore you and will always strive to give you the care and attention that you deserve. A good guy will always invest in the relationship and will work towards making you happy.