The average Nigerian man is  well built, chiselled body like that of Kratos, blessed with the biggest Phallus in the world and always ready to put in the work when called to the other room. Recent statistics revealed that the average Nigerian man are amongst the sexiest men in the world, wonderfully created by the Creator and blessed in all departments.
There are some certain signs a Nigerian man would display and you'd be sure, he is  ready to walk you down the aisle and  make you the mother of his unborn children.
As a woman or lady,your job is look out for these sign and if they are present in  the man you love then you'd know for sure that he is truly the one. The real questions is, what are the signs a Nigerian man who wants to marry you displays ? This is a tough question, to be honest, but there are always strong indications.
He Respects You: Everyman who loves his lady would definitely respect her. Because respect is key. As a lady, you should know that a man who doesn't respect you would never marry you.  If he doesn't respect you, he has no regard for you and you are just like the average girl to him. Love comes with respect, a man that truly loves you will respect you. This a big sign if any man is going to get married to you.
He Apologizes and Wants to Settle Differences: A man really care for you would always look out for your best interest. In spite whether or not it is convenient for him. What do i mean by this? When trivial issues comes up, both of you are angry at the times without trying to apologize or settle differences, he is surely wasting your time. But a good man who loves you and wants to be with you will always want to settle differences and see both of you happy, it's just simple as that.
Introduces You to His Family: Do snort just yet, I know even the unserious men take this route now to put up a façade, but if he really cares, you'd know by the way he carries you whenever both of you go visiting his family.   There is a saying – Family is everything.  A man introducing you to his family while carrying you like a queen  means he likes you so much and his probably thinking long term for the both of you.
He is Concerned About Your Growth and Development: A man who deeply love you and want to settle down with you would always look beyond sxxual gratification they derive from you as their women. A man who wants sxx every time in a relationship, do not have you at heart, and won't care about your goals or aspirations as long as you satisfy them in the other room, it's hard to see this type of relationship heading anywhere except the man is just a low-life person. One of the key signs a Nigerian man wants to marry is he getting worried about your growth and development.
He Plans His Life with You: This is a no brainer, if any guy is getting married to a lady, he will have to plan his life with the lady included in it. Talks like how his job affects both of you, if he moves apartment, he wants to travel, talk of moving elsewhere and many more sensitive plans are obvious signs a Nigerian man wants to marry you.
So, ladies, if your intending husband to be in your mind does not share his goals and plans with you, just know he is using you to pass away the time temporarily.
He Misses You and Is Concerned about Your Well Being: A marriage without love will eventually hit the rocks. If a man is truly in love with you as a lady, he will be willing to marry you. When he truly loves you, he misses you and is concerned about your wellbeing wherever you are.
My sister, if a Nigerian man is going to get married to you, you will know from this explanation.
He's Always There for You: If anything happens to you, he is not himself. Whenever you need him, he makes the effort to be there and he at least follows up with you if he couldn't be there.
One of the biggest signs a Nigerian man that wants to marry you is he putting you first and making sure you navigate problems together.
He Talks About Marriage-Related Issues: There are lots of players and time-wasting Nigerian men, men like this do not care about any marriage talk, they always shun you when you bring this matter up. If a man sees his future with you, he talks about marriage issues and sometimes he lets slip by saying he is actually going to get married to you.
He Has No Problem Meeting Your Family: As a lady, you love a guy so much and you want him to meet your family, if your man is always dodging this request, he sees no point in doing it because he doesn't see a future with you. He's only with you for his selfish gains and sexual pleasure.
According to punchyinfo, No matter how busy your man is, if he loves you and is willing to marry you, he will create the time to know your family if you request such from him.
He Reassures You of His Love: See, relationships are not always smooth and plain-sailing, there will always be ups and downs. If a man constantly reassures you of his love in difficult times, he sees the future with you. We all need reassurances, one of the biggest signs a Nigerian man wants to marry you is him always reminding you how he loves you.
Wrapping Up: Getting married is a big decision and requires commitment from both the man and the woman. Nothing is always cast in stone and the points listed here are strong signs a Nigerian man wants to marry you. At the end of the day, the signs are always there for you to see. As a lady, do not be blinded when the signs are obvious.
What are your thoughts on this? Kindly leave a comment and don't forget to share
BE WARNED! HERE ARE 5 SURE SIGNS THAT YOU MIGHT LOOSE YOUR PARTNER TO THEIR EX
All relationships do not end at the altar. There might even be more relationships that failed to reach that landmark than relationships that do.
Point is, relationships end all the time, and when they do, it is not the end of the world. One would have to dust it off and move on to the next.
However, some people never really dust off the memories of their exes or get over the feeling of being with that person before trying to go be with someone else.
When you get with someone who has yet to move on from an ex; this is how you will know. The partner who compares you to an ex might not have moved on from that ex
1. The won't shut up about them
This is likely the most blatant pointer to the presence of residual feelings for an ex. When someone you are in a relationship with keep speaking about their ex and the things they had with them, it gets awkward and it's often likely that they are still pining for him or her.
That is not to say they can't even mention them here and there. Incidental mentions shouldn't be any trouble. It is the incessant, recurrent name dropping that's often problematic.
2. Comparisons
Imagine a partner talking about how better their ex was, right to your face. Crazy, right? It is both disrespectful for a partner to do this and it's just as bad for them to insinuate that you are a level below that other person.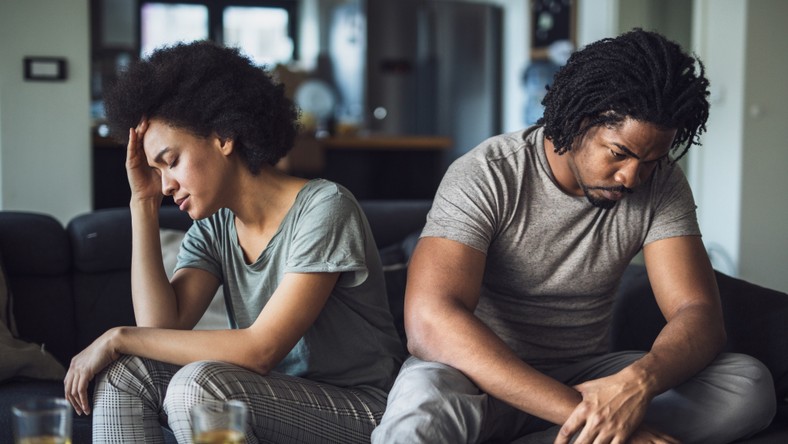 Even if it's true, it still isn't something to be said. If your partner doesn't even care about you and feels OK with making you feel less than their ex, it could be another way to know that they rate them higher than you and may low-key still be wishing they were with that person rather than you.
Building new memories with your partner are different from recreating memories you used to have with an ex.
3. They still talk. A lot.
This is also another uncomfortable thing to deal with in a relationship, no matter how you view it. Although some people manage to remain friends with their exes and that may be acceptable by their partners depending on the nuances of the breakup and the present relationship.
Regardless of this, having a partner talking to an ex so much when they are with you should bother you.
4. Always defensive of the ex
On this, Weena Cullins, a licensed clinical marriage and family therapist and relationship expert, tells INSIDER that "if someone constantly feels the need to defend their ex, specifically at times when their ex isn't the centre of conversation it could mean that they aren't quite over them."
If they won't create and enforce boundaries when it comes to the ex, too, it is something to be bothered about. No ex should have access to your partner as if they are still together.
A partner talking to an ex so much when they are with you should bother you.
5. Make your relationship an extension of the previous one
Tara Vossenkemper, a therapist and the founder and clinical director of The Counseling Hub, Columbia, South Carolina says "if your partner keeps trying to get you to do very specific things and then saying things like, 'that's what me and [ex] used to do,' then you need to take pause."
She tells Bustle further that "building new memories with your partner is different from recreating memories you used to have with an ex.
"One is meaningful and organic. The other is sad and full of baggage."
Pulse News
Leave your comments below…
things a good guy won't do to the woman he loves
3 things a good guy won't do to the woman he loves
When a guy loves you, there are some things he cannot do to you, especially if they'll hurt your feelings.
Register with Helabet and get double your first deposit – up to KES 10,000!Here is a list of things that good guysdon't do to the women they love.
1. Puts destructive habits before you
A person who is addicted to something can never put their partner first.
This is because they will always choose their addictive habits over their partners.
However, when it comes to good guys, they know that such behaviour is self-destructive, and will focus their energy on making the relationship work.
2. He pressures you to do things for him that you don't feel comfortable doing
There are guys who will always pressure their women to do things for them even without consulting them and finding out if they are comfortable doing them or not.
However, good men will never pressure their women into doing something they aren't comfortable doing. This is because they respect their women as well as their choices and opinions.
3. Ignoring or neglecting you
Some men have a tendency of ignoring and not caring about their women.
However, a good man will never ignore you and will always strive to give you the care and attention that you deserve. A good guy will always invest in the relationship and will work towards making you happy.