Curvy Corper With Big Backside Breaks The Internet (Photo)
Some social media investigators are searching for the lady whose bum as pictured on the picture above has caused a stir. Her huge behind which has been likened to a mini truck appears to have jinxed social media users.
It should be noted that several ladies have been going under the knife to inflate the size of their behind to look more appealing to men and this costs so much money. According to Unclesuru, the picture has garnered thousands of likes within a short period of time.
In related news, another female corp member break the internet recently went viral after sharing photos of her curvy backside on the internet. Well, who doesn't love beautiful ladies, and it seems am obsessed with Beautiful ladies with Ukwu (Butts).
Taking our front-page today, is this beautiful Female Corper with the biggest Ukwu.
This particular endowed lady is currently serving her father's land at the NYSC camp in Lagos State, and she is also making guys lost in her page with her hot pictures!
This beautiful lady is very popular at the Lagos State NYSC camp, both among the corps members and the NYSC staff, because she's good!
Going through her social media page, we discover she is really interest in her back-side and never fails to utilises every opportunity to flaunt it on her accounts.
What are your thoughts on this? Kindly leave a comment and don't forget to share
FG reacts to fake news about resumption of schools in July, makes clarification
Lots of information have been flying around about the resumption of schools nationwide in Nigeria.
Of course, we all know many students are concerned about when schools will resume, as many wants to resume as soon as possible.
However, this has opened students to lots of fake information/news by lots of people.
An information was released that schools will resume on 20th of July.
The information was that the Federal Government has announced Monday, July 20, 2020, as the official resumption date for universities, polytechnic and other schools.
The information was shared out in a way that it will seem real.
It includes the name of some important personnel in the country, and the stamp of the Federal Ministry of Education.
View pictures in App save up to 80% data.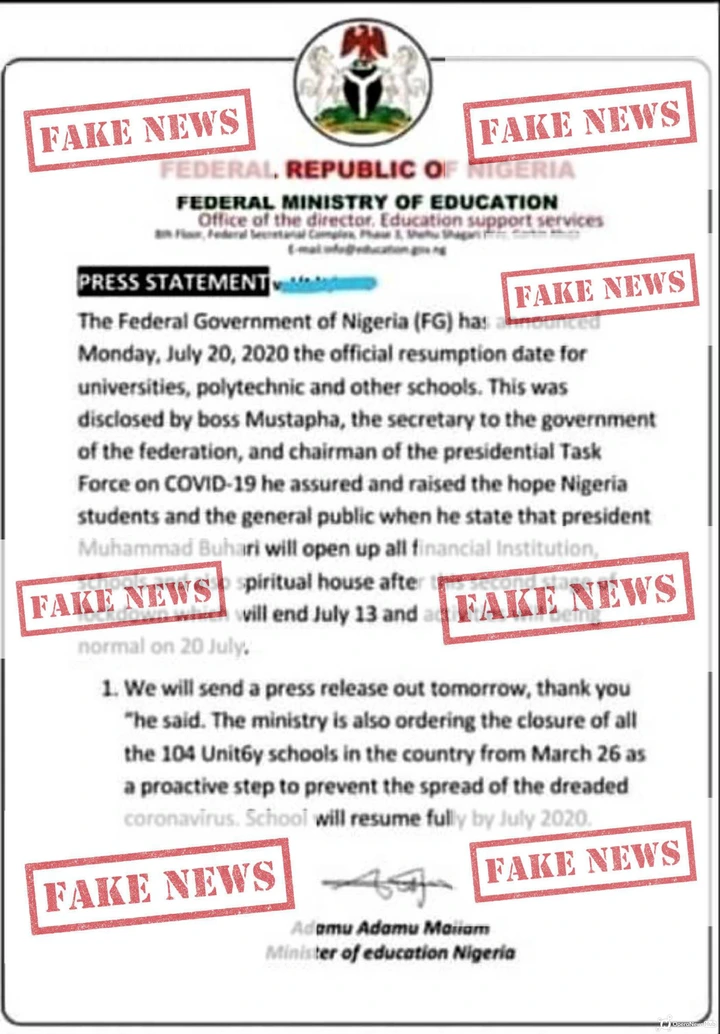 However, the Federal Ministry Of Education in Nigeria has debunked this fact.
Today, Thursday, 4th July, 2020, the Federal Ministry of Education, through its official Twitter account, has announced that this doesn't have an iota of truth… instead, it's a fake news.
On the official Twitter account, it was posted like this:
"Fake News Alert!!!
Kindly disregard all unconfirmed news not originating from the Ministry's Official Media Handles.
The Official date for Resumption of Schools Nationwide is yet to be confirmed."
View pictures in App save up to 80% data.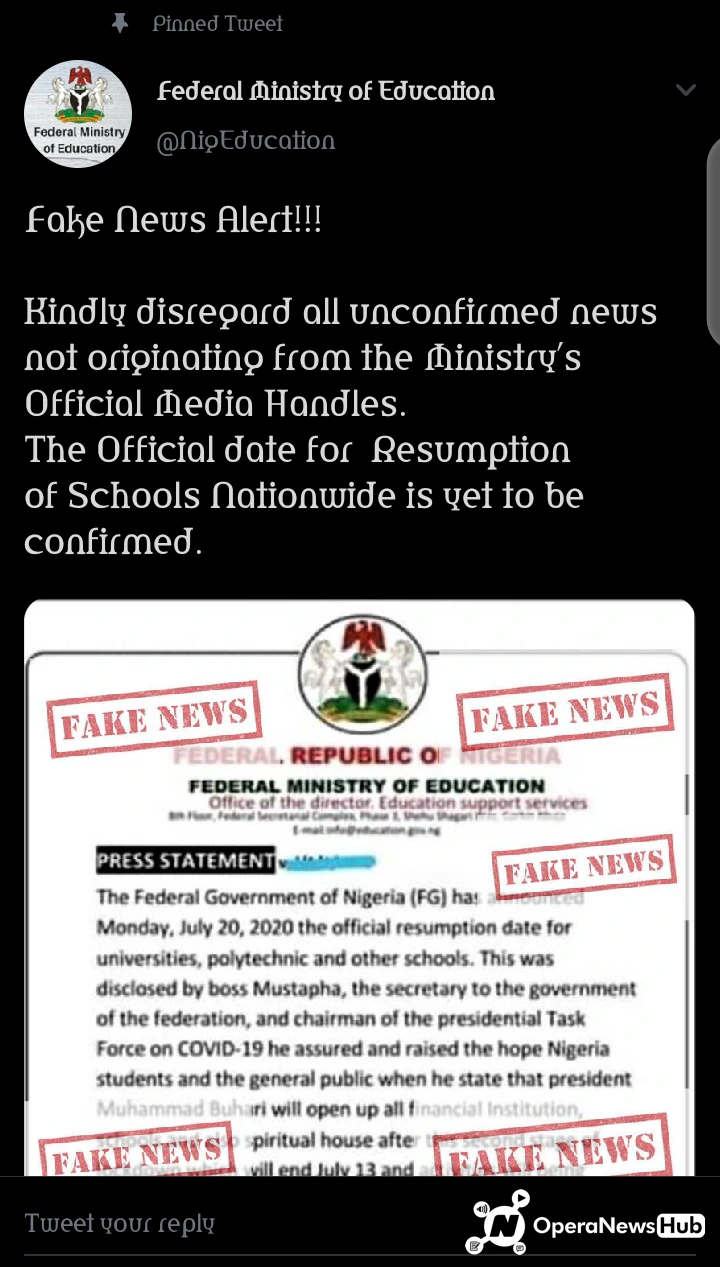 Thus, we implore all students to beware of any information.
If there will be any information about the resumption of schools in Nigeria, it'll be officially announced and confirmed by the Federal Government.
Like, share and follow for more updates.
FG begins disinfection of public schools, airports ahead of resumption
The federal government said it had begun disinfection of public schools across the country preparatory to resumption after months of shutdown following the outbreak of coronavirus pandemic in the country.
Also, the government said ahead of the resumption of activities in the aviation sector, it had concluded arrangements with aircraft owners on the suitable disinfectant it would adopt on the aircraft and the nation's airport. But government while it may not focus on the private schools in the ongoing project, for now, owners of private schools can engage registered and licensed firms to disinfect their schools. Minister of Environment, Dr. Mohammad Abubakar, told Vanguard on the sideline of a news conference he held to mark the 2020 World Environment Day, on Thursday that disinfection of public schools was ongoing already. But he said the ministry was waiting for the additional response to accelerate the disinfection of schools.
"We have started disinfection of schools. We have our presence in all the six geopolitical zones of the country. We are waiting for the additional response to accelerate the disinfection of schools," he said. Asked if the project would cover private schools, the minister responded: "Usually, the first mandate is on the public schools." He, however, added:" We will continue the disinfection exercise", saying, " I know many will hire people to do their decontamination and disinfection."
According to him, "We are very okay with that but the only caveat is that they have to hire people that are registered and licensed by the Federal Ministry of Environment under the Environmental Health Officers Registration Council of Nigeria.
" He explained that "Government, as you all know, can not do everything at once but we are starting and we will move forward as we continue." Also, commenting on the disinfection of airports ahead of activities in the aviation industry, he said the ministry had concluded arrangements with aircraft owners in that regard. "For the airports, we have just concluded arrangements with the aircraft owners. Why we took that step is that aviation is a very sensitive sector where everything must be 100 percent,200 percent, and even 400 percent before aviation people can function. That is why you see some aircraft that have up to four engines so that when one stops, the others can function because up there, there is no parking space. " So we are working with them and they have chosen the chemicals that they believe can work well and not cause any safety breaches if the chemicals are applied to the aircraft and other certain areas.
" He said the government was also going to disinfect motor parks, train stations, and other areas that attract a large crowd of people. "We are going to disinfect parks, train stations, markets but for now these are the areas that we consider high-risk," he said. "The ministry is working towards all these because there are so many places to be contaminated.