Amidst tears, Avala and Isilomo have been revealed as the housemates going home tonight.
See Akpraise.com's other Tweets
Recall that Avala, Gedoni, Khafi and Isilomo were the housemates with the lowest coins in the house and Big brother instructed them to pack up their bags and deposit it in the store room. Check out the video below.
See bbnaijaupdates's other Tweets
It was the first time the housemates were faced with eviction and it was no surprise that they had their own theories and strategies on how things would pan out. The  housemates up for eviction were instructed to play a game of chance, where they had to roll a marble into a metal cup.
According to the rules, the housemate with the lowest number of marbles will be evicted. The buzzer went off and at the end of the game, Gedoni had 5 marbles, Khafi had 4 marbles, Isilomo had 2 and Avala had 3.
isilomo and avala sorry guys….gidoni and khafi guess you guys still have time to build a stronger friendship 🙂 #BBnaija
See Olly Boss's other Tweets
Earlier, Big Brother also instructed that Omashola and Ike should pack their bags because they broke the rules of the house by engaging in an altercation. Biggy has however decided to give Omashola and Ike a warning by issuing them a strike . He also reminded them that they have two more strikes left to be disqualified from the show.
204 people are talking about this
See how Nigerians reacted to this new development.
381 people are talking about this
16 people are talking about this
See Bigbrother Naija's other Tweets
24 people are talking about this
See Brother Parody's other Tweets
#Bbnnaija#BBNaija
Goodbye Avala and Isilomo.
You will be missed
See Frisson's other Tweets
See Foreign pepper 
's other Tweets
See Mathematician's other Tweets
How can big brother evict 2 housemates without giving them a fair chance and they expect us to vote for the remaining housemates. Isilomo and Avala were some viewers fave for Pete sake #bbnaija https://t.co/dgAhsTXJe2

— Evolving (@jforjeni) July 7, 2019
Do you think tonight's judgement is fair? Tell us what you think in the comment section.
on which basis isilomo and avala were evicted
was isilomo treated well bbnaija
BBNaija: 2face Idibia, Larry Gaga pay housemates surprise visit [PHOTO]
The Big Brother Naija housemates have gotten a huge surprise after Nigerian singers, Tuface Idibia and Larry Gaaga paid them a visit.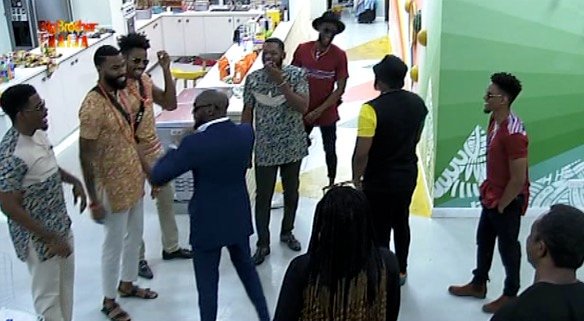 Recall that Ebuka had tweeted hours earlier that there would be a surprise person coming to the house.
At 7pm, Tuface arrived with his manager, Efe Omorogbe, record producer, Larry Gaaga and a lady. The look on the faces of the housemates were priceless.
Guess who's coming into the House? @official2baba is coming to celebrate his birthday with the #BBNaija Housemates and we can't keep calm https://bit.ly/2m2sygQ 
571 people are talking about this
The housemates proceeded to give them a tour of the house with Tuface even ringing the bell to the diary room.
on which basis isilomo and avala were evicted
was isilomo treated well bbnaija
Don Jazzy sends message to Buhari over appointment of new economic team
Mavin producer, Don Jazzy has commended President Muhammadu Buhari for appointing a new economic team.
The Presidency had said that the new team is made up of the following: Prof. Doyin Salami – Chairman; Dr. Mohammed Sagagi – Vice-Chairman; Prof. Ode Ojowu – Member; Dr. Shehu Yahaya – Member; Dr. Iyabo Masha – Member; Prof. Chukwuma Soludo – Member; Mr. Bismark Rewane – Member; Dr. Mohammed Adaya Salisu – Secretary (Senior Special Assistant to the President, Development Policy).
Reacting, Don Jazzy, while describing the appointees as ' brightest minds said they deserved the appointment.
He, however, advised the Buhari led-government to prioritize the development of Nigeria's Human Development Index, HDI.
He wrote on Instagram, "Appointees in the new Economic Advisory Council are some of the brightest minds we have in the country and their appointments are well-deserved.
"Hopefully, the government's reposed trust in their expertise would have positive effects on the economy. However, I would advise the govt. to prioritize the development of our HDI in this term. Substantial funds should be earmarked in our fiscal budgets to improve our Education and Health sectors in compliance with WHO and UNESCO. Bill Gates sounded this note of warning in a meeting with the National Economic council one year ago, faulting the Economic Recovery and Growth Plan(ERGP) which doesn't prioritize human capacity development.
"I understand people would be wondering how this would affect our economy positively. Let's consider this. In the south here where Education is considered to be very important in many families, parents spend a lot of money on educating their children.
"Many of these parents are civil servants who only rely on their salaries in these times when the minimum wage is a meagre $83.5. These parents are forced to take different loans to educate their offspring and keep them healthy, thereby making their monthly net income to be insufficient.
" This is one of the reasons why more people keep slipping into extreme poverty everyday. Almost half of the population is already in abject penury and all hands must be on deck to avoid the worse."
on which basis isilomo and avala were evicted
was isilomo treated well bbnaija