All relationships do not end at the altar. There might even be more relationships that failed to reach that landmark than relationships that do.
Point is, relationships end all the time, and when they do, it is not the end of the world. One would have to dust it off and move on to the next.
However, some people never really dust off the memories of their exes or get over the feeling of being with that person before trying to go be with someone else.
When you get with someone who has yet to move on from an ex; this is how you will know. The partner who compares you to an ex might not have moved on from that ex
1. The won't shut up about them
This is likely the most blatant pointer to the presence of residual feelings for an ex. When someone you are in a relationship with keep speaking about their ex and the things they had with them, it gets awkward and it's often likely that they are still pining for him or her.
That is not to say they can't even mention them here and there. Incidental mentions shouldn't be any trouble. It is the incessant, recurrent name dropping that's often problematic.
2. Comparisons
Imagine a partner talking about how better their ex was, right to your face. Crazy, right? It is both disrespectful for a partner to do this and it's just as bad for them to insinuate that you are a level below that other person.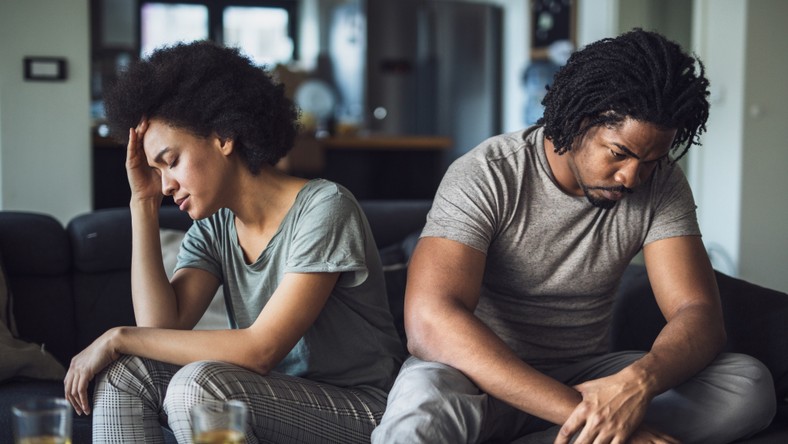 Even if it's true, it still isn't something to be said. If your partner doesn't even care about you and feels OK with making you feel less than their ex, it could be another way to know that they rate them higher than you and may low-key still be wishing they were with that person rather than you.
Building new memories with your partner are different from recreating memories you used to have with an ex.
3. They still talk. A lot.
This is also another uncomfortable thing to deal with in a relationship, no matter how you view it. Although some people manage to remain friends with their exes and that may be acceptable by their partners depending on the nuances of the breakup and the present relationship.
Regardless of this, having a partner talking to an ex so much when they are with you should bother you.
4. Always defensive of the ex
On this, Weena Cullins, a licensed clinical marriage and family therapist and relationship expert, tells INSIDER that "if someone constantly feels the need to defend their ex, specifically at times when their ex isn't the centre of conversation it could mean that they aren't quite over them."
If they won't create and enforce boundaries when it comes to the ex, too, it is something to be bothered about. No ex should have access to your partner as if they are still together.
A partner talking to an ex so much when they are with you should bother you.
5. Make your relationship an extension of the previous one
Tara Vossenkemper, a therapist and the founder and clinical director of The Counseling Hub, Columbia, South Carolina says "if your partner keeps trying to get you to do very specific things and then saying things like, 'that's what me and [ex] used to do,' then you need to take pause."
She tells Bustle further that "building new memories with your partner is different from recreating memories you used to have with an ex.
"One is meaningful and organic. The other is sad and full of baggage."
Pulse News
Leave your comments below…
How long should you date before getting married?
In a Whatsapp chat group, there was a story about a lady who dated a guy for over ten years and then he left her for someone else. People's responses were generally that they dated for too long. Ten years was such a long time.
Early this year, the story of a Lagos socialite who met and married a man all under a year went viral when news broke that the marriage has hit the rocks less than 10 months after the flamboyant wedding. People blamed the marriage failure on lack of enough time to get to know each other.
ADVERTISEMENT
This begs the question: How long should one date before getting married? LifeXtra sought people's opinion and this is what they have to say.
ADVERTISEMENT
Kubura Musa, an entrepreneur, said a year is enough to court someone before marriage. She said one year is practical enough to allow one evaluate whether the partner is a strong match for the long run.
Kubura said she always worries when young couples brag about their long years of engagement.
"I feel a year is ideal for a relationship. In that one year, the couple should know if they are compatible for one another or not. Prolonging relationships without any serious reason only tells that the couple doesn't know what they are doing or what they want," she said.
Hauwa Katung believes between six months to a year of getting to know each other also provides the couple with ample opportunity to have important conversations about their future "but many forget to ask serious questions during that period and concentrate on 'I love you, I cannot live without you'."
Hauwa, who is a house wife, said she suffered such because the basic questions about her likes and her future ambition were not discussed and when she got married her husband insisted she will not work which she tried to object to but "he insisted and that's why I am a housewife."
She reiterated that a period of six months to a year is enough for couples to be able to know those answers to the deep rooted questions about themselves and their partners, adding that if they choose to ignore them now, they may come up later when it might be too late.
Umar Shehu, a student, says it depends on how the level of communication with the significant other progresses. He explained the time should be measured based on how well they know one another and not based on how long.
"Some are not comfortable giving out confidential details about themselves until they have studied that person and his character over a certain time. You know how deceptive people are and when you now bare your heart out to them and at the end of the day the person says they are not doing, that would be hurtful," he said.
"So, I think as long as you feel ready and comfortable with the person, if it takes you two years, or three months to do that I think it is fine," he added.
Reasons Why She Is Going To Leave You For Another Man
9 Reasons Why She Is Going To Leave You For Another Man
Most guys after spending some quantity time awhile with a lady tends to get carried away hence taking things for granted. Sadly, this behaviour  is done consciously and subconsciously. Alot of things can make a lady fall out of love with a guy. And until you as a man changes and do better,  getting dumped for some other guy won't be far fetched.  This article  shares 9 reasons why she is going to leave you for another man and how to prevent that from occurring.
9. Not being honest with her
Are you totally honest with your partner or are there things not yet disclosed? Lying is human nature, we know but speaking the truth is a necessity especially if you want the relationship to last . You are probably lying to her a lot and women being women, she has been catching you off-guard. Honesty is actually a keystone in sustaining a relationship. If you aren't conscientious, be ready to face the music.
8. She is NOT problem-free!
She is definitely not problem-free and feels the need to be looked after, and one of the best way to do that is to listen to her and become her support system.  Most of the times when we develop an emotional bonding with our queens, we take it as a one-way thing. We highly expect our lovers to listen to us, and us only. But if we give it a deep thought, isn't it too selfish of us? It's a truth well acknowledged that women know every problem that their men are facing, but are we aware of what they are going through every single day.
7. Giving her time
Nobody is ever to busy, everything boils down to priorities. If you love a woman, show it to her by making time in spite your busy schedules. Yes, We all have some tasks in our daily lives; we rush to our jobs and work, work, work. That's everyone's story now a days. It definitely doesn't mean you take zero time for people you love and care about; that's impossible. If your excuse is you don't have enough time, she will make sure she finds someone who has time for her and puts her in his priority list.
6. You make her bored
According to nairaland, Relationship is constantly about including sparks, isn't it? Indeed, even you don't care for exhausting individuals or things. All in all, in the event that you yourself end up plainly unsurprising, what's the delight for her to remain with you?
5. Are you getting too possessive?
It can make your relationship the best one in the world and even ruin it for a lifetime. Over possessiveness creates a claustrophobic effect in the relationship, which is not healthy at all. She probably have been feeling suffocated and anchored in the relationship, and might choose to set herself free very soon. Stop that.
4. Repeated Change in Moods
Mood swings are a part of everyone's personality but if it becomes excessive, it can cause a lot of trouble in a person's personal life and affect different relationships; same goes for one's romantic relationship. If it continues, she might lose her patience with you and choose someone who would give her more smiles than frowns. Whining and complaining is understandable the first few times, not all the time and so having frequent mood swings should be treated by an expert immediately.
3. You get too serious for her liking
This particular personality is called "The Robotic Personality." And as the name suggests, your girl would want to date a real, talkative human being than a robot, isn't it? Sometime, the men in the society act too serious with their lovers; it's good sometimes but would be a nightmare if it happens all the time. Take a break from your hectic schedule, take her out on a trip or a romantic candle light dinner. Be jolly, be fun-loving and make her laugh often – she deserves it and so do you!
2. Critical enough?
Positive criticism is good but it's not fun if done every time. It can make her feel insecure about herself which may lead her to go through severe depression and lowered self-esteem.
There sure is a thin line between being positively critical or judgemental about something or someone. By the end of the day, if she's not happy and confident around you, she would not have a good reason to stay.
1. Emotional Bond
A relationship is a blend of intimacy and emotional attachment. If you are not open about yourself or your problems to her, she might feel you don't want her to interfere in your life or that you are not permitting her to be a part of your world.
What are your thoughts on this? Kindly leave a comment and don't forget to share