All relationships do not end at the altar. There might even be more relationships that failed to reach that landmark than relationships that do.
Point is, relationships end all the time, and when they do, it is not the end of the world. One would have to dust it off and move on to the next.
However, some people never really dust off the memories of their exes or get over the feeling of being with that person before trying to go be with someone else.
When you get with someone who has yet to move on from an ex; this is how you will know. The partner who compares you to an ex might not have moved on from that ex
1. The won't shut up about them
This is likely the most blatant pointer to the presence of residual feelings for an ex. When someone you are in a relationship with keep speaking about their ex and the things they had with them, it gets awkward and it's often likely that they are still pining for him or her.
That is not to say they can't even mention them here and there. Incidental mentions shouldn't be any trouble. It is the incessant, recurrent name dropping that's often problematic.
2. Comparisons
Imagine a partner talking about how better their ex was, right to your face. Crazy, right? It is both disrespectful for a partner to do this and it's just as bad for them to insinuate that you are a level below that other person.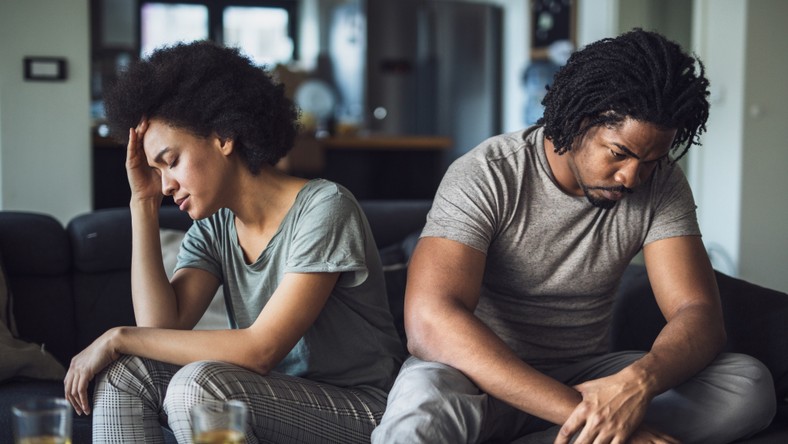 Even if it's true, it still isn't something to be said. If your partner doesn't even care about you and feels OK with making you feel less than their ex, it could be another way to know that they rate them higher than you and may low-key still be wishing they were with that person rather than you.
Building new memories with your partner are different from recreating memories you used to have with an ex.
3. They still talk. A lot.
This is also another uncomfortable thing to deal with in a relationship, no matter how you view it. Although some people manage to remain friends with their exes and that may be acceptable by their partners depending on the nuances of the breakup and the present relationship.
Regardless of this, having a partner talking to an ex so much when they are with you should bother you.
4. Always defensive of the ex
On this, Weena Cullins, a licensed clinical marriage and family therapist and relationship expert, tells INSIDER that "if someone constantly feels the need to defend their ex, specifically at times when their ex isn't the centre of conversation it could mean that they aren't quite over them."
If they won't create and enforce boundaries when it comes to the ex, too, it is something to be bothered about. No ex should have access to your partner as if they are still together.
A partner talking to an ex so much when they are with you should bother you.
5. Make your relationship an extension of the previous one
Tara Vossenkemper, a therapist and the founder and clinical director of The Counseling Hub, Columbia, South Carolina says "if your partner keeps trying to get you to do very specific things and then saying things like, 'that's what me and [ex] used to do,' then you need to take pause."
She tells Bustle further that "building new memories with your partner is different from recreating memories you used to have with an ex.
"One is meaningful and organic. The other is sad and full of baggage."
Pulse News
Leave your comments below…
(18+) How To Dis-virgin A Girl Without Too Much Pain And Stress (A MUST READ)
Hello Everyone!!
Many guys who have once disvrigined a girl have described the process as stressful with the girl groaning in pain throughout the process.
The is because many of you guys are not well-experienced enough when it comes to breaking the hymen. You all just know how
fvck hoes, you don't know how to dig it
You don't have to make a girl loose her virginity in a very horrible way, there is a sure way you can break a girl's virginity that she will enjoy it with less pain.
Follow the rules below and you will come back with a testimony.
Below Are Rules To Taking A Girl's Virginity Without Pain & Stress
RULE 1 :- Be careful not to expose yourself anyhow because your arousal and dick size might scare her. Most ladies find the first sight of a big erect pr!ck scary .
If she see gboola , she might japaa oo . Even if she managed to go on with scaring mind, she will tighten and that will make the whole thing unpleasant
RULE 2 :- A condom & sex oily lotion is necessary, make sure you masturbate your first round out before going on with this journey so it will be a smooth one for you too.
RULE 3 :- Give her a nice massage and make her feel pampered . kiss those cute nipples & nibble them gently
RULE 4 :- Kiss her on her tummy & she will moan , and then move very slowly downwards.
Remember she's a virgin and every touch from you will make her body and soul to vibrate .
RULE 5 :- Rub your nose gently on her clit and your tongue touching her drips runway .
Then you run your fingers on her thigh. Oh my gosh, she'll be shaking with her hands on your head
RULE 6 :- Run your touch down her vaginal lips (that's second heaven boy ).
Get her pussy wet with the sex lotion & then run your tongue through her pussy lips awwwwwwn
RULE 7 :- Gently open her lips with your fingers and lick her clitoris slowly . Take your time and suck out that mint flavor from the clit .
This is the most intimate part. Her juices should be flowing as a virgin. You own that pussy already boy
RULE 8 :- While using your tongue and your fingers to arouse her very gently. You will see her vaginal lips swelling and they will also loosen.
She will definitely want more of you & the dick
RULE 9 :- Now is the time to gently position yourself between her legs. Carefully place your erect penis between her vaginal lips and apply very gentle pressure in and out.
The very first time, even if you go in an inch or less, that is good enough. Take it back & go again.
Keep repeating it again & again and trust me, it will be so boring to you, but who cares ‍ she's enjoying it & that's all that matters
RULE 10:- Don't force your way in. If you have really aroused her, she will enjoy the pressure of you going in little by little .
Big head don't push it with force !! You will destroy her mood & everything that you've hustle for, ode oshiii
RULE 11 :- After 30 mins of much work, you will be sure of 59% entrance and so you will breakthrough the HYMEN with a little sharp pain for her.
In some cases you will breakthrough it without even noticing. But surely, there will be a presence of blood to show she's really a virgin
Try to end it by making her climax using your dick and if she is able to take your hard dick in for the first time, you can go all the way in.
RULE 12 :- After all the long work, you're probably going to cum very quickly inside her, so if you don't want her to get pregnant,
use a condom because first time sperm into a lady can be very effective.
The End!!
Please be very patient and considerate!! She will thank you for it forever and still come back
AH AH!! Nigerian Woman Reveals How She Allowed Her Boyfriend Date Her Bestfriend (Read The Story)
A woman, after being asked on Twitter, has revealed the craziest thing she ever did, to the shock of many.
A Nigerian woman simply identified as Funmi has shared a shocking relationship experience with a man she dated six years ago.
The lady revealed that her boyfriend at the time had come to her to confess that he was in love with her bestfriend. She found out later that the friend too also felt the same way for her boyfriend.
According to Funmi, she decided to remove herself from the relationship and watch her bestfriend and boyfriend build a relationship together under her nose.