While many Nigerians are acquainted with the popular browser, Goggle, only a few is known about the CEO of the great co-operation. Here are some fascinating facts about him that probably you were not aware of. Scroll down to know more.
01 / 10
Born in Chennai in 1972 as Pichai Sundararajan, the India-born American computer genius and Google CEO has been an epitome of inspiration for many. Sundar Pichai was born in a Tamil family and his mother Lakshmi worked as a stenographer while his father Regunatha Pichai was an electrical engineer. Undoubtedly, it was Pichai's father's profession that instilled in him the interest in technology. (Pic Credit: Twitter/@sundarpichai)
02 / 10
(Photo Credit : Twitter)Sundar Pichai is a silver medalist in metallurgical engineering from the Indian Institute of Technology Kharagpur. He also received a scholarship to study M.S. in engineering and materials science at the Stanford
University
in 1995. After completing his course, Pichai went ahead to complete an MBA from the Wharton
School
of the University of Pennsylvania, which changed his life as he was named a Siebel Scholar and a Palmer Scholar.
03 / 10
(Photo Credit : Twitter)Before joining Google in 2004, Sundar Pichai worked as a management consultant in McKinsey & Company.
04 / 10
In 2004, Sundar Pichai joined Google to lead the product management for Google Chrome and Chrome OS. He was also entrusted with the responsibility to oversee Google Drive, Gmail and Google Maps. (Pic Credit: Twitter/@sundarpichai)
05 / 10
Sundar Pichai struck headlines in 2011 when he was considered to replace Jason Goldman as the VP of Product in Twitter. But Pichai's love for Google made him let the opportunity go. (Pic Credit: Twitter/@sundarpichai)
06 / 10
In 2013, Sundar Pichai replaced Android founder Andy Rubin and took over his portfolio. The renowned 'Android One' is Pichai's pet project and was launched in September 2014 with an aim to make smartphones affordable for all households. (Pic Credit: Twitter/@sundarpichai)
07 / 10
Not many know but Sundar Pichai would have been working for Microsoft unless Google was able to go all desperate in retaining him by promising him $50 million a year in stocks. (Pic Credit: Twitter/@sundarpichai)
08 / 10
Sundar Pichai's calm, composed and down-to-earth nature have always been praised. But within, the Google CEO has tremendous diplomatic abilities. He is often credited for helping Larry Page convince Nest Labs co-founder Tony Fadell to merge his organisation with Google. Pichai is also credited for accompanying Page on a tour to South Korea's Samsung factory to strengthen the brand relationship. (Pic Credit: Twitter/@sundarpichai)
09 / 10
Sundar Pichai is gifted with an unusual power of remembering every phone number he has ever dialled. (Pic Credit: Twitter/@sundarpichai)
10 / 10
Besides being academically strong, Sundar Pichai has remained skipper to his high school cricket team. The Google CEO is married to his longtime sweetheart Anjali and is a proud father to two kids. (Pic Credit: Twitter/@sundarpichai) 
(Daily advent)
Xenophobia: Why Buhari govt won't end relationship with South Africa despite attacks – Minister Onyeama
The Federal Government on Friday declared that it won't severe diplomatic relationship with South Africa despite the renewed xenophobic attacks on Nigerians.
Minister of Foreign Affairs, Geoffrey Onyeama made the disclosure when he appeared before the senate committee on Diaspora at the National Assembly.
Onyeama said taking such action would not be in the interest of Nigerians in South Africa, adding that Nigeria would consider other options apart from diplomatic ties severance, to resolve the ongoing crisis.
He said: "We are not thinking to the stage of diplomatic ties called off. There are various options. We are not by any means at a stage where we are breaking diplomatic relations with South Africa.
"We just met with the senate committee to review the situation with regard to South Africa and we looked at all the possible options we analysed the possible causes and agreed on a road map going forward."
The Minister also disclosed that the special envoy President Muhammadu Buhari sent to South Africa would return to the country on Saturday.
He added: "Mr. President has dispatched a special envoy to South Africa who would be holding discussions with the South African government at the very highest level.
"He should be back tomorrow (Saturday), that will now give the government the basis for further action. In the meantime, if the government is very much on top of the situation.
"We know for a fact that no Nigerian life has been lost so we are extremely concerned to ensure that there will be adequate compensation for property that have been damaged.
"We know that a Nigerian Airline is putting a plane at the disposal of most Nigerians that wish to take the opportunity to leave South Africa, this is purely voluntary, but we are particularly determined to particularly make sure that this crisis does not re-occur.
"It has been happening for far too long, it's becoming almost endemic, so with the distinguished senators, are helping with some of the options that we may have to ensure that this will be the last time we will ever be meeting to talk about Nigerians attacked in South Africa and to take definitive measures.
"To start doing that, we want to have all the facts available and then we will take the necessary measures."
See what happens when you drink water immediately after eating
♥
See what happens when you drink water immediately after eating
Drinking water after a meal gives you a feeling of satisfaction however the same practice is detrimental to your health. By drinking water right after your meals, you are again tampering the natural time it takes for your food to digest.
There has also been a lot of debate on time and the amount of water to be taken after meal. Reasearch has it that drinking water immediately after eating is harmful to your health.
Experts recommends half an hour before you drink water after eating. When you drink water right after your meal, it will add coolant effect to your food and weakens your digestive strength.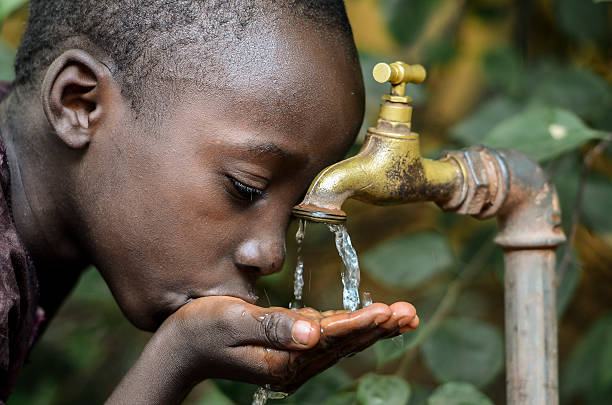 When you drink water immediately after meal it makes you feel hungrier faster than anticipated and results in overeating and bloating. Also if you drink water immediately after eating, you might become obese if you follow the practice regularly.
When you drink water immediately after eating it can lead to acid reflux(This is a chronic disease that occurs when stomach acid or bile flows into the food pipe and irritates the lining).The intake of water after meal dilute the gastric juices essential enzymes required for healthy digestion. It also piles up toxic wastes. When you drink water immediately after eating especially cold water it can make the digestive enzymes not to function which leads to the piling up of toxic wastes in the body.
It can also lead to other problems such as increase in uric acid levels, high cholesterol, high triglyceride levels – a major cause of heart diseases – diabetes, etc. While it is important to keep yourself hydrated by drinking enough water everyday, you should also know how long you will need to wait to drink water after having a meal.Have you learnt a thing or two?
Please share your thoughts in the comment section below