Congratulations are in order as Nollywood actress, Toyin Abraham is now a mother as reports have it that she has finally given birth in the US.
Earlier on Wednesday, August 14, 2019, the official wedding photo of the actress Toyin Abraham and her colleague, Kola Ajeyemi had emerged. The portrait was released online by the couple's media publicist with the aim of confirming that their union is indeed now official. Just when social media was trying to get used to the fact that their 'World Best' was married, a new twist about her birth surfaced, taking them by storm.
According to Kemi Filani News, the wedding portrait had been released following the arrival of Toyin Abraham's baby. A close source confirmed that the wedding photo was released ahead of the big announcement of the arrival of Toyin's new born baby…"so that people will not go to town with the talk that, like Linda Ikeji, Toyin had a baby out of wedlock" the source confirmed. It has further been confirmed that both mother and child are doing okay in the US.
Another source who shared the photo below confirmed, "Congratulation is in order!!!!d baby has even landed ha! See God ooooo Awilo gave mama pikin at last oooooooo. (Tho,sorrow may last for a night,but joy comes in the morning)."
Congratulations, Toyin and Kola Ajeyemi!
nollywood actress toyin abraham
Tacha speaks on having a body odour in Cool FM interview
Tacha speaks on having a body odour in Cool FM interview.
Former Big Brother Naija's housemate, Tacha aka Port Harcourt first daughter, has finally talked about her alleged body odour in her interview with COOL FM.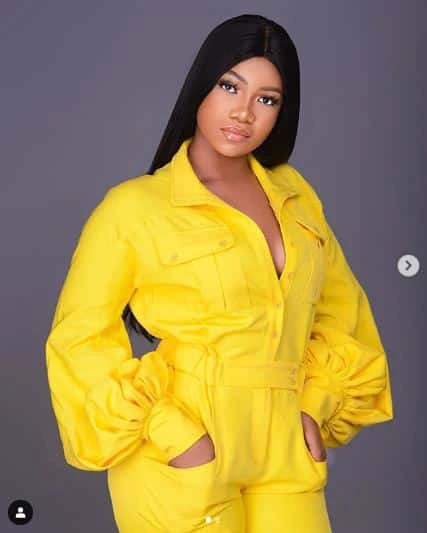 When asked if the rumour about she having a body adour is true, Tacha replied;
"Well I'm here, what do you think?"
Recall that, during the days of the reality show, Mike was heard telling Khafi to tell her friend to top up (use deodorant).
Despite not mentioning any names, quite a number of viewers have assumed he was talking about Tacha seeing as she and Khafi are pals. Well, Khafi and Cindy are also pals.
Some other housemates, seemed to agree with the idea that someone has body odour, going by their reactions.
BBNaija: Tacha reveals how Biggie "turned her on" during reality show
Tacha, one of the housemates during the 2019 Big Brother Naija, has claimed that the only person she was attracted to while in the house was Biggie.
Biggie is the instructive voice behind the screen of the reality show.
Tacha stated this during an interview on Cool FM with Dotun and Kemi Smallz.
While responding to a question about who she was attracted to in the house, Tacha narrated how Biggie had summoned and "turned her on" with the 'No-Leave-No-Transfer' slogan.
"I was attracted to Biggie. I was attracted to his voice and Biggie once turned me on.
"When Frodd won the Ultimate Veto Power and it was nomination night, he called Tacha. And after calling other nominees, he called Tacha again.
"When I queried, he said, 'Tacha, no leave, no transfer' and that turned me on. I was like 'Wow, Biggie did that for me!," Tacha said.
Tacha, was, however, disqualified from the show due to violent behaviour.
nollywood actress toyin abraham