Everything is getting more interesting with Glo 1GB for N300 now among my fellow colleague, it was 1GB for N200 initially before now.
Glo is one of the Mastergrand for a subscription in Nigeria but at times their network can be so frustrating especially for downloading.
I used Glo 1GB for N200 back then when it was still N200, for some period they special data offer was closed and now it is re-introduced with Glo 1GB for N300
It seems Glo heard the cry of their subscribers and decided to bring back the special data plan that was cancelled 7 weeks ago,
but this time around, the price has been increased and the duration has been decreased.
style="box-sizing: border-box; max-width: 100%; display: block !important;" role="presentation" src="data:;base64," alt="" aria-hidden="true" />
Before now, the Special Data plan gives you Glo 1GB for N200 and the validity was 3 days with support for extension when your re-subscribe before the expiration of the data bundle.
But the newly re-introduced special Data plan offers you Glo 1GB for N300 and the validity is 1 day.
The price is not bad but the duration is the game-changer.
I think this plan is only suitable if you have an emergency download…
anything other than that is not recommended.
How to Activate the Glo Special Data plan Glo 1GB for N300
Dial *777# and Select 1
Select 1 again and chose 5 (Special data offer)
Press 1 for a daily offer and you are good to go
As I said, the validity period is just 1 day which means after the 24hrs,
you can subscribe again and again and again until you are tired.
How To Activate Triple Data Offer On your monthly/weekly plan
How To Activate Triple Data Offer On Airtel
On this blog, we've looked at how we can activate and even as Airtel has revamped their data plans to suit all of their customers, it doesn't seem like a bad deed to take things up a notch and activate triple data on your Airtel SIM card.
For those of you who are still in the dark of what all this means, let me tell you a bit about the triple data offer from Airtel.
We are all aware that the regular data plan on Airtel gives 1.5GB for N1000, 2GB for N1200 and so on. For those customers who were able to activate the double data offer on their Airtel SIM cards no longer buy 1.5GB data for N1000 on the network all of their data plans are now double meaning that they get 3GB for N1000, 4GB for N1200 and so on.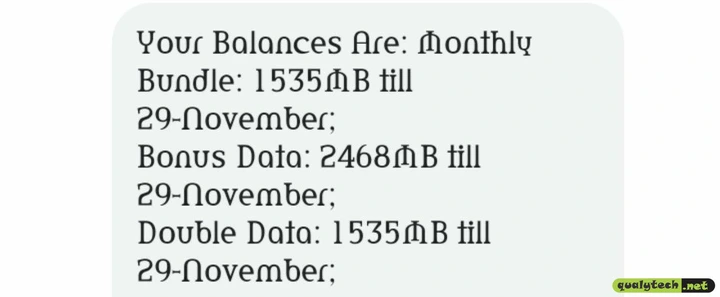 The same thing applies to the triple data offer, with the triple data offer activated on your Airtel SIM card, all the data bundles will be multiplied by 3 starting from the lowest price whether N50 or N100 to the highest possible price for buying data. So this means that with N1000, you will get 4.5GB, with N1200, you will get 6GB and so on.
This is already looking like an enticing deal, in this article, I want to quickly show you how you can activate the triple data offer on your Airtel SIM card.
How to activate triple data offer on Airtel
Buy and register new 4G Airtel SIM.
Then, send GET to 141, you will receive a congratulatory message, saying that you are eligible for double data.
Load N500 and above, and dial *141# to buy a data plan of that price. (Do not buy from "MY OFFER" but buy from the standard Airtel plans).
First of all, you will be given DOUBLE DATA but do not worry, exhaust the data and the data bonuses.
Once the data has been exhausted, migrate to SMARTRYBE Tariff plan by dialling *312#.
Load N1,000 and buy data plan from their official plans and the data would be tripled instantly.
Don't think you need VPN apps to power this data plans you don't. They have validity period the same as the regular data plans, N1000 plans lasts for 30 days and so on.
How To Access The Internet For Free Plus 10GB Free Data With SIMO App
How To Access The Internet For Free Plus 10GB Free Data With SIMO App
The issue of getting free browsing in the country is one to talk about, anytime there is a mention of the word, 'free browsing', the whole crowd goes wild. We won't dispute the fact that it is good to get things for free, especially when it has to do with browsing for free.
Already on this blog, we've talked about free browsing on MTN SIM card using VPN apps such as 24Clan VPN Green Edition & Tweakware VPN. At the moment, the free browsing on MTN is currently not working so this leaves us with this alternative to free browsing that we are going to talk about in this article.
The great thing about this free browsing is that you don't need to have fear about it getting blocked or one thing like that, you will actually get access to the internet on your phones without a SIM card or connecting to any Wi-Fi using an app called SIMO.
What is SIMO?
SIMO is not another regular-VPN app, it is an app that works as a virtual data SIM that connects you to the internet without a WiFi or SIM card on your phone.
At least 130 countries around the globe have support for the app and all you need to do is to install SIMO android application on a supported phone and you can connect to the internet in over 130 countries & regions without a SIM card.
The smartphones that support SIMO application vary from country to country like in Nigeria only Tecno Camon 12, Camon 12 Pro and Camon 12 Air support this application. In India, WIKO Tommy3, WIKO Tommy3 Plus supports the application while in Europe, Bluboo S3 supports it. We understand that SIMO is still working to make more smartphones compatible with their application.
Features & benefits of SIMO app
It simply works with or without a sim card inserted.
You will get optimal operator networks with AI-powered engine-whenever, wherever.
You pay as you go when using SIMO. No contracts, no paperwork, no limits.
SIMO offers Roaming-free service. You pay a low rate for data no matter where you go. No surprise roaming charges or expensive international phone plans.
As a new user, you get free 10GB worth of internet data for 30 days for the first month.

How to use SIMO
Download the SIMO app from the play store.
Enable your phone Wi-Fi connection
Launch the app on your supported phone like the Tecno Camon 12 series.
Sign up using your email address, social profile or phone number
After successful login, turn off your wifi and click the 'Connect' button on the SIMO homepage to get your phone connected with a local network.
After exhausting your free 10GB trial data, you're required to pay for the data plans on the SIMO app to continue enjoying the services. It's economical and there are various Plans: Use all data you pay for, with more affordable price, no daily limits
There are multiple payment methods which include Credit card, PayPal, T-cash, Go-pay, Paytm (coming soon)
Get Support 24/7: Contact customer service within the app.
Currently, there are limited devices supporting the SIMO app, if you want the SIMO app to work on your device, contact them at cs.simo@skyroam.com