MTN Cheap Bundle Get 2.2GB For N400 On MT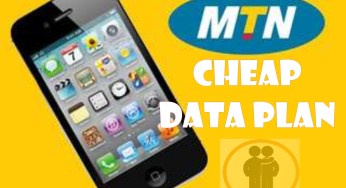 MTN Cheap Bundle Get 2.2GB For N400 On MTN
MTN Nigeria has now partnered with the interstitial and mobile tv provider – "StartimesTv" to provide affordable data subscription to her esteem customers this bundle offers 750MB for N150 and 2.2Gb for N400, this is similar to what Globacom made available during the 2018 world cup( Glo Startimes data bundle )
MTN seems to see how digital tv can be more convenient in mobile smartphones, thus rejoined the market which they opted out during the era of Nokia Mobile tv enabled Smartphones.
Download Scooper News App Now and get free airtime, unlimited data, iphone x, dubai trip and real cash to your bank account with ease. learn more about the app By Clicking Here.
It's needless to point out that this bundle is primary for streaming Startimes mobile tv watch live movies, news documentaries, shows and football matches etc on the go on android and ios devices, also this bundle is an hourly bundle, with any streaming quality you can stream Startime mobile tv for 1 hour with the 750MB plan and for 3 hours with the 2.2GB streaming plan.
How To Subscribe To MTN 750MB For N150, 2.2GB For N400- Startimes Bundle
To subscribe for any of the Startimes mobile tv data plan you need to;
Send "ST" to "131" , for the 750MB 1 hour plan and
Send "ST1" to "131" for the 2.2GB 3 hour plan.
Validity Of The MTN 750MB For N150, 2.2GB For N400- Startimes Bundle
MTN 750MB For N150 is valid for 24 hours with one hour streaming time.
MTN 2.2GB For N150 is valid for 24 hours with three hours streaming time.
No hackers Can Hack Your Facebook, Whatsapp And Bank Accounts If You Can Do These
No hackers Can Hack Your Facebook, Whatsapp And Bank Accounts If You Can Do These
In an era where information and communication technology has reduced our world to a global village,where ideas,knowledge and transaction can be carried out seamlessly……without geographical restriction or hindrances.
little did we realize that,this advancements would be met with brute force and fraudulent attacks,from the activities of hackers and internet frauds star.
With all these in mind however,there are several steps we can take,to actually protects our online accounts from the preying eyes of these hackers.
And just as promised above in this article,the following under listed steps can be taken to protect your facebook,whatsapp and bank accounts details alike;
1.Facebook:-Just go to your Facebook account settings, click on it,and scroll down to security and login,scroll to use two factor authentication,click on it and then fill in the informations,after this,a code will be sent to your phone number….and this is your anti-hackers code,then kindly save this code and never reveal it to anyone.
2.For your Whatsapp:-Click on the 3 dots at the right hand corner or side of your Whatsapp account,scroll down to settings,then click on it,scroll again down to account,and click on it,then scroll down to two step verification and click on it.Again scroll down to activate,and you will be directed to give your secret code.This is it,and do make sure the code is kept secret to yourself.
3.Mobile Banking:-For those on mobile banking platform with your enrolled bank transaction or notification number,there is need to put a PIN on your phone.i.e Your mobile banking number,otherwise your account can be hacked with all your hard earned saving wiped out within few seconds.This is particularly more dangerous when you lost your phone (stolen).
Now to secured your money in your bank account, kindly follow these simple steps below;
a.Go to your phone "setting".
b.Then go to (Location and security setting" on your phone.
c.Then go to "Sim card lock".
d.Click on " Lock sim card".
e.Now enter your mobile number "default sim card pin".
>For MTN users it is"00000″.
>For AIRTEL users it is "1111".
>For 9mobile users it is "0000"
>For GLO users, it is "0000"
f. After entering the mobile network default pin,under it You will see " change sim card pin", click on it to change to Your unique 4 digit pin.
g.Confirm Your unique 4 digits pin by entering it again and you are done.
So anytime You "On" Your phone You will be prompted to enter Your "sim card pin" just as You will be prompted to enter Your phone lock pin or draw Your pattern each time You "start"(power on) Your phone.
With the " activation of sim card lock on your phone" ,Your money can never be withdrawn from your bank.
anks, and like i always advise,"Personal security is a responsibility for all,so be proactive rather than been reactive".Thanks and please do comment,up vote,share and follow just as well.
Stay safe dear naijasurf lovers.
Twitter Accounts Of Bill Gates, Biden, Musk, Others Hacked By Bitcoin Scammers
Some of the biggest names in American politics, entertainment and technology, including Joseph R. Biden Jr., Kanye West, Bill Gates and Elon Musk, appeared to have had their Twitter accounts hacked on Wednesday, New York Times reports.
The accounts sent messages related to cryptocurrency, with most of the messages promising to double the money of anyone who sent Bitcoin to a specific cryptocurrency wallet. Within hours of the tweets appearing, nearly 300 people had fallen for the scam, sending more than $100,000 to the wallet. Many of the tweets were quickly removed, but in some cases, similar tweets were sent again from the same accounts.
Twitter sent out a message saying that it was investigating the problem and looking to fix it. The Biden campaign said, "Twitter locked down the account immediately following the breach and removed the related tweet. We remain in touch with Twitter on the matter."
The attack was a brazen show of force by the attackers who managed to seize one of the primary means of communications for a Who's Who list of Americans. The hackers did not use their access to take aim at any important institutions or infrastructure like the stock market — instead deciding to just ask for Bitcoin.
But the attack was frightening because the hackers could have easily caused much more havoc. There was quickly speculation on what would have happened if the attackers had instead decided to move the financial markets or sew political chaos. Even though this didn't happen, the attack exposed the vulnerability of a company, Twitter, that has become the nation's de-facto real-time news source.
The messages posted in the breaches were an iteration of a long-running scam in which hackers pose as public figures on Twitter, and promise to match or even triple any funds that are sent to their Bitcoin wallets. In the past, hackers have created fake accounts to try to convince users that the funds will be going to public figures like Mr. Musk or Mr. Gates. The attacks Wednesday were the first time that the real accounts of public figures were used in the scam.