Mbappe breaks Lionel Messi record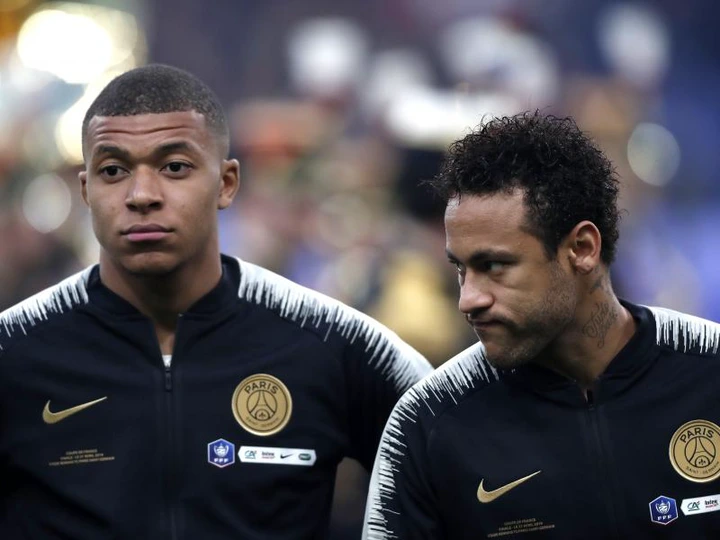 Frenchman Kylian Mbappe broke another Lionel Messi record as he came off the bench to bag a hat-trick against Club Brugge on Tuesday night.
The Paris Saint-Germain forward became the youngest-ever player to score 15 Champions League goals in the game after being introduced in the 52nd minute.
He took just nine minutes to find the back of the net to make it 2-0 to Thomas Tuchel's side before assisting the club's third goal shortly. He added his second and PSG's fourth of the night in the 79th minute before completing his hat trick four minutes later.
The three goals saw him break Messi's long-standing record of being the youngest player to ever score 15 Champions League goals by almost a year.
Messi At 21
Messi, now 32, managed that total at the age of 21 years and 289 days for FC Barcelona, while Mbappe has done so at 20 years and 302 days.
Mbappe's hat-trick also doubled his goal tally as he hopes to clinch the golden boot at the end of the season; the gong currently being held by Messi.
The Frenchman has been out of action for some time now after picking up a hamstring injury against Toulouse on August 25, before suffering a thigh injury just two games into his return on October 1, keeping him out for a further 17 days.
EPL: Premier League announces changes to use of VAR
The Premier League has announced that fans inside stadiums, will get more detailed information about Video Assistant Referee (VAR) checks starting from December, according to Sky Sports.
For instance, under the new guidelines, a message will appear on the big screens saying 'Checking Penalty – Possible Handball', rather than just, 'Checking Penalty'.
The decision was agreed by the Premier League and the referees' association, PGMOL, at Thursday's stakeholder meeting.
Both parties stated say they are committed to improving the consistency of decisions, speeding up processes and increasing communication to fans.
Pitchside monitors will continue to be used sparingly in the Premier League.
There had been calls for on-field officials to refer to the monitors more regularly, but the league said "it would be reserved for unseen incidents, or when information from the VAR is outside the expectation range of the referee."
The statement added "ensuring the pace and tempo of Premier League football remains an important focus for clubs."
NGOLO KANTE REVEALS FIRST PLAYER HE'D SIGN IF HE WERE CHELSEA MANAGER
NGOLO KANTE REVEALS FIRST PLAYER HE'D SIGN IF HE WERE CHELSEA MANAGER
Footballing first spoke to popular French midfielder Ngolo Kante recently to kick off a brand new exclusive content series on The 5th Stand app, and N'Golo talked them through a number of interesting topics from his childhood, as well as revealing he would sign Terry if he was in charge of the Blues.
In the exclusive feature on the app, we find out what football shirt N'Golo used to always wear while growing up in France, what his first nickname was and what his first memory of kicking a football was.
ON HIS FIRST HERO
I think I would pick the French National team that won the world cup in 1998. I can't mention a particular player, I'd just say the entire side.
FIRST KITS OR PAIR OF BOOTS HE OWNED
My brother passed down a Brazilian jersey to me, the name inscribed on the back was Ronaldo, my first pair of boots was 'kipsta', it was the first I used.
FIRST FOOTBALLING MEMORY
I used to play football alot with my brother and his friend, they were older than I am but I played alot with them.
ON FIRST JUNIOR TEAM HE PLAYED
I played for a team just outside Paris, The team is called JS Suresnes.
FIRST TROPHY WON
I won a trophy when I was around 12 years old, I can't remember the Name of the tournament though, at that time I felt so happy to have helped my team-mates, and the experience we shared.
FIRST NICKNAME
Well I was called NG, and that nickname has stuck till this day
FIRST LIVE MATCH WATCHED
I think it was a game I watched at a stadium, I was 16 years of age at the time and it was a game between France and Sweden, it's been a long time and I couldn't remember much about the game.
FIRST TIME YOU WERE IMPRESSED BY A TEAM MATE
When I was young I played with a boy who was very skillfull, sadly he left football while he was still a teenager
FIRST FEELING WHEN HE SIGNED FOR CHELSEA
I was very proud and very happy to have signed for Chelsea and was just looking forward to the challenges ahead
FIRST PLAYER HE'D SIGN FOR CHELSEA, 'PLAYING OR RETIRED' IF HE WERE CHELSEA MANAGER
I'd say John Terry, because when I came to the club he was the figure of the club and knows what it means to be at the club. I knew all about him from when I was young, he did very well do Chelsea