How To Activate Triple Data Offer On Airtel
On this blog, we've looked at how we can activate and even as Airtel has revamped their data plans to suit all of their customers, it doesn't seem like a bad deed to take things up a notch and activate triple data on your Airtel SIM card.
For those of you who are still in the dark of what all this means, let me tell you a bit about the triple data offer from Airtel.
We are all aware that the regular data plan on Airtel gives 1.5GB for N1000, 2GB for N1200 and so on. For those customers who were able to activate the double data offer on their Airtel SIM cards no longer buy 1.5GB data for N1000 on the network all of their data plans are now double meaning that they get 3GB for N1000, 4GB for N1200 and so on.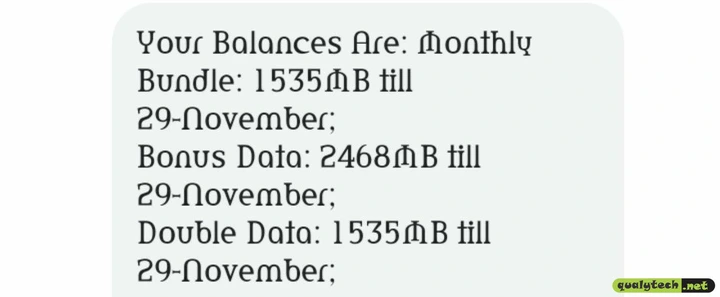 The same thing applies to the triple data offer, with the triple data offer activated on your Airtel SIM card, all the data bundles will be multiplied by 3 starting from the lowest price whether N50 or N100 to the highest possible price for buying data. So this means that with N1000, you will get 4.5GB, with N1200, you will get 6GB and so on.
This is already looking like an enticing deal, in this article, I want to quickly show you how you can activate the triple data offer on your Airtel SIM card.
How to activate triple data offer on Airtel
Buy and register new 4G Airtel SIM.
Then, send GET to 141, you will receive a congratulatory message, saying that you are eligible for double data.
Load N500 and above, and dial *141# to buy a data plan of that price. (Do not buy from "MY OFFER" but buy from the standard Airtel plans).
First of all, you will be given DOUBLE DATA but do not worry, exhaust the data and the data bonuses.
Once the data has been exhausted, migrate to SMARTRYBE Tariff plan by dialling *312#.
Load N1,000 and buy data plan from their official plans and the data would be tripled instantly.
Don't think you need VPN apps to power this data plans you don't. They have validity period the same as the regular data plans, N1000 plans lasts for 30 days and so on.
How To Glo Subscribtion 120gb for #100 (valid for 60days
How To Glo Subscribtion 120gb for #100 (valid for 60days)
Cheap Glo data cheat 2020. To make sure that data is affordable, Glo Nigeria have taken the bold step and activate #100 cheats that is available for all Glo users.
How to activate Glo 120gb for #100(valid for 60days.
-Get two Glo sim card
-The first must be on Glo yakata
-Load your #100 airtime and above on it
-Subscribe to #100 data plan to get 120gb with the code *303*2*1#
-Share the data to your second Glo sim (dial *127*01# friend phone number # to share)
-Now you will browse with the second sim you shared datat to
-To check data plan balance dial *122*22#
Airtel 4.6GB for N200 working perfectly
Airtel 4.6GB for N200 working perfectly
Airtel 4.6GB For N200 Working Perfectly
This is a new chest that's around now. This browsing cheat can be accumulated to get your desired data plan. The given data is valid for 3 months, this means that you can enjoy your data for 3 months. There is no VPN required for you to activate this cheat. The activation feels required is N200.
How To Check If You Sim Is Qualified For This Cheat
For you to check if you are eligible for this cheat. Make sure that your Sim card is more than 3 months from the date of registration. To check the date you registered your Sim card dial *746# . The date will be shown to you.
Once you have N200 airtime follow the steps below to activate you free browsing cheat on your Airtel sim.
How To activate Airtel 4.6GB For N200
The steps to activate this cheat is very simple, follow the guide below to activate it by yourself.
Buy Airtel credit, please don't use vtu or buy from online platform.
Use this code to recharge it *126*PIN# .
You will be given 4.6GB data to enjoy as free data bonus.
Given data is valid for 30 days, to check your balance dial *140# .
How To Accumulate Airtel N200 For 4.6GB
To accumulate the data,
Buy another Airtel credit / Airtime. The credit should be N200.
Recharge it using *126*PIN# .
By doing that you will be given another 4.6GB, keep doing it and get the data accumulated.
I hope the cheat worked for you, it worked for me. Make sure you use a Sim card more than 3 months old.