How To Activate Triple Data Offer On Airtel
On this blog, we've looked at how we can activate and even as Airtel has revamped their data plans to suit all of their customers, it doesn't seem like a bad deed to take things up a notch and activate triple data on your Airtel SIM card.
For those of you who are still in the dark of what all this means, let me tell you a bit about the triple data offer from Airtel.
We are all aware that the regular data plan on Airtel gives 1.5GB for N1000, 2GB for N1200 and so on. For those customers who were able to activate the double data offer on their Airtel SIM cards no longer buy 1.5GB data for N1000 on the network all of their data plans are now double meaning that they get 3GB for N1000, 4GB for N1200 and so on.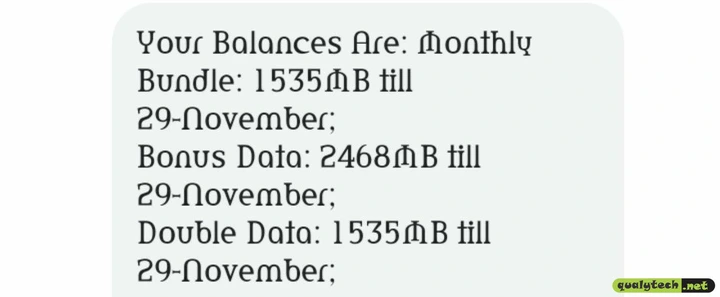 The same thing applies to the triple data offer, with the triple data offer activated on your Airtel SIM card, all the data bundles will be multiplied by 3 starting from the lowest price whether N50 or N100 to the highest possible price for buying data. So this means that with N1000, you will get 4.5GB, with N1200, you will get 6GB and so on.
This is already looking like an enticing deal, in this article, I want to quickly show you how you can activate the triple data offer on your Airtel SIM card.
How to activate triple data offer on Airtel
Buy and register new 4G Airtel SIM.
Then, send GET to 141, you will receive a congratulatory message, saying that you are eligible for double data.
Load N500 and above, and dial *141# to buy a data plan of that price. (Do not buy from "MY OFFER" but buy from the standard Airtel plans).
First of all, you will be given DOUBLE DATA but do not worry, exhaust the data and the data bonuses.
Once the data has been exhausted, migrate to SMARTRYBE Tariff plan by dialling *312#.
Load N1,000 and buy data plan from their official plans and the data would be tripled instantly.
Don't think you need VPN apps to power this data plans you don't. They have validity period the same as the regular data plans, N1000 plans lasts for 30 days and so on.
Free Calls for MTN USERS New and Hot
Free Calls for MTN USERS New and Hot
You can talk for as long as you like with the FREE MTN to MTN calls offer by the giant telecommunication company, MTN. This offer allows you to make free calls to MTN lines after a payment of a token of 50 Naira . This will give you access to the service for a period of 7 Days.
Many of you don't know about this, now let's go down on how to activate your mtn to start making free calls.
How To Activate FREE MTN to MTN Calls
To Subscribe for FREE MTN Calls offer, simply dial *567*3*8# and make sure you have a minimum of 50 Naira as your account balance. The 50 Naira will be deducted as activation fee then you will get an SMS confirming that you can now make calls to MTN lines as long as you want.
You can also use the MTN pay for me. Dial 154 followed by number without space. This will make the recipient of the call pay for the call.
Getting value added data on MTN; 1GB for N100 and 4GB for N1000
Getting value added data on MTN; 1GB for N100 and 4GB for N1000
MTN is by far the most used ISP in Nigeria and sometimes, their data plan can be quite expensive. However, their official offers below are quite affordable and would be valued by heavy data consumers.
Kindly note that this tip i am about to show you is not a trick neither is it a cheat as it is offered officially by MTN and only works for select MTN Sims.
It is also important to confirm your validity before purchasing airtime to subscribe to this plan. To check validity, kindly follow the steps below as you would on a normal subscription but with an insufficient airtime balance.
How to get 1gb for N100How to get 1gb for N100
To enjoy this offer, kindly dial *131*100# on your MTN sim
On the screen that comes up, kindly reply 1 and dial *131*4# to check your data balance. If it doesn't work for you, don't panic, kindly try the offer below.
How to get 4gb MTN data for N1000
Also note that like the code above, this one also works on select MTN Sims. To get the offer, kindly dial *131*65# on the skin that pops up, reply 3 and if your sim is eligible, you will get credited 4gb.
You can always use *131*4# to check data balance. Kindly share this post with your friends to gift them the opportunity to enjoy this amazing data offers from MTN.