REPORT ON JCIN FEDERAL POLYTECHNIC EDE **Keep the campus clean*
*Date Conducted*
13th march 2020
*Place Conducted*
Fed poly Ede,North campus
*Need analysis for the Project*
JCINFPE see the need to influence students the need to live and study in a very clean environment through action.
*Solution*
JCINFPE did there part in the little way they can to help in the following areas
✅picking of litter around the North campus
✅Arrangement of various waste bin in the appropriate place
✅ Cleaning of the female hostel
✅ Disposed all the trash gatthered together
*Sponsorship/ partnership*
We were able to approach *Federal Polytechnic Ede Works department* works for materials to help make the project easy and faster and a trash bin nylon was used to pack many of the trash we gathered together and also got hand glove and nose mask from the *school medical center*
*Impact*
About 25 members of JCINFPE were on ground to help make the project a success in cleaning
*Challenges*
It was not an easy task but we give God the glory for making it a success part of the challenges we faced are as follows
✅ Getting materials to use such as rake,broom,waste basket,
✅ Had to borrow a full role of trash nylon as we couldn't get one around the campus
*Appreciation*
A big thanks to the members, executive, board of directors and Intending members of JCINFPE , friends , organization , clubs , and everyone who has contributed one way or the other to the project.
A big thanks to the Project team for their tireless effort to make the project a success
*JCINFPE We Move*
*AKPALA ABDULLAHI IBUKUNOLUWA*
2020 Local organization president
Http://wa.me/2348163036311
Akpalaibukunoluwa.fpede@jci.ng
*ADEYEMI PARIS*
Vice President Project
07069611308
For further information and update visit our contact details
HOTLINE : 07037979825
WHATSAPP : http://wa.me/07037979825
FACEBOOK: JCI FEDPOLY EDE
INSTAGRAM : jcinfpe
LINKEDIN : JCIN FPE
TWITTER : FPE JCIN
MAIL : Fpede@jci.ng
#JCIN FPE
#JCIN Collegiate
#Impact Through Competence
#keep the campus clean
#ITD2020
#Impact Through Diversity
#JCI Nigeria
#JCI
Visit www.jci.ng to learn how young people around the world are making sustainable impact
Meet The Richest Celebrity In Nigeria That Can Buy Wizkid And Davido
Meet The Richest Celebrity In Nigeria That Can Buy Wizkid And Davido.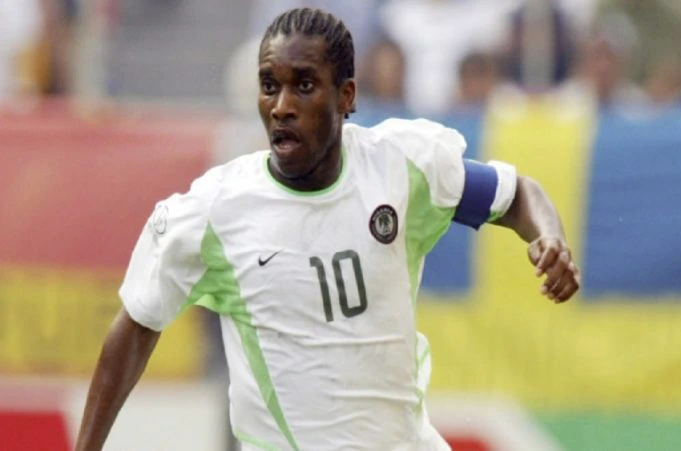 Billionaires like Dangote or Mohammed Abacha don't make noise and that's why Augustine Azuka "Jay-Jay" Okocha don't need to be shouting 100b in his account for Nigerians to know that his the richest celebrity in the country.Jay Jay Okocha is an ex-Nigerian attacking midfielder and former ex-professional soccer player. Apart from playing for Nigeria's national team, he played for clubs in England, Germany, France, and Turkey in his distinguished 18- years career.
Jay Jay retired from active football in 2008 and remains Nigerians richest celebrity with a net worth of 150 million dollars,that's a big sum of money if you ask  Wizkid who's net worth is 20 million dollars or Davido with a net worth of 19 millions dollars.
Celebrities are making good money if you ask me. One thing I love about Jay Jay is his humility and respect to humanity. With his endorsements and investment in Nigeria, I don't see any celebrity overtaking the number 10 skilful player.
How To Trace A Missing Or Stolen Phone Without Going To The Police.
How To Trace A Missing Or Stolen Phone Without Going To The Police.
◽◽◽◽◽◽◽◽◽◽
HOW TO TRACE A MISSING OR STOLEN PHONE
◽◽◽◽◽◽◽◽◽◽
If you lose your #mobile phone, you can #trace it without going to the police.
➖➖➖➖➖➖➖➖➖➖
Most of us always fear that our phones may be #stolen at any time.
Each phone carries a unique
#IMEI no. i.e. International Mobile Equipment Identity No which can be used to track it anywhere in the world.
This is how it works:
➖➖➖➖➖➖➖➖➖➖
1. Dial *#06# from your mobile.
➖➖➖➖➖➖➖➖➖➖
2. Your mobile phone shows a unique 15 digit.
➖➖➖➖➖➖➖➖➖➖
3. Note down this number at a secure place except in your mobile phone itself as this is the #number which will help trace your phone in case of theft.
➖➖➖➖➖➖➖➖➖➖
4. Once stolen, just E-mail this 15 digit IMEI No. to cop@vsnl.net with details as stated below:
Your name:____________________
Address:____________________
Phone model:_____________
Make:_____________________
Last used No.:_____________
E-mail for communication:_
Missed date:_________________
IMEI No :_______________________
➖➖➖➖➖➖➖➖➖➖
5.Your Mobile will be #traced within next 24 hours via a complex system of GPRS and internet, You will find where your hand set is being operated and the new user's No. will be sent to your #email.
➖➖➖➖➖➖➖➖➖➖
6. After this, you can inform the Police with the details you got.