Getting bored during a lockdown could be real torture especially with people who are used to having hectic schedules. In this light, it is kind of important to keep busy so as not to feel the state of boredom as it does kill happiness.
The World Health Organisation(WHO) has described the coronavirus as a pandemic and advised everyone to maintain some form of social distancing and also stay at home to avoid the spread of the virus.
This period requires that you spend a lot of time at home and if you have nothing to do, you might end up being bored and frustrated. So might want to try out new things, learn a new skill and so much more.
We have made a list of activities that can help you get through this period till the pandemic is over:
1. Exercise
Provided you are prepared to put a little time and effort into your workout at home, it can be just as effective as a gym workout. At a time like this, the prospect of going into a gym is daunting and therefore exercising in the comfort of their own home is much more appealing. Since you are likely to do a lot more of eating and sitting around, a lot of exercises may be crucial as you need to stay fit and healthy.
2. Learn something new
Because lockdown isn't a vacay, you should work at adding value to yourself at this time. Learn a new skill or add to you your existing knowledge by taking a new course online. It won't hurt to try one of the many online or self-study options. Many are even free, so there's no excuse for not broadening your horizons. There are tons of online courses you can take from and get certification for at the end of your learning process. Remember, it's all about adding value to yourself while you can.
3. Watch movies
Of course, Netflix is the only thing popular than Covid-19 right now and catching up with your favourite movies, series or soap operas wouldn't be a bad idea. When you're glued to watching an array of interesting movies, several hours would be passed just like that and you wouldn't know it. But make sure to have some snacks handy by the side.
4. Read a book
When was the last time you read a book? Now is a good time to revive your reading culture, at least, for leisure. It is often said that there is no better friend than a book. Truth is a lot of us aren't book lovers, but since we're about killing boredom, you can try page by page reading on topics that interest you. The internet has also made e-books available to us, therefore, it won't hurt to look out for books on topics that interest you. Besides, it is always good to gain knowledge especially when you have nothing else to do.
5. Play games
It might have been years since you last played a video game, they can be addictive but it is a great way to definitely kill time. When power fails, you can help yourself with other indoor games ludo board game, chess, scrabble, your card games, etc. It is worthy to keep in mind that you do not start doing it all the time, every day.
6. Clean up
This period means that you get to spend more time at home so you might as well do the needful. This is when you need to practice maximum hygiene as best as possible, clean out every part of your room, your kitchen, your bathroom and toilets.
7. Meditate
Meditation is one of the most common ways to reduce stress, Many of us are not just not sold to the whole "Mind-Body-Spirit" thing. When you meditate, it gives room for fresh ideas and rejuvenates your mind. You are better focused as your being is involved in mindfulness and you are able to focus your mind on a particular object, thought, or activity – like starting a new business, improving your relationships and other positive things.
8. Take online classes
As we all know schools are shut down due to this pandemic, this is a great opportunity to catch up on your schoolwork there are so many online courses a can help get on track. If you are writing your final year project and you have deadlines to meet this is an opportunity to finish.
Dont embarrass yourself, See what "LOL",LMAO, LWKMD and other internet abbreviations means in chat
Dont embarrass yourself, See what "LOL",LMAO, LWKMD and other internet abbreviations means in chat.
During my early days on using the internet, I always have this problem of feeling embarrassed when I am chatting with a fellow on Facebook or Whatsapp and they sent me messages which include abbreviations.
In as much as I don't entertain the use of abbreviations in my writings, even right from my secondary school days I always make sure I write in full even when the teacher is dictating. I always feel weird when I see such abbreviations and I can't comprehend its meaning. Hence, I had to research them to find out what they actually mean.
I know many of us here are on this table, but not to worry, this post will help you understand some of these internet slangs/abbreviations and how to use them effectively
Lol- Laugh out loud
Lwkmd- Laugh wan kill me die
Lmao- Laugh my ass off
Omg – Oh my God
Brb -Be right back
Gr8 -Great
Ily – I love you
ROFL – Rolling on the floor
Stfu- Shut the f**k up
Lmk – Let me know
Yolo – You only live once
Smh- Shaking my head
Admin- Administrator
Aka – Also known as
B-day – Birthday
BF- Boyfriend
GF- Girlfriend
HMU- Hit me up
ASAP- As soon as possible
TGIF Thank God it's Friday
IDK- I don't know
TBH – To be honest
FYI – For your information
NVM – Nevermind
IDC – I don't care
For more internet slangs and abbreviations, refer to the image below.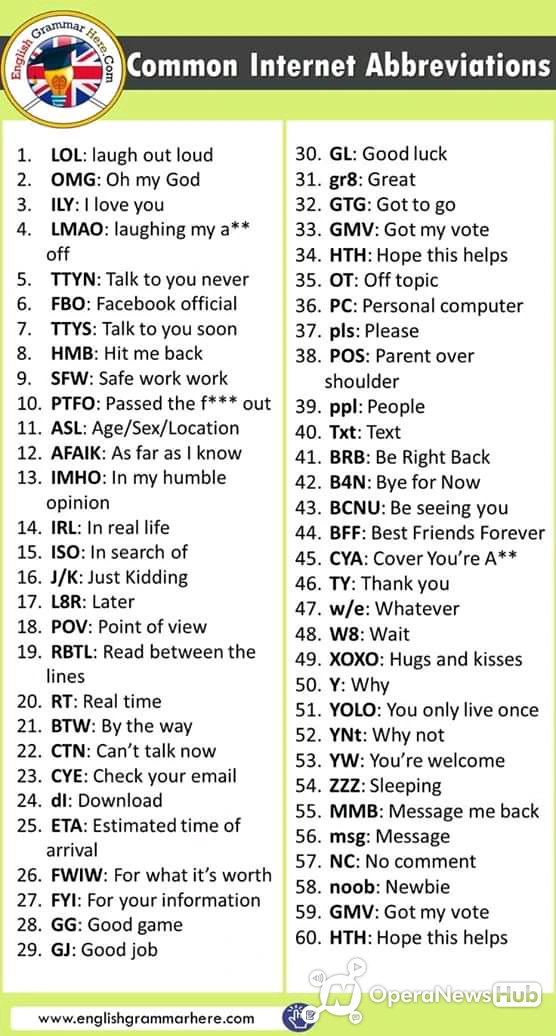 If u have any that you feel that is not present on the list , you can drop it on the comment box.
Seven ways to educate, entertain your kids during COVID-19 lockdown
With the closedown of schools due to the coronavirus pandemic, it is important for parents and guardians to continually educate and entertain their children.
From crafts to online learning resources, parents will need a variety of tricks to ensure that kids are engaged.
The list below would help to keep them entertained and learning:
Make a schedule
The first thing to do is to draw out a plan for the kids. Stick to the usual school hours of 8am to 3 pm. Insist on a daily outdoor recess routine that mirrors school.
Homeschooling
The importance of homeschooling cannot be overemphasised. Parents should go through their children's book and Give them worksheet or assignments to do.
Minimise the screen time
Parents will be strongly tempted to stick their kids in front of screens for multiple hours a day, just to get busy with their personal things.
This is not healthy or is it fair to kids. It will be reasonable to allow them have an hour a day but only after everything else has been completed such as chores, schoolwork, reading assignments, music practices, exercises etc.
Encourage story telling
Children enjoy listening to stories. They are so natural at this. You can create elaborate fantasies figures to tell a story or read stories out loud for them.
Also, encourage them to use their toy collection or animal figure toys to create their own stories.
Game Game Game
For a child to learn effectively, the process has to be entertaining. You can introduce games such as creation of Pebble arts, paintings, decoration, handprints, cardboard designs, Game of alphabets, shadow drawing etc.
DIYs
Make them create things out of handy items. Give them old CDs, match sticks, unwanted woollen threads, coloured papers, glues, balloons, ice-cream sticks, etc and encourage them to make some creative things out of it.
Online learning
Online learning and tools can be an effective measure. You can check out tools such as Show me wonders (This helps to learn about different cultures and traditions), Translate me (Helps to learn about languages), Play games (Provides varieties of games for children), Ask me anything (just like children like to ask questions, this tool is available to answer most of their questions), Read it to me (Serves as a personalized reading tutor for kids).