Dont embarrass yourself, See what "LOL",LMAO, LWKMD and other internet abbreviations means in chat
Dont embarrass yourself, See what "LOL",LMAO, LWKMD and other internet abbreviations means in chat.
During my early days on using the internet, I always have this problem of feeling embarrassed when I am chatting with a fellow on Facebook or Whatsapp and they sent me messages which include abbreviations.
In as much as I don't entertain the use of abbreviations in my writings, even right from my secondary school days I always make sure I write in full even when the teacher is dictating. I always feel weird when I see such abbreviations and I can't comprehend its meaning. Hence, I had to research them to find out what they actually mean.
I know many of us here are on this table, but not to worry, this post will help you understand some of these internet slangs/abbreviations and how to use them effectively
Lol- Laugh out loud
Lwkmd- Laugh wan kill me die
Lmao- Laugh my ass off
Omg – Oh my God
Brb -Be right back
Gr8 -Great
Ily – I love you
ROFL – Rolling on the floor
Stfu- Shut the f**k up
Lmk – Let me know
Yolo – You only live once
Smh- Shaking my head
Admin- Administrator
Aka – Also known as
B-day – Birthday
BF- Boyfriend
GF- Girlfriend
HMU- Hit me up
ASAP- As soon as possible
TGIF Thank God it's Friday
IDK- I don't know
TBH – To be honest
FYI – For your information
NVM – Nevermind
IDC – I don't care
For more internet slangs and abbreviations, refer to the image below.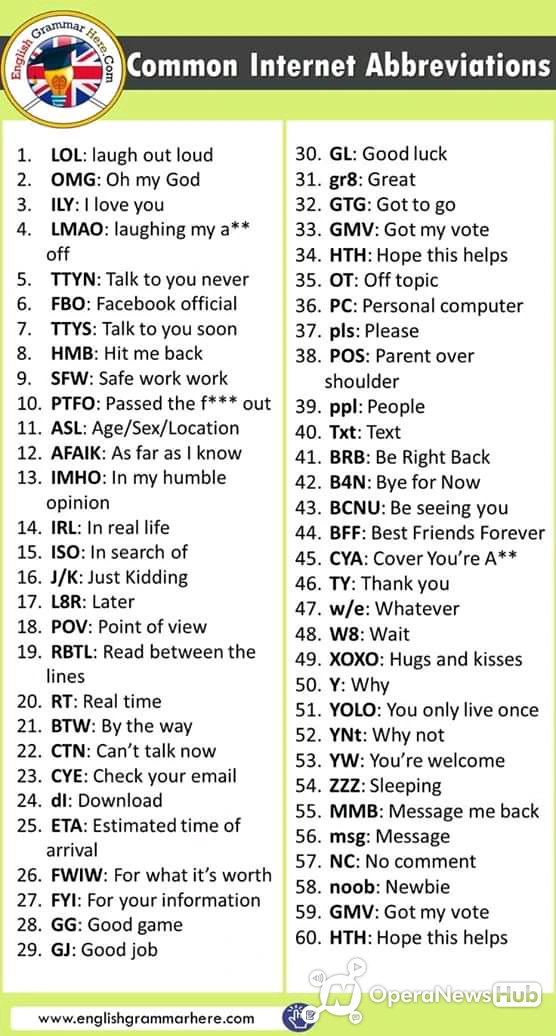 If u have any that you feel that is not present on the list , you can drop it on the comment box.
Osinbajo says COVID-19 vaccine must be affordable, accessible
Vice – President Yemi Osinbajo says Nigeria lacks the resources to pre -pay for COVID – 19 vaccine.
He has , therefore , appealed to Europe to work closely with Africa to ensure that when a vaccine is finally deployed, it should not be on the basis of the highest bidder but rather be made available at an affordable and accessible manner .
According to a statement on Saturday by his Senior Special Assistant on Media and Publicity, Laolu Akande , the Vice – President spoke at the virtual 2020 EURAFRICA Forum with the theme , ' Towards a realistic Euro -African partnership during and beyond the COVID -19 era' held on Friday .
Akande ' s statement was titled , ' COVID -19 pandemic: Vaccine distribution should be accessible to all , not on the basis of highest bidder , says Osinbajo at EURAFRICA Forum.'
He quoted Osinbajo as saying that " Although Nigeria does not have the resources or means to pre -pay for a COVID – 19 vaccine, we are fortunate to be a GAVI supported country and we urge the EU to lend support to GAVI 's effort to ensure equitable global access to COVID -19 vaccines under the COVAX initiative.
" This way, poorer countries and their citizens will get the vaccines that they need at the same time as the rest of the world ."
COVID-19: PDP urges prayers for Umahi, Ortom's wife
The Peoples Democratic Party, PDP, has called for prayers for the speedy recovery of Ebonyi State governor, Dave Umahi , the wife of Benue State Governor Samuel Ortom , Eunice, as well as other Nigerians who have tested positive to COVID-19.
The PDP described the increase in the spread of the pandemic across the country as disturbing.
The party in a statement by its spokesman, Kola Ologbondiyan, however, restated its charge to Nigerians not to succumb to fear but at the same time redouble their vigilance and adherence to preventive measures of personal hygiene, social and physical distancing and early reporting of symptoms.
"The PDP urges Nigerians not to let down their guard but remain conscious of the reality of COVID-19, especially with the easing of social restrictions in the country.
"The party urges the federal government to intensify efforts in awareness campaign as well as providing economic stimulus to minimize social exposure and vulnerability of Nigerians in various sectors of endeavours.
"The PDP restates its call for the concerted commitment of all citizens in reciprocating the sacrifices of our health workers and others on the front lines to defeat the pandemic in our country," the statement read in part.