LAGOS: 20 Males, 10 Females Injured, 15 Vehicles, 23 Buildings Destroyed In Lagos Gas Tanker Explosion
Thirty people have been confirmed injured while vehicles, buildings, shops were also destroyed in the Thursday gas tanker explosion in the Iju Ishaga area of Lagos State.
According to the Lagos State Emergency Management Agency (LASEMA), in a statement after the incident, those who were injured included 20 adult males and 10 adult females while 15 vehicles and 23 buildings were destroyed by the inferno.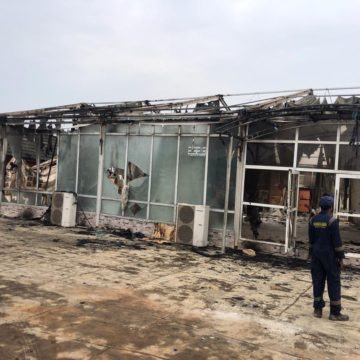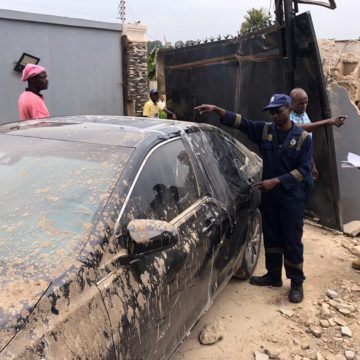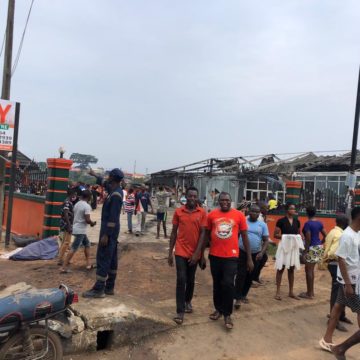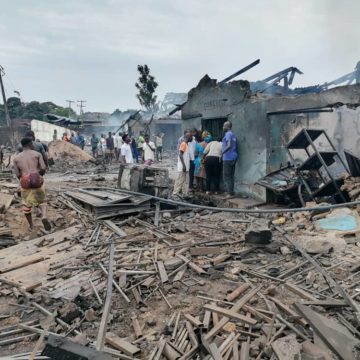 LASEMA, which announced that the fire was eventually put off, on Thursday evening, while giving an assessment of the incident, said two residential buildings, one event centre, one church and four commercial buildings were destroyed in the incident.
Others destroyed, according to LASEMA, included 15 shanty shops, 11 cars, two mini trucks, one bus and one heavy-duty truck.
The statement signed by Nosa Okunbor, Head, Public Affairs of LASEMA, disclosed that agencies that responded to the incident were the LASEMA Response Team, LRU Paramedics, LRU Fireteam, Lagos State Fire Service, National Emergency Management Agency (NEMA), policemen, National Security and Civil Defence Corps (NSCDC) and Red Cross.
Osun Govt Begins Payment Of New Minimum Wage From November 1, Lifts Embargo On Promotions, Conversion
The Osun State government on Friday announced that with effect from November 1, it will begin the payment of new minimum wage to its civil servants throughout the state.
The government also announced the lifting of the ban on annual salary increment and also embargo on promotions and conversions with immediate effect in order to encourage workers in the state.
The state government said these decisions followed the perusal of the recommendations of the government/labour committee that was set up to work out the modalities for resolving all workers' welfare-related issues.
The state governor, Mr Gboyega Oyetola, who announced the state government's decision in his Twitter handle, further said he hoped the decision will make the workers to continue to put in their best in the state,
According to his tweet: "I'm delighted to announce that the implementation of the new minimum wage for Osun State workers will commence on November 1, 2020.
"This follows the perusal of the recommendations of Government/Labour Committee that we set up to work out the modalities for resolving all workers' welfare-related issues.
"Additionally, we've lifted the ban on annual salary increment which was done in 2012. Embargo on promotions and conversions is also lifted with immediate effect. This is in fulfilment our administration's pledge to give the welfare of our workers the deserved attention.
"I appreciate Labour Leaders and the entire workforce in Osun, who are our allies in the race to deliver stellar services to our people, for their selflessness, understanding, perseverance and love for our state.
"You're the reasons why, in spite of the economic storms, Osun still remains strong and outstanding in the comity of states."
#EndSARS Protests: Activists restrategise, issue fresh demands to govt
In the wake of the fallout of the EndSARS Protests across Nigeria, a coalition of human right activists has re-strategised on way forward and issued a fresh seven-point agenda to the federal government.
The coalition rose from its one-day meeting in Lagos under the aegies of New Nigeria Network (NNN) comprises Radical Agenda Movement in the Nigeria Bar Association (RAMINBA), Federation of Informal Workers' Organization of Nigeria, Coalition for Revolution (CORE), Take it Back Movement, Movement for A Socialist Alternative (MSA) and Socialist Workers and Youth League (SWL) among others said investigations into the brutality of the armless protesters will be followed to a logical conclusion.
The New Nigeria Network is an amalgamation of progressive forces that actively participated in the #EndSARS movement.
The activists said the EndSARS Protest is an unfinished task that cannot be abandoned.
READ ALSO: #EndSARS Protest: Lagos Assembly To Inspect Razed Police Stations, Others
According to the Chairman, RAMINDA, Barrister Adesina Ogunlana, the seven-point agenda are as follow: the immediate real, not promissory satisfaction of the '5 for 5' initial demands of EndSARS Protesters, the immediate replacement of the Inspector -General of Police, the immediate reversal of power and fuel price hikes, immediate stoppage of jumbo salaries and allowances for political office holders, all public officials to be placed on national minimum wage, drastic upward funding of education and health sectors and immediate deprivatisation of power and oil sectors nationalisation to be restored.
He said the 17 days Protests across the country was evolutionary. He said, "it was revolutionary in the sense that it is not a one point static protest but a protest against multi-layer level of challenges in the Nigeria state and it is essentially a demand for the full citizenship status of all Nigerians and the curbing of executive lawlessness, governmental lopsided profligacy and entrenchment impunity. It is all about 'misgovernance' of system and a system of misgovernance."
Also, the General Secretary of Federation of Informal Workers'Organization of Nigeria, Comrade Gbenga Komolafe said the seven-point agenda if actualised, will help to rebuild Nigeria