He traveled to the US where he is a citizen for more medical examination and also to rest. He was accompanied on the trip by his relation (who is pictured with him at the airport on return to the country).His fans and well wishers have taken to social media to welcome him back.
It was billed as a Lagos APC campaign flag-off, with Governor Akinwunmi Ambode expected to reel out his achievements and state why he thinks Mr. Babajide Sanwo-Olu, Lagos APC governorship flagbearer, is the best man to succeed him in May.  But it turned out the day the infamous and 'invincible' MC Oluomo, got stabbed in the neck and was rushed to a hospital as he bled profusely, battling for his life. Video footage from the venue showed young men making a dash across the sandy ground with machetes and knives; and photo journalists lying on the deck as police pranced on the scene to fire live bullets into the dusty sky.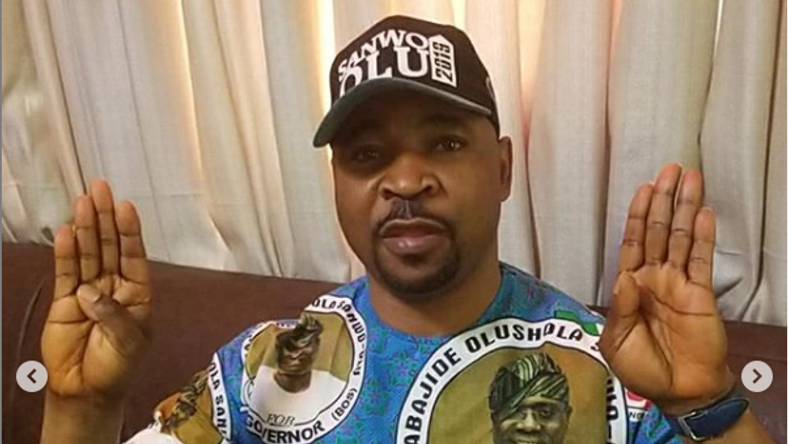 Pulse was told that factions of the Lagos State chapter of the National Union of Road Transport Workers (NURTW) were purveyors of the mayhem and that Musiliu Akinsanya, popularly referred to as MC Oluomo, was one of the fatally stabbed on the afternoon. one APC chieftain who was at the venue told Pulse on condition of anonymity, "MC Oluomo was stabbed twice with a poisonous knife called Makenje (which literally translates to don't touch blood). All the VIPs were spirited out of the venue by security personnel. It was like a war zone with sophisticated guns and machetes on display."
MC Oluomo wasn't supposed to be rushed to the hospital after being stabbed, because he supposedly wears a spiritual armour that shields him from gun, knife and other dangerous weapons. Which was why the knife used to stab him was a poisoned one, Pulse was told. But he was expected to be inured from the venom of a poisoned knife, no less. In other words, MC Oluomo was supposed to be 'unkillable'. The Lagos State Police Command declared a chieftain of the NURTW, Mustapha Adekunleaka Seigo, wanted for the stabbing of MC Oluomo. Lagos police spokesperson Chike Oti, says Seigo arrived the rally with a group of persons who went on to unleash mayhem as the rally progressed.