BIG BOMB! President Buhari Stuns Most Top Politicians And Others In Nigeria When He Said This
President Muhammadu Buhari surprised many people especially some politicians and 
highly
 placed individuals in the country when he made a very strong strong promise to emphasize his resolve to better the country
.
According to The Nation, there will be no slowing down on the anti-corruption battle, President Muhammadu Buhari said yesterday
. 
The President's assurance ended insinuations in some quarters that he will change and will no longer work for the masses if given another mandate on February 16
..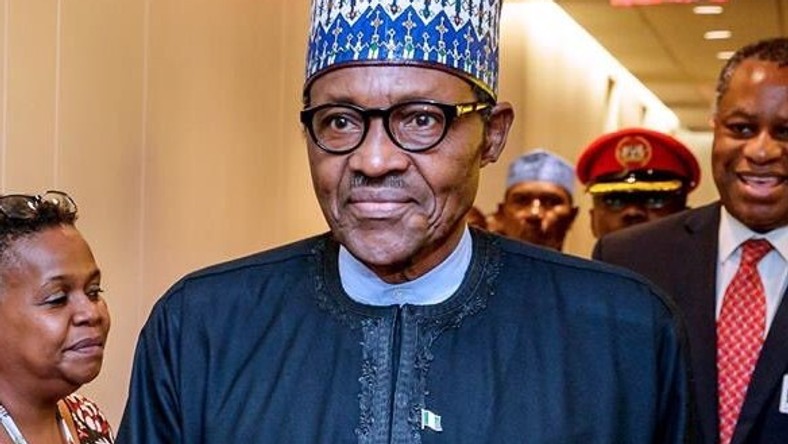 Buhari promised not to change during the All Progressives Congress (APC) presidential campaign at the Aper Aku Stadium in Makurdi, Benue State
. He pledged to remain steadfast and focused. 
Listing his administration's achievements in the past three and half years, the President said: "I assure you, I am not going to change
. I am going to be consistent. I will remain steadfast. Anybody who abuses trust will 
be exposed
 and will 
be dispossessed
.
"I am convinced that you believe in what we are doing and that you stand to support us even further. 
When I came for your vote in 2015, I promised three fundamental issues based on our party manifesto –  security, economy and fighting corruption
. 
We will do roads, rail lines and provide electricity with monies recovered from looters," he added
He noted that the food security attained by the government under his watch had 
drastically
 reduced food importation
. 
The President noted that many of those seeking white-collar jobs had embraced farming without regrets
. He urged others to do the same.
The President also urged the Benue people to vote for APC candidates.
APC National Chairman Adams Oshiomhole said that governors have the responsibility to ensure peace and security in their states, noting that security is not on the exclusive list
. He also pointed out that peace and unity cannot 
be achieved
 from the barrel of guns. 
Oshiomhole said that a community is in danger if the leader is dishonest or lies, adding, "but with President Buhari, Nigeria is safe
."
According to him, the APC candidate in the state, Emmanuel Jime, will do well to follow the footsteps of Plateau State Governor Simon Lalong in handling herders and farmers crisis, when elected
.
"We don't want leaders that will blame others for their failures," he said
Stressing that President Buhari has done well by giving out bailouts to state governments, he said some governors diverted the money and refused to pay salaries and turned round to whip up sentiments
.
The former Edo State governor said: "I have come with a message of hope that with Jime as governor, salaries will 
be paid
 in Benue State as at when due
."
He said that Nigeria had stopped importing rice, and the billions saved in importing expired rice from India and Malaysia, are now in the hands of local rice farmers
.
Oshiomhole pointed out that anybody supporting importation of food is anti-Benue since the state is "the food basket of the nation"
. He also urged the people to reject any leader who will sell the nation's assets.
According to him, the candidate of the Peoples Democratic Party (PDP) will use the economy to favour his friends
.
To this end, he said Nigeria could not return to second hand.
He said nobody had the right to bear firearms apart from the authorised security agencies
.
According to him, governors should also not 
be allowed
 to misuse police personnel in their states
.
The APC National Campaign Council Vice Chairman (North), Senator George Akume, recalled that President Buhari on assumption of office in 2015 made a covenant with the people to tackle three things, economy, security and corruption – which he has done very well
.
Many Nigerians, he noted, are now running away from lodging their money in banks because of the fear of Buhari
.
Said Akume: "Buhari is one of the few Nigerians not used to flamboyant lifestyle, pointing out that he had no oil well and personal 
aircraft
.
He said there was a governor in one of the North central states who is 100 times richer than President Buhari with wealth gathered within three and half years in government
.
Stressing that Buhari has managed the economy very well, Akume said that Buhari's landmark project is impacting 
positively
 on the lives of the people
.
He said: "Mr President, you promised to provide infrastructure, that is why we call you Mr. Infrastructure, and it's all over the country for people to see
. You are a doer and not a talker. Your projects are measurable."
Confirming the people's love for the President, Akume said that the Benue people had no problem with herdsmen while he was at the helm of affairs for eight years
.
He, 
therefore
, urged the leaders not to hide their incompetence behind the crisis.
Giving a verdict of how the voting will go in the state during the presidential election, Akume said that 70 per cent will go to President Buhari while Atiku will get 30 percent
.
He also urged the President to ignore any publication because they know how they 
were procured
. 
Maintaining that there are local despots who do not respect court orders in the state, the former governor said that President Buhari respects the rule of law, especially by not interfering in the INEC and court judgement on APC governorship candidate in Zamfara State
.
Plateau State Governor Simon Lalong said his state 
initially
was faced
 the type of crisis Benue was going through until he brought everyone together for dialogue
.
He also pointed out that some people hid under the guise of a crisis when the state was not paying salaries.
Urging the people of Benue State to vote for Buhari and the governorship candidate of the APC, he assured that they will deliver 90 per cent in Plateau and 80 per cent in Benue
.
The Chairman of the Benue State chapter of the APC, Abba Yaro, assured that the state would vote President Buhari and the governorship candidate
.
The party's flag 
was handed
 over to the APC governorship candidate and senatorial and House of Representatives candidates
.
The President raised the hands of Jime and other candidates at the ceremony.
The Minister of Agriculture, Audu Ogbe and other top government officials attended the rally
.
What are your thoughts on this story?