US – We're not supporting any candidate, party in 2019 elections
The United States Embassy in Nigeria has announced that its government is not supporting any candidate or political party in Nigeria's 2019 general elections.
In a statement signed by the U.S. Ambassador to Nigeria, Stuart Symington, on Tuesday, February 12, 2019, he said the U.S. government is only interested in ensuring that there's a level playing field that strengthens the democratic process.
Symington's statement is believed to be in response to an accusation by Festus Keyamo, the spokesperson of President Muhammadu Buhari's campaign organisation, that the U.S. was strategically aligning with the opposition to undermine Nigeria's elections.
However, Symington said the elections belong only to Nigerians and that it's important to ensure that every Nigerian contributes to making it a democratic, peaceful, free and fair process.
"Every Nigerian citizen is vital to the success of this election. Each person is responsible for his or her own actions and words, and all must be held accountable: first by their own conscience, then under God, then in accord with the laws of Nigeria and in the court of Nigerian public opinion, and also in the eyes of the world," he said.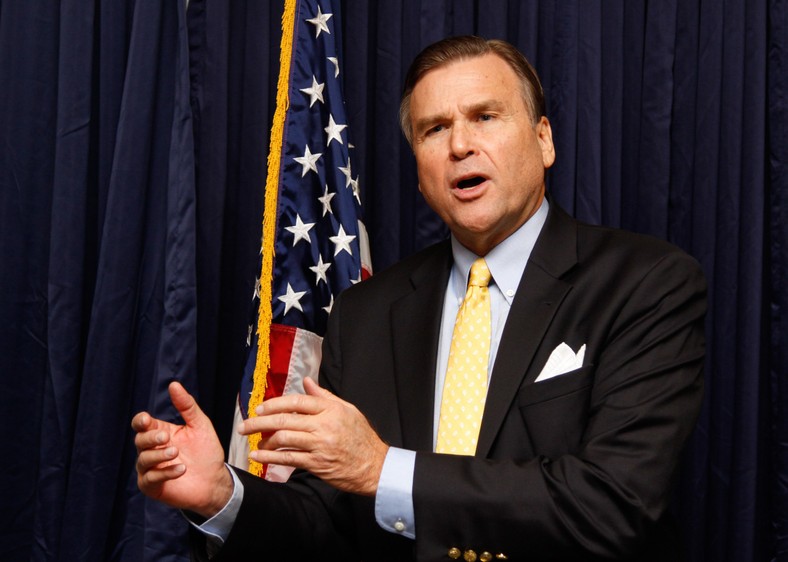 Symington further reiterated that the U.S. is Nigeria's "long-term and enduring friend", an arrangement he said will not change.
"We provide more than $1 billion in assistance and help save more than 2 million lives of Nigerians each year through our health and humanitarian assistance. This will not change. We are Nigeria's good partner, and this will continue after this democratic election – no matter who wins," he said.
He noted that it's important that Nigeria conducts successful elections so it can continue to play its great leadership role in the African continent "as a force for democratic stability".
He also expressed support for the efforts of the Independent National Electoral Commission (INEC)in its management of the elections and urged all relevant stakeholders to peacefully support a democratic process.
"The United States welcomed the signing of Peace Accords by the candidates for President and other offices. Now is the time to grow that peace by ensuring all get the message and put it into action so that both the voting and the aftermath are peaceful and fully respect the democratic process.  
"Peace benefits all Nigerians and peace is the responsibility of every citizen as you work together to ensure your elections are free, fair, transparent, and credible," the statement read.
2019 general elections
The 2019 general elections will kick off with the Presidential and National Assembly elections on February 16 while Governorship and State Assembly elections will take place on March 2.
A total of 84,004,084 are registered to vote in the elections.
Source: Pulse.ng